Hyperspeed Explorer XL-01
Not named on the front of the box

Imaginext Lightyear Vehicle with Figure
Item No.: Asst. CDX99 No. GNN49
Manufacturer: Fisher-Price
Includes: Vehicle, rocket, wing piece, figure
Action Feature: Firing rocket
Retail: $19.99
Availability: Spring 2022
Other: I got it for 73% off

PREVIOUS
RSS
NEXT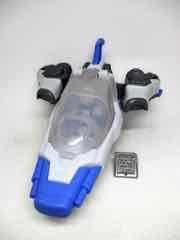 My relationship with Pixar is rocky, because they sell me on tight stories with impressive technological advancements and then spend 90-120 minutes trying to make me cry. I don't appreciate that. When I saw the early concepts for Lightyear, the movie's concept of a "real movie" on which the Toy Story toy was based sounded like a hard sell to fans. But the space ships! Oh, the space ships. Everything looked like an old Fisher-Price toy, so I wanted to pick up at least one of them - but sadly they didn't make the one that looked like a Vic Viper. So when I saw the Hyperspeed Explorer XL-01 I had to buy it. The saying of "there are no bad products, only bad prices" is very true here because this is an excellent, sturdy space ship and at $15-$20, it was perfectly good. But since they didn't slap the name on the front of the box, no kid would ask for it. "Mom, get me the one that costs $15-$20!" said no child ever. You have to lean into the name, and if you can't identify the product by looking at it, it's doomed. This entire line is filled with nifty retro 1980s space ship designs, and an absolute dunderhead decided to downplay things like a big colorful movie logo or any identifiable names on the vehicles or figures. If this line's packaging were a school project, I would fail them all and kick them out of the program.
The toy itself is quite nice, and for $5.49 I had to have it. Much like Playmobil, Imaginext makes some great toys and once the price is low enough, literally any toy that includes at least one figure is fun enough to buy. Worst-case scenario, you wind up with one or two nice figures for five or six bucks. At $10-$15, this is comparable to or better than a lot of the action toys on the market these days. Since Mattel, Spin Master, and Hasbro all seem to be steering into pleasing aging "fan" markets, "toy" gets ignored - but not in Imaginext. This gray and blue ship has traditional red Imaginext action elements and is actually pretty decent.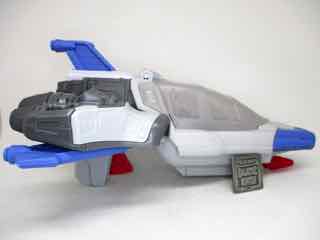 The test pilot Buzz Lightyear is the epitome of "nothing special." There's no clear plastic "glass" on his helmet, there are no bells, no whistles. It's not as colorful or accurate to what you saw in the movie, but it's still pretty good. The flip-buttons that seem borrowed from Star Wars are gone and replaced with a flat, white spot. The gloves aren't the right color, and the helmet is lacking in painted detail. That's how it goes when you get things down to a price point, and for Imaginext it's a fair trade.
Light on painted detail, the figure still looks good. He has bright eyes and even skin paint, the vest, knee pads, and belt have jut a little bit of decoration on them. It's very decent - there's nothing amazing about it, and if it weren't from a licensed property you'd probably be very happy with the simple design. It looks like a pilot of any 1980s video game vehicle - if this was your Moon Patrol or Gradius go-to guy, you'd be pretty OK with it.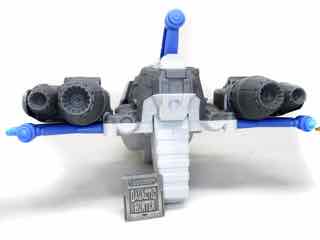 The vehicle itself is a masterclass in corner cutting. The toy has no labels - nearly everything is molded in color. The blue nose and fin and wings? Blue plastic. The dark gray elements? molded in gray. The only paint on the toy is behind the cockpit, where you insert the blue fin on the back. At first glance I assumed it was also molded in color, until I saw the tiniest bit of paint slop around the edges. It's a smart design, but it also made the toy look a little less fun. The canopy glass is molded in a very milky clear color, and it is tough to make out the figure inside. You can tell someone's in there, but it's not like the back of the packaging which implies clear glass with decorated elements.
The sculpting is very toylike, with a massive cockpit that's big enough to not only fit the Buzz Lightyear in the box, but most other figures I checked. Even the giant-headed Adventure People-derived Imaginext guys fit in here with no problem. Good job, Mattel/Fisher-Price! This is the only way a figure can interact with the ship - there are no cannons to grab or jump seats. He can sit inside, grab the controls, and fly off to... whatever. It's a nice toy.
The toy has one big red button that serves all your action feature needs. Pull the trigger, and it causes the blue wings to droop down and the rocket to launch. Unfortunately you can't do one without the other - but at least it does something. I've bought some very nice Imaginext space toys that just roll, or look cool - this does do something and in 2022, that's almost a luxury feature.
If you see this on clearance, buy it. If you have a small Imaginext collection, it's great. Sadly the handle is too small for adult fans, but protrudes down too much for the toy to lay flat on a table or shelf. It will topple over. A few extra days in the design oven could have yielded a more stable toy, but it's sturdy and compared to the vehicles you can get for $8-$10 it's excellent. For what I paid for it, it's phenomenal. I still think it would be an acceptable gift for a kid - the bigger ship doesn't do much more other than lights and sounds for a much higher price. Thanks to the general cheapness of the toy, you'll probably see a few of these in thrift stores (minus the rocket and figure) in the near future with minimal dings, scratches or wear. And it'll probably be worth throwing down $3-$5 to get it, if you and your kid already has some Imaginext toy figures at home.
--Adam Pawlus
Additional Images

See more Fisher-Price figures in Figure of the Day:
Day 79: Fisher-Price Adventure People Alpha Star Astronaut Action Figure
Day 233: Fisher-Price Imaginext Space Station Toy Set
Day 404: Fisher-Price Imaginext Dinosaur Ankylosaurus
Day 528: Fisher-Price Imaginext Dinosaur Raptor
Day 643: Fisher-Price Adventure People Alpha Star Alien Creature
Day 766: Fisher-Price Imaginext Collectible Figures Diver
Day 796: Fisher-Price Imaginext Collectible Figures Robot
Day 830: Fisher-Price Imaginext Collectible Figures Mummy
Day 842: Fisher-Price Imaginext Space Ion Scorpion
Day 847: Fisher-Price Imaginext Space Ion Crab
Day 853: Fisher-Price Imaginext Space Alpha Blade
Day 954: Fisher-Price Imaginext Dinosaur Dimetrodon
Day 2,002: Fisher-Price Imaginext Series 10 Collectible Figures Spaceman & Alien
Day 2,014: Fisher-Price Imaginext Series 11 Collectible Figures X-Ray Man & Dog
Day 2,018: Fisher-Price Imaginext Series 11 Collectible Figures Radiation Man
Day 2,024: Fisher-Price Imaginext Series 11 Collectible Figures Triple Threat Snake
Day 2,032: Fisher-Price Imaginext Series 11 Collectible Figures M.U.S.C.L.E. Men
Day 2,036: Fisher-Price Imaginext Series 6 Collectible Figures Chicken Suit
Day 2,092: Fisher-Price Imaginext Series 11 Collectible Figures Fishbot
Day 2,096: Fisher-Price Imaginext Series 12 Collectible Figures Big Building Robot
Day 2,099: Fisher-Price Imaginext Series 12 Collectible Figures Clawtron
Day 2,100: Fisher-Price Imaginext DC Super Friends Batman & Swamp Thing Action Figures
Day 2,101: Fisher-Price Imaginext Series 7 Collectible Figures Buster of Ghosts
Day 2,102: Fisher-Price Imaginext Pirates Shark Minisub Figure with Vehicle
Day 2,103: Fisher-Price Imaginext Jurassic World Dr. Malcolm & Dimetrodon Action Figures
Day 2,104: Fisher-Price Imaginext Egypt Mummy Guards Action Figures
Day 2,108: Fisher-Price Imaginext Series 9 Mystery Figures Grim Reaper
Day 2,122: Fisher-Price Imaginext Series 6 Collectible Figures 4 Arm Alien
Day 2,133: Fisher-Price Imaginext Series 7 Collectible Figures Headless Horseman
Day 2,194: Fisher-Price Imaginext Series 9 Mystery Figures Yeti Snowboarder
Day 2,227: Fisher-Price Imaginext Series 9 Mystery Figures Shark Pirate
Day 2,239: Fisher-Price Imaginext DC Super Friends Slammers Arctic Sled with Mr. Freeze Set
Day 2,249: Fisher-Price Imaginext DC Super Friends Slammers Batmobile with Batman Set
Day 2,257: Fisher-Price Imaginext DC Super Friends Surround Sound Batcave Playset
Day 2,306: Fisher-Price Imaginext 20th Anniversary Figures Jett Cosmoblast
Day 2,312: Fisher-Price Imaginext 20th Anniversary Figures FP-636
Day 2,318: Fisher-Price Imaginext 20th Anniversary Figures Shackles McMatey
Day 2,420: Fisher-Price Imaginext Series 8 Collectible Figures Woodland Mystic
Day 2,424: Fisher-Price Adventure People Astro Knight Action Figure
Day 2,449: Fisher-Price Imaginext Series 12 Collectible Figures Explorer
Day 2,452: Fisher-Price Adventure People Clawtron Action Figure
Day 2,455: Fisher-Price Adventure People Firestar I Vehicle with Pilot Action Figure
Day 2,457: Fisher-Price Adventure People Opticon Action Figure
Day 2,460: Fisher-Price Adventure People X-Ray Woman Action Figure
Day 2,464: Fisher-Price Imaginext Series 9 Mystery Figures Invisible Man
Day 2,468: Fisher-Price Imaginext Monsters Figure Pack
Day 2,487: Fisher-Price Imaginext Lightyear Hyperspeed Explorer XL-01
Day 2,522: Fisher-Price Imaginext Toy Story 4 Bunny & Buzz Lightyear
Day 2,542: Fisher-Price Adventure People X-Ray Man Action Figure

See more Imaginext figures in Figure of the Day:
Day 233: Fisher-Price Imaginext Space Station Toy Set
Day 404: Fisher-Price Imaginext Dinosaur Ankylosaurus
Day 528: Fisher-Price Imaginext Dinosaur Raptor
Day 766: Fisher-Price Imaginext Collectible Figures Diver
Day 796: Fisher-Price Imaginext Collectible Figures Robot
Day 830: Fisher-Price Imaginext Collectible Figures Mummy
Day 842: Fisher-Price Imaginext Space Ion Scorpion
Day 847: Fisher-Price Imaginext Space Ion Crab
Day 853: Fisher-Price Imaginext Space Alpha Blade
Day 954: Fisher-Price Imaginext Dinosaur Dimetrodon
Day 2,002: Fisher-Price Imaginext Series 10 Collectible Figures Spaceman & Alien
Day 2,014: Fisher-Price Imaginext Series 11 Collectible Figures X-Ray Man & Dog
Day 2,018: Fisher-Price Imaginext Series 11 Collectible Figures Radiation Man
Day 2,024: Fisher-Price Imaginext Series 11 Collectible Figures Triple Threat Snake
Day 2,032: Fisher-Price Imaginext Series 11 Collectible Figures M.U.S.C.L.E. Men
Day 2,036: Fisher-Price Imaginext Series 6 Collectible Figures Chicken Suit
Day 2,092: Fisher-Price Imaginext Series 11 Collectible Figures Fishbot
Day 2,096: Fisher-Price Imaginext Series 12 Collectible Figures Big Building Robot
Day 2,099: Fisher-Price Imaginext Series 12 Collectible Figures Clawtron
Day 2,100: Fisher-Price Imaginext DC Super Friends Batman & Swamp Thing Action Figures
Day 2,101: Fisher-Price Imaginext Series 7 Collectible Figures Buster of Ghosts
Day 2,102: Fisher-Price Imaginext Pirates Shark Minisub Figure with Vehicle
Day 2,103: Fisher-Price Imaginext Jurassic World Dr. Malcolm & Dimetrodon Action Figures
Day 2,104: Fisher-Price Imaginext Egypt Mummy Guards Action Figures
Day 2,108: Fisher-Price Imaginext Series 9 Mystery Figures Grim Reaper
Day 2,122: Fisher-Price Imaginext Series 6 Collectible Figures 4 Arm Alien
Day 2,133: Fisher-Price Imaginext Series 7 Collectible Figures Headless Horseman
Day 2,194: Fisher-Price Imaginext Series 9 Mystery Figures Yeti Snowboarder
Day 2,227: Fisher-Price Imaginext Series 9 Mystery Figures Shark Pirate
Day 2,239: Fisher-Price Imaginext DC Super Friends Slammers Arctic Sled with Mr. Freeze Set
Day 2,249: Fisher-Price Imaginext DC Super Friends Slammers Batmobile with Batman Set
Day 2,257: Fisher-Price Imaginext DC Super Friends Surround Sound Batcave Playset
Day 2,306: Fisher-Price Imaginext 20th Anniversary Figures Jett Cosmoblast
Day 2,312: Fisher-Price Imaginext 20th Anniversary Figures FP-636
Day 2,318: Fisher-Price Imaginext 20th Anniversary Figures Shackles McMatey
Day 2,449: Fisher-Price Imaginext Series 12 Collectible Figures Explorer
Day 2,464: Fisher-Price Imaginext Series 9 Mystery Figures Invisible Man
Day 2,468: Fisher-Price Imaginext Monsters Figure Pack
Day 2,487: Fisher-Price Imaginext Lightyear Hyperspeed Explorer XL-01
Day 2,522: Fisher-Price Imaginext Toy Story 4 Bunny & Buzz Lightyear

See more Pixar figures in Figure of the Day:
Day 166: McDonalds Toy Story 2 Hamm Action Figure
Day 207: Funko Disney Pop! Vinyl Mr. Incredible Vinyl Figure
Day 293: Funko Disney Pop! Vinyl Mike Wazowski Vinyl Figure
Day 345: Funko Disney Pop! Vinyl Sulley Vinyl Figure
Day 1,006: Thinkway Toys Wall-E 15-Pc Bag O' Bots Figure Set
Day 1,072: Mattel Toy Story That Time Forgot Battle Armor Trixie Action Figure
Day 1,099: Mattel Toy Story That Time Forgot Battle Armor Rex Action Figure
Day 1,106: Mattel Toy Story That Time Forgot Raptorian Guard Action Figure
Day 1,382: Funko Hikari Vinyl Toy Story Original Buzz Lightyear
Day 1,850: Funko Pop! Disney Coco Ernesto Pop! Vinyl Figure
Day 2,487: Fisher-Price Imaginext Lightyear Hyperspeed Explorer XL-01
Day 2,522: Fisher-Price Imaginext Toy Story 4 Bunny & Buzz Lightyear