Space Station
Comes with alien, 2 space men

Imaginext Playset
Item No.: No. P6461
Manufacturer: Fisher-Price
Includes: 2 human figures, armor, blasters, alien, mini-ship, cannon, projectile, space cables, antenna
Action Feature: Firing projectile, rotating door
Retail: $19.99
Availability: ca. 2010
Other: Repainted as Green Lantern Planet Oa Playset in 2011

PREVIOUS
RSS
NEXT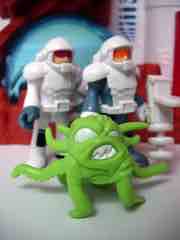 Having been around for years, Imaginext has received only limited interest from toy collectors-- largely parents for fans of their DC Comics-related lines (which now have Clayface and Catwoman, I should add.) Since starting off with a castle trial pack years ago, the range has expanded to dragons, monsters, dinosaurs, Toy Story 3, Green Lantern, and of course outer space, which is where this Space Station comes into play. This inviting retro-future planetoid sports a base, lots of moving parts, a couple of figures, and an alien. While fully compatible with most if not all Imaginext toys, I bought it because it looked like it might be good for Glyos figures, and indeed it is. It's a solid toy in its own right, the kind of things you buy for your kids but as someone who appreciates a fine playset, well, it's hard to deny its charms.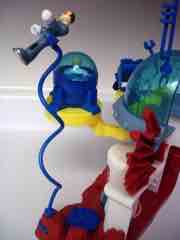 The set itself is a big honking generic planet. There are no labels, no electronics, and no instructions. The toy itself has pre-applied labels and aside from the 3 characters included, no paint. Everything is molded in color, which is something you don't see much of these days outside the vast majority of LEGO pieces. With playsets on the decline to the point of being wholly absent from most action figure lines, it's interesting to see them kept with these toys for the very young (ages 3-8) and LEGO. I would assume this is largely because this item is an actual toy, with real play features, meant for kids to smack it around and hold up to the kind of abuse that a tub, sandbox, and toddler can give it. As a collector, so far, I don't have any worried about it holding up to time except the possibility the white plastic may yellow with age.
The figures are nice-- there's now a standard Imaginext body with few sculpted features, so these little guys are sort of like Mighty Muggs. Each one has painted facial features and some decoration on the torso, plus articulated shoulders, wrists, neck, and leg-- the legs are one piece, just like Playmobil, so they're going to move together. They sport snap-on helmets, blasters which fit right in their hands, and a little alien which can clamp over their heads. It's not a facehugger, but let me tell you that if you play with this for 10 minutes you will wish they did a repaint of the planet as LV-426.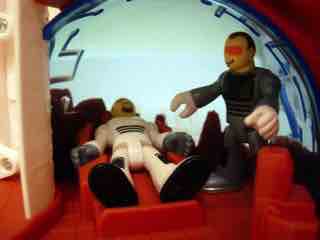 Ultimately, the figures are nice but not astonishingly impressive unto themselves. They do work as part of the playset, as the planet has foot holes for the astronauts. You can put one in a rotating base where it will function as a key to the doorway, while a moving gunner's station is also specially designed to hold this specific kind of figure. Hasbro's Playskool Heroes (the new licensed ones) more or less fit, but the Imaginext stuff fits like a glove. There's even a sickbay in the playset perfectly sculpted for a figure-- it's clear the engineers were thinking of everything save for a chestburster action. And let's face it, kids need to learn about chestbursters somewhere.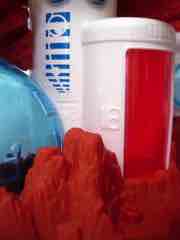 The action features all work well. The little mini-ship has an opening canopy, and its design allows "feet" to extend over the landing platform so it won't fall off. On the adjacent platform is a rocket launcher, both of which may be manipulated via controls on the inside of the station if you're so inclined. The rotating door works with a dial, which has a peg on it you can use as a lever or you can plug in a figure and use that. On each side of the planet are two long blue cables which extend into space with a big claw on the end, ideal for holding up "floating" astronauts. With no motors, lights, sounds, or that sort of thing, everything just functions nicely. Assuming you don't break it, odds are you could pass this down to the next generation in reasonable shape.
Scroll down below for the Glyos compatibility gallery.
I picked this up at a closing Toys R Us on various stages of stacked closeout pricing, so for about $13 I can't fault it. It's not "Adventure People" but odds are Fisher-Price will never, ever do anything like that again. Imaginext are routinely some of the neatest toy figures for kids on the market today, and with their expansion into licensed territory they're well worth seeking out. The space line appears to be in the process of being phased out, so if you like this piece it might be worth grabbing sooner than later.
--Adam Pawlus
Additional Images
Glyos-Specific Postscript
So I did buy this because I felt a burning need for a planet for some of my space figures, and it works. If you like Onell Design's Pheyden and friends, they fit fairly well in with this thing. They sit in the mini ship nicely, fit on the bed just fine, and more or less seem like the right scale to play with this kind of toy. The larger 3 3/4-inch figures like the Outer Space Men are not quite at home here, but Alpha 7 seems the right size.
Due to the differing foot sizes, the Glyans and Travellers don't quite fit perfectly in place, although the Buildman hands are sized right for the cannon grips. If you collect the Glyos line anyway, this is arguably worth a look. If you're the kind of person to paint up and customize your toys, this thing may be a dream project-- there is so much sculpted detail on the inside of the space station it will make your head spin. With no labels or no painted detailing, you could go nuts coloring in stairs, monitors, or other greebles.
Additional Glyos Images

Want to buy this figure or others like it? Check Fisher-Price availability at our sponsors:
Entertainment Earth

See more Fisher-Price figures in Figure of the Day:
Day 79: Fisher-Price Adventure People Alpha Star Astronaut Action Figure
Day 233: Fisher-Price Imaginext Space Station Toy Set
Day 404: Fisher-Price Imaginext Dinosaur Ankylosaurus
Day 528: Fisher-Price Imaginext Dinosaur Raptor
Day 643: Fisher-Price Adventure People Alpha Star Alien Creature
Day 766: Fisher-Price Imaginext Collectible Figures Diver
Day 796: Fisher-Price Imaginext Collectible Figures Robot
Day 830: Fisher-Price Imaginext Collectible Figures Mummy
Day 842: Fisher-Price Imaginext Space Ion Scorpion
Day 847: Fisher-Price Imaginext Space Ion Crab
Day 853: Fisher-Price Imaginext Space Alpha Blade
Day 954: Fisher-Price Imaginext Dinosaur Dimetrodon
Day 2,002: Fisher-Price Imaginext Series 10 Collectible Figures Spaceman & Alien
Day 2,014: Fisher-Price Imaginext Series 11 Collectible Figures X-Ray Man & Dog
Day 2,018: Fisher-Price Imaginext Series 11 Collectible Figures Radiation Man
Day 2,024: Fisher-Price Imaginext Series 11 Collectible Figures Triple Threat Snake
Day 2,032: Fisher-Price Imaginext Series 11 Collectible Figures M.U.S.C.L.E. Men
Day 2,036: Fisher-Price Imaginext Series 6 Collectible Figures Chicken Suit
Day 2,092: Fisher-Price Imaginext Series 11 Collectible Figures Fishbot
Day 2,096: Fisher-Price Imaginext Series 12 Collectible Figures Big Building Robot
Day 2,099: Fisher-Price Imaginext Series 12 Collectible Figures Clawtron
Day 2,100: Fisher-Price Imaginext DC Super Friends Batman & Swamp Thing Action Figures
Day 2,101: Fisher-Price Imaginext Series 7 Collectible Figures Buster of Ghosts
Day 2,102: Fisher-Price Imaginext Pirates Shark Minisub Figure with Vehicle
Day 2,103: Fisher-Price Imaginext Jurassic World Dr. Malcolm & Dimetrodon Action Figures
Day 2,104: Fisher-Price Imaginext Egypt Mummy Guards Action Figures
Day 2,108: Fisher-Price Imaginext Series 9 Mystery Figures Grim Reaper
Day 2,122: Fisher-Price Imaginext Series 6 Collectible Figures 4 Arm Alien
Day 2,133: Fisher-Price Imaginext Series 7 Collectible Figures Headless Horseman
Day 2,194: Fisher-Price Imaginext Series 9 Mystery Figures Yeti Snowboarder
Day 2,227: Fisher-Price Imaginext Series 9 Mystery Figures Shark Pirate
Day 2,239: Fisher-Price Imaginext DC Super Friends Slammers Arctic Sled with Mr. Freeze Set
Day 2,249: Fisher-Price Imaginext DC Super Friends Slammers Batmobile with Batman Set
Day 2,257: Fisher-Price Imaginext DC Super Friends Surround Sound Batcave Playset


See more Imaginext figures in Figure of the Day:
Day 233: Fisher-Price Imaginext Space Station Toy Set
Day 404: Fisher-Price Imaginext Dinosaur Ankylosaurus
Day 528: Fisher-Price Imaginext Dinosaur Raptor
Day 766: Fisher-Price Imaginext Collectible Figures Diver
Day 796: Fisher-Price Imaginext Collectible Figures Robot
Day 830: Fisher-Price Imaginext Collectible Figures Mummy
Day 842: Fisher-Price Imaginext Space Ion Scorpion
Day 847: Fisher-Price Imaginext Space Ion Crab
Day 853: Fisher-Price Imaginext Space Alpha Blade
Day 954: Fisher-Price Imaginext Dinosaur Dimetrodon
Day 2,002: Fisher-Price Imaginext Series 10 Collectible Figures Spaceman & Alien
Day 2,014: Fisher-Price Imaginext Series 11 Collectible Figures X-Ray Man & Dog
Day 2,018: Fisher-Price Imaginext Series 11 Collectible Figures Radiation Man
Day 2,024: Fisher-Price Imaginext Series 11 Collectible Figures Triple Threat Snake
Day 2,032: Fisher-Price Imaginext Series 11 Collectible Figures M.U.S.C.L.E. Men
Day 2,036: Fisher-Price Imaginext Series 6 Collectible Figures Chicken Suit
Day 2,092: Fisher-Price Imaginext Series 11 Collectible Figures Fishbot
Day 2,096: Fisher-Price Imaginext Series 12 Collectible Figures Big Building Robot
Day 2,099: Fisher-Price Imaginext Series 12 Collectible Figures Clawtron
Day 2,100: Fisher-Price Imaginext DC Super Friends Batman & Swamp Thing Action Figures
Day 2,101: Fisher-Price Imaginext Series 7 Collectible Figures Buster of Ghosts
Day 2,102: Fisher-Price Imaginext Pirates Shark Minisub Figure with Vehicle
Day 2,103: Fisher-Price Imaginext Jurassic World Dr. Malcolm & Dimetrodon Action Figures
Day 2,104: Fisher-Price Imaginext Egypt Mummy Guards Action Figures
Day 2,108: Fisher-Price Imaginext Series 9 Mystery Figures Grim Reaper
Day 2,122: Fisher-Price Imaginext Series 6 Collectible Figures 4 Arm Alien
Day 2,133: Fisher-Price Imaginext Series 7 Collectible Figures Headless Horseman
Day 2,194: Fisher-Price Imaginext Series 9 Mystery Figures Yeti Snowboarder
Day 2,227: Fisher-Price Imaginext Series 9 Mystery Figures Shark Pirate
Day 2,239: Fisher-Price Imaginext DC Super Friends Slammers Arctic Sled with Mr. Freeze Set
Day 2,249: Fisher-Price Imaginext DC Super Friends Slammers Batmobile with Batman Set
Day 2,257: Fisher-Price Imaginext DC Super Friends Surround Sound Batcave Playset