Ramjet
Decepticon Jet

Transformers Timelines Generation 2 Club Exclusive Figure
Item No.: 01-11
Manufacturer: Hasbro and Fun Productions
Includes: 2 Rockets, 2 Launchers
Action Feature: Turns into a jet
Retail: $58.00 (+$10.00 shipping)
Availability: June 2011
Other: As G2 as G2 repaints get

PREVIOUS
RSS
NEXT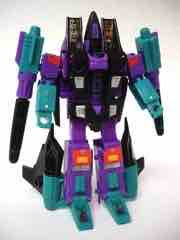 The one thing I hate about Transformers Collector Club exclusives is the obscene price-- you get a "free" figure with the $40 membership, but you want another figure? They throw it in a foam insert in a hard box and it's $70 shipped. Pricey. On the bright side-- and this is the thing I love about the club-- they'll do things Hasbro would likely never, ever do like G2 Ramjet. This thing is based heavily in the style of the early 1990s. The once-proud white Decepticon jet has been slathered in purple and teal, given the Generation 2 Decepticon (or Cybertronian Empire, if you prefer) face on his wings.
It's a modern recreation of 1993 Generation 2 Ramjet, right down to the metallic stickers and amazing color scheme. To accurately replicate the look, Fun Productions added tons of extra paint and shiny foil pre-applied labels to give it a look even better than the original toy. Stickers were used on the shoulders and feet, while nearly everything else has been painted on the body. There are lots of words on this toy, including his name in the same ugly serif font that was used on the original toy. While expensive, this toy has enough extra decoration on it that you feel they didn't take any shortcuts on bringing you the best possible recreation of G2 Ramjet you could possibly hope for. (It's still expensive for what you get. A pair of exclusive toys at BotCon sold for a mere $90.)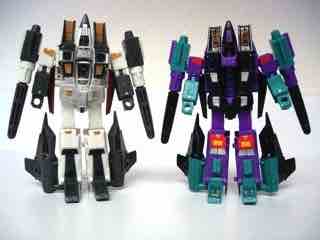 The mold is essentially the same as the Classics Ramjet sold in 2007, which was a remolded Starscream and has been remade, repainted, and redesigned no fewer than a dozen times. This is the only one of those to be "G2"-specific and boy oh boy, does he look it. Check out the bright yellow rectangles on his knees, which are in neon reddish orangey boxes, which is surrounded by a mass of purple and teal. (Interesting note about the teal, the original 1993 toy was blue but tended to "teal" with age, like how white plastic "yellows." So the new figure seemingly replicates the "aged" colors.) There are also some mold tolerance issues which weren't here before, so while it seems to have no problems staying in robot mode, getting the pieces to fit in to the plane mode may prove problematic.
The head has gold eyes, which the original did not have and is a nice, clear improvement. The toy's articulation is the same as previous releases, with jointed hips, knees, shoulders, elbows, and a neck too. If you've bought this mold as Acid Storm, Starscream (x4), Skywarp (x2), Thundercracker (x4), Dirge (x3), Thrust (x3), or G1 Ramjet (x2)-- or any of the ones I'm forgetting-- you know more or less what to expect from the look and feel of this figure. If you don't already own some of those earlier releases, you've no reason to buy this one.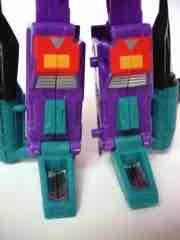 The quality of the mold has suffered a bit compared to previous Hasbro retail releases, which is not entirely uncommon on these Club/Convention exclusives. Loose pieces or little chunks of plastic hindering movement are common, so this is not something you should give an easily frustrated child. On my sample, it doesn't quite fit perfectly into plane mode, there were some extra plastic chunks on the assembly you spin around getting the canopy into the chest compartment, and one of the mini wing chunks you flip over (located behind the robot arms) popped right out. Even after you finesse everything in place, it still doesn't quite fit together as well as previous releases with this mold. I've never had that problem before with my other Ramjet/Dirge/Thrust toys, and I've got... (let me check) 9 other toys based on this mold with an 11th pending in a trade. So be careful with it-- pieces may pop off during normal transformation. I should note the spring-loaded rocket launchers still work fine, and look fantastic.
Deco on the robot is pretty extensive, as mentioned above, but the foily reflective stickers are a nice and unusual addition. Labels on Transformers since the late 1990s are actually quite uncommon. As you can see in the picture, there's a lot of color on this guy, and this is the kind of thing you just plain don't see at retail. (Why, I don't know-- Hasbro could probably do "G2" repaints of nearly every mold in whatever its minimum order quantity is and sell through them all.)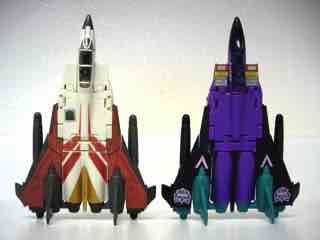 In jet mode, you'll easily notice the extensive decoration added to the figure. On the air intakes, you can spot lines, boxes, and multiple colors previously added via labels. Here, it's just a lot of paint. On the wings, the jet intakes were painted teal and clearly labeled with purple graphics covered in white lettering. G2 Decepticon symbols-- the original had G1 symbol stickers-- are painted purple with a metallic silver outline. The paint upgrades don't stop there, as the stablizers are also painted teal with "DC 002" on them. What does that mean? No idea.
This item sold out inside 2 days. I whine about the price, but as you can see, I paid it. It's a nice item and one I'm sure will go for a huge chunk of change over the coming weeks if you can part with it, and if you have any taste, you can't. If you can get one at or under $70, you should. More than that? Well, I'm not one to tell you what to do with those lottery winnings, Mr. Rockefeller.
--Adam Pawlus
Additional Images

Click here to see more Hasbro figures in Figure of the Day.

Click here to see more Transformers figures in Figure of the Day.

Want to buy this figure? Check Transformers availability at our sponsors:
Entertainment Earth