Dr. Girlfriend
Series 4

Venture Bros. Retro Action Figures
Item No.: ???
Manufacturer: Bif Bang Pow!
Includes: n/a
Action Feature: n/a
Retail: $19.99
Availability: July 2011
Other: Limited to 3,000 pieces

PREVIOUS
RSS
NEXT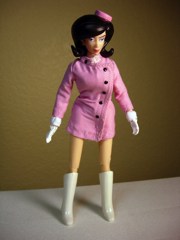 Easily one of the most memorable characters in animation in the past decade, Dr. Girlfriend is the rare female villain that combines intelligence, Jackie O-ness, and a pillbox hat. Standing at about 8-inches tall, she owes a lot to her Mego ancestors, specifically due to her body type and her boots.
...as always, I consulted on this line, so do keep that in mind when reading.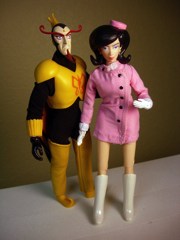 The plastic boots look and feel like vintage 1970s, while the outfit is quite new. The pillbox hat is molded to her head, which is the typical hollow plastic of these retro 8-inch figures. The gloves are painted hands, with a little trim (actually bracelets) to complete the look. The outfit itself uses velcro-- a little bulky-- to fasten itself around the figure, which actually had some surprised underneath.
A padded bra? Painted panties? Hunh. Didn't see that coming. Neither really adds much to articulation-- which is standard Mego-- but I don't know that padded undergarments are the norm on this kind of figure. For a cartoon character's unique proportions, it makes sense-- a few other figures, like Hurley from Lost, also make use of extra material to enhance the body type.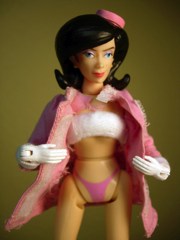 As (at press time) the only Dr. Girlfriend toy larger than a small PVC trading figure, odds are you'll be getting her based on the merits of the character rather than the figure. While I do wish she had snaps instead of velcro on her dress, she turned out really well and the character design works well within the vocabulary of the 1970s Mego format. This is more of a display piece than anything-- she needs some help to stand, for example, and it's not like there are any vehicles or playsets. As I'm a fan of the show and this feels like some weird artifact from the future, one I'm happy to have around. I'd suggest fans of the show grab it, but if you aren't already sold on the character it's not like the figure breaks new ground in a way that will slap your collection upside the head. It's good, it's fun, it's from my favorite Adult Swim show. And that's good enough for me (for now, who knows what's next?)!
--Adam Pawlus
Additional Images

See more Bif Bang Pow! action figures in Figure of the Day:
Day 3: Venture Bros. The Monarch Action Figure
Day 192: Venture Bros. Dean Venture Action Figure
Day 289: Venture Bros. Jonas Venture Action Figure
Day 297: Venture Bros. Rusty Venture Action Figure
Day 303: Bif Bang Pow! Venture Bros. Dr. Girlfriend Action Figure
Day 308: Bif Bang Pow! Doctor Who Fourth Doctor Action Figure
Day 313: Bif Bang Pow! Venture Bros. Dr. Orpheus Action Figure
Day 362: Bif Bang Pow! Venture Bros. Hank Venture Action Figure
Day 439: Bif Bang Pow! Venture Bros. Phantom Limb Action Figure
Day 490: Bif Bang Pow! Venture Bros. Bloody Brock Samson Action Figure
Day 499: Bif Bang Pow! Venture Bros. Brock Samson Action Figure
Day 666: Bif Bang Pow! Venture Bros. Dean Venture Action Figure
Day 666: Bif Bang Pow! Venture Bros. Hank Venture Action Figure
Day 699: Bif Bang Pow! Venture Bros. Molotov Action Figure
Day 732: Bif Bang Pow! Venture Bros. Dr. Mrs. The Monarch Action Figure
Day 771: Bif Bang Pow! Venture Bros. Brock Samson Action Figure
Day 867: Bif Bang Pow! Venture Bros. Unpainted Test Shot Monarch Action Figure
Day 970: Bif Bang Pow! The Twilight Zone Henry Bemis Action Figure
Day 1,003: Bif Bang Pow! Venture Bros. Monarch Action Figure
Day 1,027: Bif Bang Pow! The Twilight Zone Kanamit (Work Uniform) Action Figure
Day 1,054: Bif Bang Pow! Star Trek: The Next Generation Lieutenant Worf
Day 1,063: Bif Bang Pow! The Twilight Zone Talky Tina Action Figure
Day 1,388: Bif Bang Pow! Peg Pals Batman Armored
Day 1,928: Bif Bang Pow! DC Comics Pin Mate Wonder Woman
Day 2,134: Bif Bang Pow! The Twilight Zone Gremlin

See more Venture Bros. figures in Figure of the Day:
Day 3: Venture Bros. The Monarch Action Figure
Day 192: Venture Bros. Dean Venture Action Figure
Day 289: Venture Bros. Jonas Venture Action Figure
Day 297: Venture Bros. Rusty Venture Action Figure
Day 303: Bif Bang Pow! Venture Bros. Dr. Girlfriend Action Figure
Day 313: Bif Bang Pow! Venture Bros. Dr. Orpheus Action Figure
Day 362: Bif Bang Pow! Venture Bros. Hank Venture Action Figure
Day 439: Bif Bang Pow! Venture Bros. Phantom Limb Action Figure
Day 490: Bif Bang Pow! Venture Bros. Bloody Brock Samson Action Figure
Day 499: Bif Bang Pow! Venture Bros. Brock Samson Action Figure
Day 666: Bif Bang Pow! Venture Bros. Hank Venture Action Figure
Day 699: Bif Bang Pow! Venture Bros. Molotov Action Figure
Day 732: Bif Bang Pow! Venture Bros. Dr. Mrs. The Monarch Action Figure
Day 771: Bif Bang Pow! Venture Bros. Brock Samson Action Figure
Day 867: Bif Bang Pow! Venture Bros. Unpainted Test Shot Monarch Action Figure
Day 1,003: Bif Bang Pow! Venture Bros. Monarch Action Figure

Want to buy this figure? Check Venture Bros. availability at our sponsors:
Entertainment Earth