Gemini
The Man from the Twin Star Algol

Outer Space Men Alpha Phase Comic-Con 2012 Exclusive
Item No.: n/a
Manufacturer: Four Horsemen
Includes: Ray gun, 4-piece staff, 2 removable helmets, alternate bent arms
Action Feature: n/a
Retail: $50.00 (sold as a set with blue Cyclops and pink Orbitron)
Availability: July 2012
Other: First release of Gemini in this line

PREVIOUS
RSS
NEXT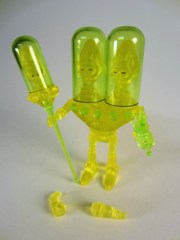 With rising costs across the globe, it's hard not to mutter that Gemini cost a little more than previous years' figures. From $40 for 4 to $50 for 3, the largely unpainted figures have changed in size quite a bit and include fewer shared parts than before. Aside from perhaps a couple of plugs and the arms, it seems Gemini is 100% new as are his companions. With more little pieces than ever before, I have no doubt that despite his 3 1/3-inch tall size Gemini looks like he cost a lot to make. Made from about 30 parts, it's clear to me that nobody cut any corners on this one.
As always, the figure may be split apart and reconfigured through the use of Glyos plugs. Like Alpha 7 last year, the hands and feet use a proprietary smaller Glyos plug which I have yet to see used on any other figures. There's a preposterously high piece count here, with the staff alone being made of a helmet, a double-faced head, a pole, and a base that holds the whole thing together. Instead of painting sculpted round dots on the figure's body, each green circle is a removable Glyos plug rendered in clear green ABS plastic. Even his raygun is sculpted in amazing detail, with fins and emitters coming together to make something that's truly out of this world, or to be more precise, out of the late 1960s.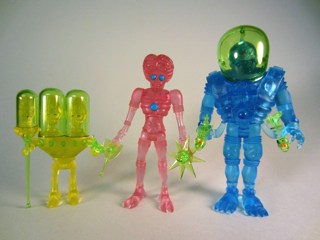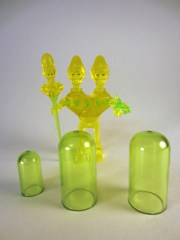 Cast out of a paler than usual yellow plastic, this figure isn't an exact match for 2010's New York Comic Con Inferno or 2011's New York Comic Con Commander Comet, but it's close. The big boots do a great job of keeping him upright, and there's very little paint on the figure. Each face has 2 painted purple dots including the head on the staff, for a grand total of eight small purple dots.
The design and engineering are great, and as a display piece close to perfect. My only real beef are, like with Alpha 7, the hands. Rather than closed-fist hands, these are open c-shaped ones and they do not grip his accessories particularly well. If you leave him alone on the shelf you should experience no problems, but don't be surprised if he drops the staff if jostled. Given only 3 more figures are left in this line, it appears very unlikely that the class of 2013 will experience this problem. Gamma-X might be an issue, but we'll see how it turns out.
I feel like I should be muttering something about the price of these figures, but relative to other action figure prices this year I can't say I got a bad deal. The piece count is much higher than the recently released Armorvor and I have little doubt Gemini will have fewer recolors with which to make back the tooling investment. His gaunt heads with their bizarre hair-like growths, painty ears, giant noses, and gaunt faces look about as retro as something from the future could get, and I'm supremely happy to have one. Of course, if they released the painted ones first I might have been happy to just have those, but they didn't, so here we go. I'd say get Gemini (and the entire set) at Store Horsemen if you can swing it, but the upcoming painted release may be worth waiting for as well. These figures are truly out of another era, combining modern toymaking techniques (and tiny run sizes) with the best sculptors working today and the best designs 1968 had to offer.
--Adam Pawlus
Additional Images

Click here to see more Four Horsemen figures in Figure of the Day.

Click here to see more Outer Space Men figures in Figure of the Day.

Click here to see more Glyos Compatible figures in Figure of the Day.