Outlandish Mini Figure Guys Series 1
King Castor, Multiskull, Crawdad Kid, Stroll, Phantom Shithouse (also Outhouse)

Outlandish Mini Figure Guys (OMFG) Series 1
Item No.: n/a
Manufacturer: October Toys
Includes: 5 figures
Action Feature: n/a
Retail: $10.00
Availability: January 2012
Other: Available in multiple colors, including Rotofugi's exclusive blue, Onell Design Pheyden blue, UofMuscle's yellow, Little Rubber Guys' green, Kickstarter exclusive black, and artist-exclusive red

PREVIOUS
RSS
NEXT


In 2011, the October Toys forums lit up with an idea of a forum-sourced collection of small figures based on Monster in my Pocket, M.U.S.C.L.E., and other roughly 2-inch unpainted figures from the 1980s. The idea was to vote on 5 designs, each of which were created by forum members, and then raise funds via Kickstarter to get them made in China. While this is what Hasbro and Mattel do every day, it is remarkable that a small group of fans-- only 425 fans donated-- were able to get together and make a small series of figures happen. They're excellent, the price was right (donors got first crack at black and/or flesh colored figures at as little as $10 per set shipped), and frankly I'm giddy that this happened. The process-- which I watched briefly and jumped in on at the last minute-- was exciting and fun.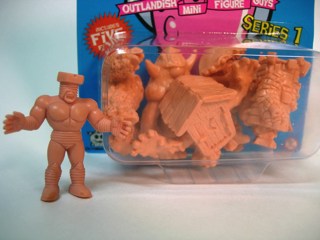 This line is not the heir apparent to M.U.S.C.L.E., as only 5 characters have been created so far and it looks like it will probably be close to 8-12 months before series 2 hits. At press time, those figures are still being conceived but it's my sincere hope that this line will succeed as to allow October Toys to create multiple series per year, or failing that, a larger series of figures. Right now this is a mail-order exclusive, as the toys have no UPCs and frankly aren't appropriate for children. The cardback has a figure named "Phantom Shithouse," after all-- this places the line squarely at adults, which is almost unfortunate. I would absolutely buy these at a Target or a Toys R Us would the buyers for those companies support this insanely fantastic level of creativity. If by some miracle they could crank out 25-40 figures per year, this would probably be the single most exciting thing going in toys right now. At 5 per year, well, we'll just have to settle for it being really nifty and fun.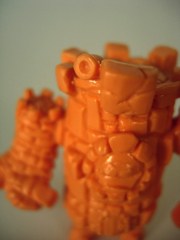 Let's get started with King Castor, designed by Dominic "The Evil Earwig" Campisi. This 1 3/4-inch figure is bigger and bulkier than your average vintage minifigure, as you can tell by the molding-- most of these figures have arms as separate, unarticulated pieces. The attention to detail on this plastic figure is quite nice, as the roof has all sorts of carved stones while the arms are covered in tiny bricks. His body is covered by tiny cannons and some sort of boiler on the back, plus a tiny door over his fly. With one hand open and the other in a clenched fist, this is a delightful figure with an angry face and a good chunk of personality. I almost wish it was a larger toy, perhaps an opening anthropomorphic playset.
As mentioned above, each set of figures is sold in a default flesh color, with lots of variations as exclusives for various web sites. This set attempts to match the original color of Mattel's M.U.S.C.L.E. line, and comes quite close. My original 1980s figures look a little paler, and the new OMFGs are more vibrant and more than a little pinker. They have a little flexibility to them, but don't feel nearly as able to take abuse as the old M.U.S.C.L.E. line. The packaging indicates these are for ages 15 and up, and as some of the figures have slightly sharper edges I would tend to agree.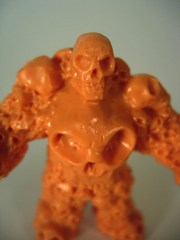 Next up is Multiskull, a one-piece design by Charles "Monsterforge" Marsh. According to some notes on the October Toys forums, he was sculpted over an unnamed figure from M.U.S.C.L.E. and it shows-- his pose is similar to a few of those little guys. What's awesome (and ridiculous) about the toy is that he's made entirely of skulls. His torso? One big skull. His head? Skull. Hands? Skulls. Feet? Skulls. I haven't yet attempted to count how many skulls are on his person, but it has to be dozens. The bulky, 1 3/4-inch tall figure has an open skull as a hand, which is a really nifty way to pick up stuff with his teeth. The detail is quite good, and it looks like this took a long time to assemble-- with so many eyes, teeth, and other bits to create it couldn't have been terribly easy.
Of all the figures, he's the most proportionally similar to the old M.U.S.C.L.E. toys-- although slightly bulkier.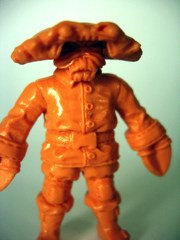 The crustacean humanoid Crawdad Kid is the only character in the set to wear pants and shoes, making Daniel Yu's creation unique in a big pack of monsters. Unlike a lot of the old one-color figures, the large 2-inch high figure has sculpted boots, a belt, buttons, and all sorts of amazing detail-- of the entire set, he has the most varied body. The head has a large crablike structure, complete with a tail on his back. The tri-clawed hands are menacing, and his shirt even has a collar. The face has all sorts of folds and general weirdness, plus below the belt-- and he indeed does have a belt-- are knee pads. At first I was a little confused by the character, but it's really nifty to see the level of detail on this little guy up close.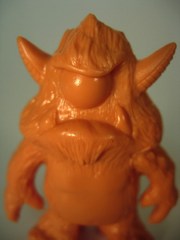 John "Spanky" Stokes created Stroll, which was scultped by October Toys' own George Gaspar. The little guy looks like he stepped right out of the 1980s, with a fuzzy body, big horns, giant teeth, big feet, and hands with claws. I didn't even realize his paws had claws until I had him out of the package for a bit, and that's just one of the little textured bits under the horn and even on his posterior. The initials "SS" are on his bottom, and the only thing I don't care for here is that he feels incomplete-- he has but one eye, but there's no pupil or anything to indicate where he's looking. I guess you're supposed to add it yourself, but I wish it was an actual sculpted bit as it feels he could stand to have the extra bit of personality only an eye can bring.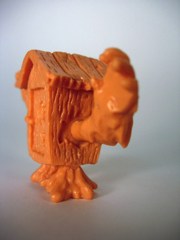 Completing the package is the appropriately named Phantom Shithouse, an outhouse designed by Ralph Niese and Kyle Thye. The idea is actually delightfully clever for being a poo joke, as what you're getting is some sort of spectral being bursting from the inside of an outdoor toilet. The arms and feet are made from the, erm, materials inside and are amazingly goopy-- it's unfortunate that this is an unpainted figure, because the sculpted dripping texture would looks awesome with painted (or clear brown) colored detail. If I had similarly sized figures from Scooby-Doo, I'd have this guy chase them around.
The roughly 1 1/2-inch tall, 2 1/2-inch wide beast has a nicely-textured body featuring several faux wooden planks, a handle, and hinges too. Little bits of rotting and broken wood are a real nice touch, and the ramshackle shack shows that someone really put some quality time into making this miniature figure look right.
This collection touches on the many minifigure tropes of the 1980s, particularly in the monster range. I've been itching for a new set of toys that offers something truly different, and this is it! The problem is, there aren't many of them and I'm eager to get new designs quickly-- part of the appeal of minifigures to me has always been the rush of excitement to see what you get in each pack, and the anticipation of the next set. Unfortunately, I know exactly what I get in this set, and it's not like there's a surprise of random colors or alternate sculpts-- you get exactly what you pay for. It's worth it, but I still feel I need something more. More figures, more colors, more series per year-- it's a great start and one of the most exciting debuts since the Four Horsemen's The Outer Space Men in 2010. I'm looking over the designs for series 2 and I can't wait to see what gets selected for the next batch!
I'd also like to editorialize briefly, this is a big deal. You may not see at as one, but to me this represents a significant shift in how toy collectors interact with their quarry. Increased access to China manufacturing combined to a service in which collectors can put their money where their mouths are means that there's a variety of things we, the fans, can make for ourselves. Want a Hoth Wampa Cave? An Endor Funeral Pyre? Your own personal line of collectible minifigures? It's doable-- if you respect copyrights and network, there's a chance that we as fans may not have to wait for a major company with tons of money to come up with something new.
--Adam Pawlus
Additional Images

See more October Toys in Figure of the Day:
Day 315: October Toys Outlandish Mini Figure Guys (OMFG) Series 1 Minifigures
Day 481: October Toys Outlandish Mini Figure Guys (OMFG) Series 1 Glow in the Dark Minifigures
Day 494: October Toys Zillions of Mutated Bodies Infecting Everyone (ZOMBIE) Series 1 Neon Orange Minifigures
Day 570: October Toys Outlandish Mini Figure Guys (OMFG) Series 2 Minifigures
Day 590: October Toys OTMF Baby Deadbeet Mini-Figure
Day 751: October Toys Zillions of Mutated Bodies Infecting Everyone (ZOMBIE) Series 1 Blue Glow in the Dark Minifigures
Day 775: October Toys Outlandish Mini Figure Guys (OMFG) Series 3 Minifigures
Day 813: October Toys OTMFG Zombie Pheyden Mini-Figure
Day 885: October Toys OTMFG Brocotal Mini-Figure
Day 909: October Toys OTMF Glow in the Dark Toy Break Mini-Figure
Day 929: October Toys OTMFG Flesh 3DRetro Robot Mini-Figure
Day 943: October Toys OTMFG Glow in the Dark Baby Deadbeet Mini-Figure
Day 1,113: October Toys OTMFG Glow in the Dark Brocotal Mini-Figure
Day 1,142: October Toys Outlandish Mini Figure Guys (OMFG) Series 2 Glow in the Dark Minifigures
Day 1,184: October Toys Skeleton Warriors Bone Titan Skeleton Action Figure
Day 1,191: October Toys Skeleton Warriors Baron Dark Action Figure
Day 1,214: October Toys Skeleton Warriors Glow-in-the-Dark Titan Skeleton Action Figure
Day 1,300: October Toys Outlandish Mini Figure Guys (OMFG) Series 4 Minifigures
Day 1,261: October Toys October Toys Mini Figure Guys (OTMFG) Brainwaves Minifigures
Day 1,547: October Toys October Toys Mini Figure Guys (OTMFG) Glow-in-the-Dark Mini Gwin Minifigure
Day 2,324: October Toys Outlandish Mini Figure Guys (OMFG) Series 3 Glow-in-the-Dark Minifigures

See more Outlandish Mini Figure Guys (OMFG) in Figure of the Day:
Day 315: October Toys Outlandish Mini Figure Guys (OMFG) Series 1 Minifigures
Day 481: October Toys Outlandish Mini Figure Guys (OMFG) Series 1 Glow in the Dark Minifigures
Day 570: October Toys Outlandish Mini Figure Guys (OMFG) Series 2 Minifigures
Day 775: October Toys Outlandish Mini Figure Guys (OMFG) Series 3 Minifigures
Day 909: October Toys OTMF Glow in the Dark Toy Break Mini-Figure
Day 1,142: October Toys Outlandish Mini Figure Guys (OMFG) Series 2 Glow in the Dark Minifigures
Day 1,300: October Toys Outlandish Mini Figure Guys (OMFG) Series 4 Minifigures
Day 2,324: October Toys Outlandish Mini Figure Guys (OMFG) Series 3 Glow-in-the-Dark Minifigures