Thundercracker
Series 1: B009

Transformers Bot Shots Battle Game Figures
Item No.: Asst. 37663 No. 98427
Manufacturer: Hasbro
Includes: Figure
Action Feature: Spring-loaded transforming figure
Retail: $3.99-$4.99
Availability: May 2012
Other: Shares parts with Starscream

PREVIOUS
RSS
NEXT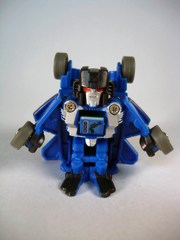 Few characters embody "token repaint" better than Thundercracker, one of a few characters you expect to see every time Hasbro makes a Starscream toy. Sometimes they let you down, as one wasn't made in Energon, but generally it's a pretty safe bet Hasbro will do a blue repaint of Starscream eventually. No mold changes that I can see were made, but the new paint job is pretty nice.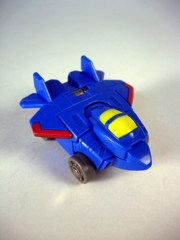 In jet mode, the toy is severely lacking in paint. The yellow cockpit pops nicely, and I appreciate the red stripe on the wing-- but that's all you get. No white or red stripes beyond that exist, and there are no Decepticon symbols anywhere to be seen. It's basically a car with wings, which is hard to avoid given the format of this kind of quasi-game mini-figure. If you're going to display this figure, do so in robot mode. Or just pay with it, it's fun.
The mold is a little touchy so far, just hit the nose and it flips up into robot mode. It's simple, but that's what you want. The body has a little paint in robot mode, with a silver torso and black feet and hands against a mostly blue body. The head has a fair amount of paint including a nice silver color, a black metallic helmet, and bright red eyes. It's obviously Thundercracker, and it's clearly inspired by the 1984 original. On one hand, it's great and fun, giving you a new addition to your Decepticon air force. On another, it's a repaint, but while some people are tired of these I'm not. If I don't get a repaint of Starscream, I'm going to get disappointed. Now bring on Skywarp!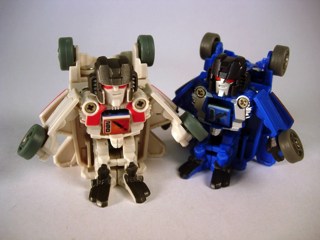 Troubleshooting Note: As always, there are two screws on each figure's chest. If you tighten these, the trigger is a little jumpier. If you loosen it, it weakens it a bit. Depending on how well the figures do (or don't) spring up, you may want to keep a screwdriver around to adjust them to your liking.
--Adam Pawlus
Additional Images

Want to buy this figure? Check Transformers availability at our sponsors:
Entertainment Earth

Click here to see more Hasbro figures in Figure of the Day.

Click here to see more Transformers figures in Figure of the Day.