Optimus Prime
Series 01 #001

Transformers Generations Deluxe
Item No.: Asst. 37986 No. A0169
Manufacturer: Hasbro
Includes: Ion cannon
Action Feature: Transforms from space truck to robot
Retail: $14.99
Availability: July 2012
Other: Small, expensive

PREVIOUS
RSS
NEXT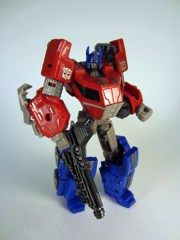 I keep buying new versions of Optimus Prime in search of greatness, and I usually find it. 2010's War for Cybertron Prime was an insanely complicated toy for about $12-$15. 2002's Supercon Optimus Prime had a Targetmaster buddy and a fun, simple transformation for $10. Then again, the 2011 Reveal the Shield Optimus Prime felt fragile and weak, small for the money and not fully thought-out making it a weak, weak remake of the G2 Laser Optimus Prime toy. This new Fall of Cybertron Optimus Prime is somewhere in the middle, due in part due to its high cost relative yo what you get. It's a deluxe-- long the $10 price point in the line-- but it's a smaller, simpler deluxe which in terms of plastic meat doesn't hold a candle to his 2010 ancestor. In his own right, he's a fun figure but I have a feeling a $10 price tag would have sat better. That, or some extra accessories or deco would help soften the blow. It doesn't feel like a $15 toy, but I can't put it down and it's been living with my on my desk while Jazz has been put on a shelf in a closet already.
If money is no object, you will enjoy this toy. If you like fun toys, regardless of size, this is a fun toy. If $15 needs to get you a meaty, robust robot, this ain't it.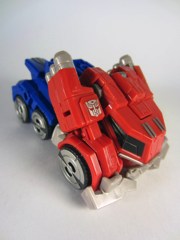 Standing just over 5-inches tall at the head, and about a head shorter than his forerunner, which was a pretty amazing figure for his day. New FOC Prime has about 16 points of articulation, and while he lacks the double-joints of some other releases, he does have a wonderful range of motion at the waist and elsewhere. For being somewhat dainty, he's able to move nicely. There are far more flat surfaces and fewer panels than other toys, plus less color. The 2010 model had some nifty pink highlights, 2012 lacks much color beyond silver, grey, blue, and red. The biggest deco improvement on this figure is in his eyes-- they're painted bright blue and no longer rely on questionable light-piping.
I was amazed and delighted by the amount of holes on his person-- which you can cram full of hard, eh, you know. Guns. The 5mm peg holes are on his forearms, legs, pipes, and even smack dab in the middle of his back. You can throw on guns from other figures and, should someone be goodly enough to make one, a jetpack. (For those keeping track, I've been wanting a jetpack for my Optimus Prime toys for ages now-- and now there's a space for one!) I appreciate you can gear him up, although some more gear in the box would have been nice.
The transformation is pretty simple, although both he has a front bumper which sort of gets in the way, both in truck mode and in robot mode. It seems only four of the six wheels can touch the ground to roll while in truck form. (Having said that, I will not deny I may be too stupid to properly transform this toy aimed at boys ages 5-11.)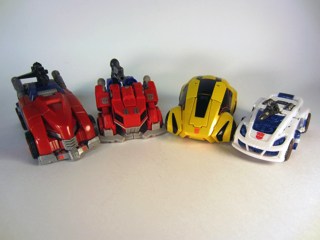 In 2013, this figure will be remolded into Ultra Magnus and I'll buy it again. I love the 1980s movie crew. I would consider suggesting you wait for Magnus, but I would hate to steer you wrong if Optimus dries up for some reason. It's a neat toy, and for $10 I'd say a darned good one. But $15? I need a Mini-Con sidekick or an extra-tall robot mode to be happy at $15. (I'd pay $15 for Lockdown.) If you missed War for Cybertron Optimus, this is an acceptable substitute and superior option for those who wish to eschew frustration. Also, I couldn't put it down for the first few days I had it, while Jazz... Jazz is Jazz.
Oh, and the packaging is really nice. It's a mix of modern graphic design packed with nods to the 1984 boxes, like the red grids, actual tech specs (more or less), and a bio. For whatever reason a "vintage" line of Transformers featuring new toys in retro packaging has yet to materialize, but this is pretty close so far. The figure packages are also "numbered" in a series, which is unusual for this particular brand (despite Star Wars doing it since 2002 and G.I. Joe introducing it with the 30th Anniversary line.)
--Adam Pawlus
Additional Images

Click here to see more Hasbro figures in Figure of the Day.

Click here to see more Transformers figures in Figure of the Day.

Want to buy this figure? Check Transformers availability at our sponsors:
Entertainment Earth