Outlandish Mini Figure Guys Series 1
King Castor, Multiskull, Crawdad Kid, Stroll, Phantom Shithouse (also Outhouse)

Outlandish Mini Figure Guys (OMFG) Series 1
Item No.: n/a
Manufacturer: October Toys
Includes: 5 figures
Action Feature: n/a
Retail: $10.00
Availability: July 2012
Other: Available in multiple colors

PREVIOUS
RSS
NEXT

I really have no valid reason to talk about Outlandish Mini Figure Guys (OMFG) Series 1 Glow in the Dark Minifigures because we went over the flesh colored ones in January and, frankly, by the time this goes up it'll be old news. I still like them, though, and I figure it's worth posting so future generations can not seek them out because they have no damn respect for their elders.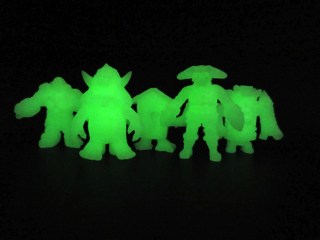 Since new figure molds are a little slow coming, it's no surprise that they wisely realized fans want (and will buy) numerous recolors of the first figures. The original five have come in no fewer than 10 colors so far, and while I promised myself I wouldn't get more than just the standard pink, I went ahead and got these. (And a black set, since it was an upsell and I am weak.) The fun thing about toy collecting is that if you ever collect repaints, you start to learn a lot about how certain colors of plastic and paint can fundamentally alter the personality of a sculpt, and certain lighter colors of plastic (especially those with a little translucency) can really suck out the detail. Glow in the Dark manages to do this a great deal, but that doesn't mean they aren't worth your hard-earned cash if you're a sucker for all things glow-in-the-dark like I am. Just remember, the reason to buy these is because they glow, not because it brings out the best in the sculpts.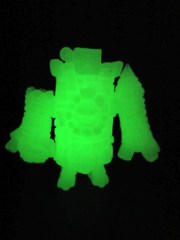 The new version of King Castor does not necessarily seem like a figure that demands glow in the dark functionality. This edition (or my sample) is assembled a little bit differently, with the arms set closer to the body. The fist on the right arm touches the main body, and my flesh sample has a little more space in there. Indoors (or in anything but scorching bright light) you lose a fair amount of detail, as the shadows don't add a lot of contrast here. The sculpted bricks, doors, windows, and boiler on the back sort of fade into the sculpt, but the big chunky bits still stand out nicely. In my basement's lighting, it's not obvious which side is the front just by looking at it.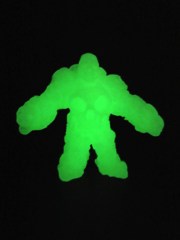 One of the figures I thought would look pretty slick in white or glow in the dark is Multiskull, mostly for obvious reasons: bones are white, and creepy undead things should glow in the dark. Given the right lighting, some light shines through the eye sockets and other bits, so it looks appropriately ghostly at all times. The skulls aren't nearly as obvious as on other colors, but it's still pretty nice. I just like the idea of something creepy glowing on my desk at night, so I suspect he'll be hanging around there for a while. Until there's some OMFG display rack or something.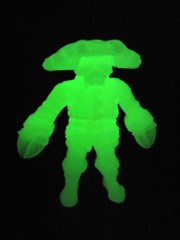 I'm surprised how Crawdad Kid looks in this color, mostly because the texture and thickness do some pretty wonderful things. The claws are so thin that you can almost see through them, and some parts glow intensely while others you can almost see through. As with the others, some of the texture is lost but the big, knobby legs still look good and the jacket doesn't quite fade into the figure the way others do. Seeing this one, I can't help but wonder if a transparent color might look even better. I don't think it's particularly better overall in glow in the dark, but I like it.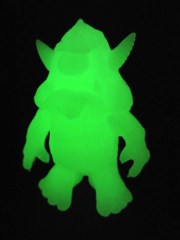 I almost wish I had more Stroll figures to paint, but I lack the skills. The big eye, fangs, and fur are all here and I think it would be spectacular to leave some parts unpainted and have a creepy glowing eye and fangs. Due to the large size of the textured areas, the figure still can show a little texture but the color saps it. I'm being repetitive. You can see the glossy belly and eye, and I have to think this guy painted up as Sulley from Monsters Inc. would be awesome. The pointy claws are still here and it's a gorgeous figure, but the S.S. signature on his buttocks are nearly impossible to see in this color.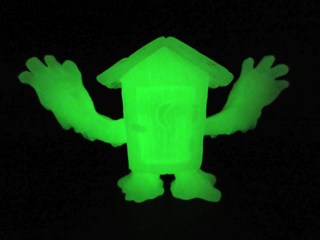 Completing the package is the damn near perfect Phantom Shithouse, because ghosts should glow in the dark. Or in this case, be a goopy brown color. The wooden planks are just the right texture to reflect the light off it so you can see more than just the basic outline, but the light has to be just right. He's big and wide, plus there's a lot of surface area to make glow in a dark room. Of the set, this is my favorite in this color. He's just perfectly nice.
Each roughly 2-inch tall figure has no accessories and no articulation. What you see is essentially what you get, and what you get is worth the asking price. I got mine for $10 shipped since I did the Kickstarter campaign, and that's a pretty fantastic deal when you consider shipping alone is about $3.31. I unquestionably feel as if I got my money's worth, and I'm currently on the fence on when or if I'll pick up series 2 in the glowing colors. After all, there aren't any ghosts in it.
--Adam Pawlus
Additional Images

See more October Toys in Figure of the Day:
Day 315: October Toys Outlandish Mini Figure Guys (OMFG) Series 1 Minifigures
Day 481: October Toys Outlandish Mini Figure Guys (OMFG) Series 1 Glow in the Dark Minifigures
Day 494: October Toys Zillions of Mutated Bodies Infecting Everyone (ZOMBIE) Series 1 Neon Orange Minifigures
Day 570: October Toys Outlandish Mini Figure Guys (OMFG) Series 2 Minifigures
Day 590: October Toys OTMF Baby Deadbeet Mini-Figure
Day 751: October Toys Zillions of Mutated Bodies Infecting Everyone (ZOMBIE) Series 1 Blue Glow in the Dark Minifigures
Day 775: October Toys Outlandish Mini Figure Guys (OMFG) Series 3 Minifigures
Day 813: October Toys OTMFG Zombie Pheyden Mini-Figure
Day 885: October Toys OTMFG Brocotal Mini-Figure
Day 909: October Toys OTMF Glow in the Dark Toy Break Mini-Figure
Day 929: October Toys OTMFG Flesh 3DRetro Robot Mini-Figure
Day 943: October Toys OTMFG Glow in the Dark Baby Deadbeet Mini-Figure
Day 1,113: October Toys OTMFG Glow in the Dark Brocotal Mini-Figure
Day 1,142: October Toys Outlandish Mini Figure Guys (OMFG) Series 2 Glow in the Dark Minifigures
Day 1,184: October Toys Skeleton Warriors Bone Titan Skeleton Action Figure
Day 1,191: October Toys Skeleton Warriors Baron Dark Action Figure
Day 1,214: October Toys Skeleton Warriors Glow-in-the-Dark Titan Skeleton Action Figure
Day 1,300: October Toys Outlandish Mini Figure Guys (OMFG) Series 4 Minifigures
Day 1,261: October Toys October Toys Mini Figure Guys (OTMFG) Brainwaves Minifigures
Day 1,547: October Toys October Toys Mini Figure Guys (OTMFG) Glow-in-the-Dark Mini Gwin Minifigure
Day 2,324: October Toys Outlandish Mini Figure Guys (OMFG) Series 3 Glow-in-the-Dark Minifigures

See more Outlandish Mini Figure Guys (OMFG) in Figure of the Day:
Day 315: October Toys Outlandish Mini Figure Guys (OMFG) Series 1 Minifigures
Day 481: October Toys Outlandish Mini Figure Guys (OMFG) Series 1 Glow in the Dark Minifigures
Day 570: October Toys Outlandish Mini Figure Guys (OMFG) Series 2 Minifigures
Day 775: October Toys Outlandish Mini Figure Guys (OMFG) Series 3 Minifigures
Day 909: October Toys OTMF Glow in the Dark Toy Break Mini-Figure
Day 1,142: October Toys Outlandish Mini Figure Guys (OMFG) Series 2 Glow in the Dark Minifigures
Day 1,300: October Toys Outlandish Mini Figure Guys (OMFG) Series 4 Minifigures
Day 2,324: October Toys Outlandish Mini Figure Guys (OMFG) Series 3 Glow-in-the-Dark Minifigures