Hades Pheyden MK II
Now Cheaper.... maybe

Glyos Action Figures
Item No.: n/a
Manufacturer: Onell Design
Includes: Removable scarf
Action Feature: Glow-in-the-dark head
Retail: $8.00
Availability: September 5 2012
Other: Second Hades Pheyden, but the first-ever figure to include a PVC plastic "scarf" accessory in this line

PREVIOUS
RSS
NEXT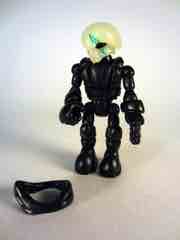 The first time this figure was sold, it had a harder resin scarf and was available for a short window of time through a special Glyaxia store. Now, Hades Pheyden MK II is available to everyone! Well, he was. For about an hour or less. Limited to 2 per customer, this nifty figure marks the debut of a PVC "scarf" accessory which does a surprisingly great job of changing the look and character of the figure with one tiny piece. Numerous other figures can wear it, like the Buildman or Govurom, but it seems a perfect fit for Pheyden and Scar Pheyden heads.
Roughly 2 3/4-inches tall, this release is made of mostly classic Pheyden parts but you'll recognize upper torso piece as being from Sarvos, which means he actually has a backpack hole if you're so inclined. Most photos of the character show him with a gun arm accessory (sold separately), but the figure is still pretty good as it is. The black body is a standard in this line, showing up again every year or so. What makes it unusual is a glow-in-the-dark head, specifically the Scar Pheyden noggin with a fair amount of paint. If you take off the head and look under the scarf, you'll see the scars are green, the eyes are black and black/white/green, and there's a painted neck too. The black paint on the lower part of the neck should be a great way to identify bogus versions of this figure, because scarves were available without Hades Pheyden, but only Hades Pheyden MK II seems to have a glow-in-the-dark head with a black painted neck from what I've seen so far.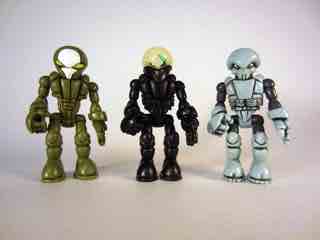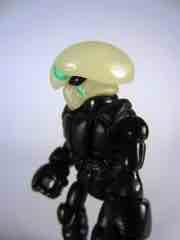 Glyos fans will recognize this figure as being par for the course in terms of articulation. With Glyos joints, the figure has 12 points of articulation and his pieces can be popped off and swapped with other Glyos figures. You can also give him a gun arm if you're so inclined.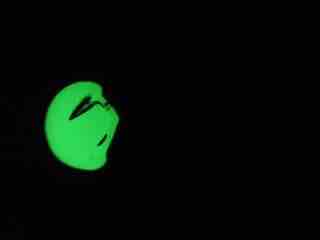 Given a role as a leader of an anti-Armorvor task force, it's no surprise this figure sold out quickly. It looks different enough from other versions of this mold to be worth your while, particularly since it's a distinctive character called out in the Onell Design "Passcode" game/animation series. One turned out on eBay basically the day they arrived in homes, but the high asking price seemed to prevent it from going anywhere too quickly. If you can get a good deal on this one, I'd suggest you jump on it. After five years I was wondering how much more mileage could be had with the "traveller" body type, and with the new scarf (and maybe some new heads) the answer is probably going to be "tons." Even though you may have a Pheyden of some sort, this particular variation is different and distinctive enough to have been worth the extra eight bucks. (And I'd also say it's worth not customizing, but that's me.)
--Adam Pawlus
Additional Images

Click here to see more Onell Design figures in Figure of the Day.
Click here to see more Glyos Compatible figures in Figure of the Day.