Mystron
The Man from Hollow Earth, decked out for the space holidays

Outer Space Men Galactic Holiday Green Variant
Item No.: n/a
Manufacturer: Four Horsemen
Includes: Two-piece helmet, alternate arms, Gargoyle Gun, Staff
Action Feature: n/a
Retail: $50.00 (sold as a set with Electron+, Alpha 7, and Commander Comet)
Availability: December 2011
Other: Available with either turquoise/blue or purple accessories

PREVIOUS
RSS
NEXT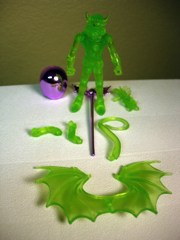 Because of Toy Fair in New York, figures like Mystron got written up a long time before they were posted-- this is what we call planning ahead. As the third release of the character, and technically the third pre-release as the painted version had yet to ship as of his release, this particular Mystron was cast in a bizarre green color. I say "bizarre" because, while appropriate for the Christmas season, I generally don't think of "green" when I think of "the center of the Earth" or, more specifically, Hell. Brown? Sure. Red? Absolutely. Smokey grey? Yes. But not green, even though it turns out the ghostly color really works well for this devilish creation.
As with the previous releases, he has 12 points of articulation plus a jointed tail, which basically makes 13. The tail and wings are removable, and his only paint appears on his eyes. Like previous releases, there's a removable knob on his chest which can accept pretty much any Glyos plugs... so if you want a tail or a set of wings plugged in there, that's doable. Or tentacles, as tentacles are cool.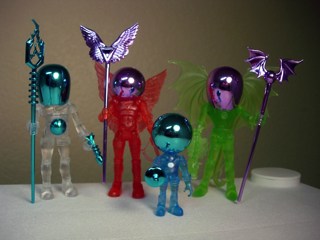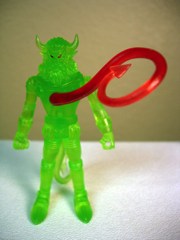 The thing that sets this figure apart from previous releases is his bulbous helmet-- the holiday edition figures were given opaque, vac-metal headgear which resembles Christmas ornaments. It is both the coolest and most annoying thing ever-- on one hand, it looks superb and these guys are fantastic for decorating your space trees. On the other hand, for the rest of the year, those of us displaying this line would probably have preferred a more traditional silver and gold, as that color frequently was found on space toys.
The staff was also given the vac-metal treatment, and it looks great-- there's a fair amount of detail in the wings that gets lost to translucent plastics, so seeing it in a solid color really adds to the value of the figure. His gargoyle gun returns and matches his body, and I really do dig the green color and appreciate that they keep using it. Seeing the group shots of like colored figures grow is both nifty and a little unsettling, particularly as the line grows every year with so few new painted or opaque figures in the line. This Mystron is totally fun because the color is a lot of fun and the helmet is nice and goofy, although I don't think anyone was clamoring for (or will clamor for in the future) this character in this particular color. For those of us who continue to collect them all, though, it's an essential purchase and it's not every day you find an alien devil with a Christmas ornament for a head.
--Adam Pawlus
Additional Images

Click here to see more Four Horsemen figures in Figure of the Day.

Click here to see more Outer Space Men figures in Figure of the Day.

Click here to see more Glyos Compatible figures in Figure of the Day.