Spores, Cannon Trunk, Hypnofrog, and Carrapax
They Fight

Gormiti Series 2 4-Pack
Item No.: Unavailable
Manufacturer: Playmates
Includes: 4 figures, 4 cards
Action Feature: n/a
Retail: $9.99
Availability: 2009
Other: ...and bite

PREVIOUS
RSS
NEXT

Still more Gormiti! There's a whole mess of these guys, and since I've been obsessed with the idea of small, cheap, unarticulated figures it seems like a good idea to talk about more of them. Let's get started with the two Forest Tribe members starting with the super-cool Spores the Terrible. Looking like an evil version of the mushrooms from Fantasia, Spores' card identifies him as yet another evil creature with mind-control powers which, well, seems to be about half of these guys. The sculpt is quite cool, with the big hat covering his head in a similar way to the Black Mages of Final Fantasy and Orko of Masters of the Universe. There are several mushrooms on the figure, including his "hands" which seem pretty darned useless as ways to manipulate a doorknob or a pencil. More mushrooms can be found on his knees and shoulders, and the figure is surprisingly well-decorated given only three colors of paint are used to bring this figure to life. Since he has no hands Spores will be bad at paperwork, but it doesn't seem to be what you'd hire him for anyway. Like the rest of Gormiti, he's sized similarly to the old M.U.S.C.L.E. line at about 1 3/4-inches tall.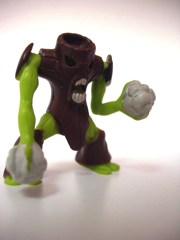 Next up is Cannon Trunk. The design, long with all four figures in this set, are excellent and it's really neat to see how this design seems to be inspired largely to the limitations of creating a tiny figure-- take a look at his "hands." Getting tiny vines that thin could be dangerous due to breakage, so rather than have "hands" the sculptors at Giochi Preziosi decided Cannon Trunk should be gripping rocks-- which launch out of his head. (Unfortunately, this kind of figure doesn't have a budget for such a mechanism, so you get to pretend.) The sculpt is quite excellent with a terrible freaky mouth that looks far creepier than his trading card art, with lots of simple detailing making up bark and vines on his body. This is one of the few figures which seems it would have made a really great action feature with a swell action feature, but it's just another small unarticulated PVC tree-- a good one, but this is one of the few times a little rubber guy like this seems like an idea which exceeds his plastic mandate.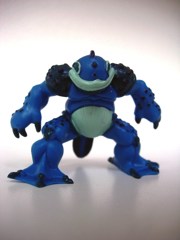 The rest of the set is made up of the Sea Tribe, water creatures and ocean life. Hypnofrog, the Mocker is much wider than the other figures in the set but is as tall as the other small figures in the set. Like Spores he has mind-control power, which I assume was cribbed from Futurama's Hypnotoad. I could be wrong-- if it is, that's either a sign of extreme laziness or a loving tribute to one of Matt Groening's lesser television projects. While the Hypnotoad seems largely harmless, Hypnofrog is said to have a "mocking grin" while you hear the "sound of your bones as they are slowly crushed." Maybe "The Mocker" is not so much important as "Bonecrusher." The sculpt has some decent detail, with warts, and armored shoulder pads giving a little bulk and heft to the pot-bellied blue amphibian. A tail-- maybe he's part tadpole?-- completes the ensemble, creating a big, mean, thick wrestler of a creature who looks quite the brute.
>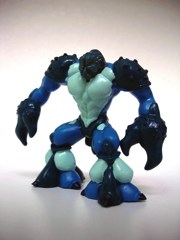 Rounding out the set is the token giant figure of Carrapax, teh Lord of the Sea. "PURE POWER!!" says his trading card, complete with all caps and twice the punctuation of your average sentence. He's a giant crab creature with similar shoulder pads, big claws, and strange bulbous feet. It's a big, mean, and muscular creature and I assume it is intended to be a big evil crab. He has a tiny tail and a very small head relative to his body, and the design doesn't seem to really take advantage of his paint. The pale blue and dark blue marks help give him a more interesting look than an unpainted figure, but having just typed that out I can't help but wonder if an unpainted one might be more visually interesting. It's OK-- it's the weakest figure in the set, but given its size it was probably intended to be its selling point.
I got this set on extreme clearance, and it's possible that you might be able to get this one for $4 at a Ross or other clearance outlet. I'm not sure if this line's end in the USA (it continued for a few more series in Europe) was due to pricing or lack of interest. The very idea is quite cool, but it's not like it has the "random" element of similar lines from the 1980s or any blind-packaging component here-- they're just multi-packs, with a very finite number of configurations, and very few additional accessories to play with. Small toys with no action features or articulation is very old-fashioned, so if you dig this kind of thing it's a line you should pick up while they remain cheap. My guess is these will creep up over time, but who knows? Without any chase figures or chances at mysterious legendary super-rare figures, there might not be much long-term collector interest once you pick up your set of regular figures.
--Adam Pawlus
Additional Images

See more Playmates figures in Figure of the Day:
Day 54: Playmates Classic Star Trek Spock Action Figure
Day 57: Playmates Classic Star Trek Dr. McCoy Action Figure
Day 61: Playmates Classic Star Trek Scotty Action Figure
Day 71: Playmates Classic Star Trek Uhura Action Figure
Day 81: Playmates Classic Star Trek Sulu Action Figure
Day 89: Playmates Classic Star Trek Captain James T. Kirk Action Figure
Day 105: Playmates Classic Star Trek Chekov Action Figure
Day 149: Playmates Star Trek Combat Action Worf
Day 229: Playmates Gormiti Multiplep and Steelblade
Day 237: Playmates Gormiti Blind Fury and Ancient Jellyfish
Day 243: Playmates Gormiti Florus the Poisoner and Clear Ancient Jellyfish
Day 259: Playmates Gormiti Mantra the Implacable and Clear The Severe Guardian
Day 312: Playmates Gormiti Barbataus, Tormenter, Bullrock, and Dedalus
Day 327: Playmates seaQuest DSV Darwin the Dolphin Action Figure
Day 335: Playmates Gormiti Spores, Cannon Trunk, Hypnofrog, and Carrapax
Day 342: Playmates Gormiti Alos the Hypnotiser and Clear Delos The Count of the Seas
Day 354: Playmates Teenage Mutant Ninja Turtles Mike, the Sewer Surfer Action Figure
Day 400: Playmates Teenage Mutant Ninja Turtles Raph, the Space Cadet
Day 488: Playmates Star Trek: The Next Generation Lieutenant Commander Data in First Season Uniform Action Figure
Day 513: Playmates Teenage Mutant Ninja Turtles The Mutant Raphael
Day 514: Playmates Teenage Mutant Ninja Turtles Mike as Frankenstein
Day 515: Playmates Teenage Mutant Ninja Turtles Bride of Frankenstein April
Day 516: Playmates Teenage Mutant Ninja Turtles Raph as the Mummy
Day 517: Playmates Teenage Mutant Ninja Turtles Don as Dracula
Day 518: Playmates Teenage Mutant Ninja Turtles Leo as the Wolfman
Day 519: Playmates Teenage Mutant Ninja Turtles Invisible Man Michaelangelo
Day 520: Playmates Teenage Mutant Ninja Turtles Creature from the Black Lagoon Leonardo
Day 525: Playmates Teenage Mutant Ninja Turtles Classics Michelangelo
Day 673: Playmates Gormiti Murena Den Playset with Hammer the Predator Figure
Day 731: Playmates Star Trek: The Next Generation Counselor Deanna Troi Action Figure
Day 755: Playmates Star Trek: Deep Space Nine Quark Action Figure
Day 762: Playmates Star Trek: The Next Generation Lt. Commander LaForge as a Tarchannen III Alien Action Figure
Day 767: Playmates Star Trek: The Next Generation Captain Picard in Duty Uniform Action Figure
Day 772: Playmates Star Trek: The Next Generation Klingon Warrior Worf Action Figure
Day 777: Playmates Toys Monster Force Creature from the Black Lagoon
Day 815: Playmates Teenage Mutant Ninja Turtles Classics Bebop
Day 832: Playmates Teenage Mutant Ninja Turtles Classics Rocksteady
Day 964: Playmates Teenage Mutant Ninja Turtles Classics Raphael
Day 986: Playmates Star Trek: The Next Generation Dathon Action Figure
Day 991: Playmates Star Trek: The Next Generation Ambassador Spock Action Figure
Day 1,048: Playmates Star Trek: Deep Space Nine Chief Miles O'Brien Action Figure
Day 1,061: Playmates Star Trek: The Next Generation Q Action Figure
Day 1,173: Playmates Star Trek: Deep Space Nine Morn Action Figure
Day 1,181: Playmates Star Trek: Deep Space Nine Commander Gul Dukat Action Figure
Day 1,271: Playmates Star Trek Grand Nagus Zek Action Figure
Day 1,309: Playmates Star Trek Elim Garak Action Figure
Day 1,316: Playmates Gormiti Insecticus and Branchtearer the Furious
Day 1,317: Playmates Star Trek: The Next Generation Lieutenant Worf in Starfleet Rescue Outfit Action Figure
Day 1,331: Playmates Star Trek: The Next Generation Captain Scott Action Figure
Day 1,359: Playmates Star Trek: The Next Generation Vorgon Action Figure
Day 1,701: Playmates Star Trek: The Next Generation Ferengi Action Figure
Day 1,819: Playmates Star Trek: The Next Generation Mordock the Benzite Action Figure
Day 1,854: Playmates Star Trek: The Next Generation Lieutenant (J.G.) Geordi LaForge Action Figure
Day 1,887: Playmates Star Trek: The Next Generation Lieutenant Natasha Yar Action Figure
Day 1,902: Playmates Star Trek: The Next Generation Cadet Wesley Crusher Action Figure
Day 1,923: Playmates Star Trek: The Next Generation Lieutenant J.G. Worf in First Season Uniform Action Figure
Day 1,936: Playmates Star Trek: The Next Generation K'Ehleyr Action Figure
Day 1,974 Playmates Star Trek: The Next Generation Lieutenant Barclay Action Figure
Day 2,005: Playmates Star Trek: Deep Space Nine Odo Action Figure
Day 2,020: Playmates Star Trek: The Next Generation Commander Sela Action Figure

See more Gormiti in Figure of the Day:
Day 229: Playmates Gormiti Multiplep and Steelblade
Day 237: Playmates Gormiti Blind Fury and Ancient Jellyfish
Day 243: Playmates Gormiti Florus the Poisoner and Clear Ancient Jellyfish
Day 259: Playmates Gormiti Mantra the Implacable and Clear The Severe Guardian
Day 312: Playmates Gormiti Barbataus, Tormenter, Bullrock, and Dedalus
Day 335: Playmates Gormiti Spores, Cannon Trunk, Hypnofrog, and Carrapax
Day 342: Playmates Gormiti Alos the Hypnotiser and Clear Delos The Count of the Seas
Day 673: Playmates Gormiti Murena Den Playset with Hammer the Predator Figure
Day 1,316: Playmates Gormiti Insecticus and Branchtearer the Furious
Day 1,833: Blue Box Gormiti 3D Puzzle Lord Lucas