Metamorpho
a.k.a. "Metalmorpho"

Outer Space Men Cosmic Creators Mel Birnkrant Edition Toy Tokyo / Toypocalypse II Futuretro Exclusive
Item No.: n/a
Manufacturer: Four Horsemen
Includes: Staff, helmet, gun, arms, art print, more figures
Action Feature: n/a
Retail: $125.00 (sold as a set with Xodiac, Inferno, and Astro-Nautilus)
Availability: February 10, 2012
Other: Fifth release of Metamorpho in this line (of seven, at least)

PREVIOUS
RSS
NEXT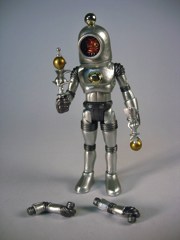 I was pretty annoyed that this version of Metamorpho, in pictures, didn't look all that different from the regular painted release. Of course, I was dead wrong about it and in person it looks spectacular. Slathered in metallic paints, the figure really pops and they managed to make a $10 figure look more like a $30 figure, which is important because that's what it costs.
Made up of about 17 pieces connected with Glyos plugs, the figure is nicely jointed all over. As with the others, it's like they took a 1980s action figure and added a bunch of extra joints to it. It can stand and sit just fine, and basically feels like what an ultra-deluxe figure would've been had Kenner not given small budgets to its toys in 1985. The sculpting is, as before, excellent and the metallic face paint is nothing short of gorgeous. They scaley gold on the reptile, the metallic purple on the alien, and the shiny beast (or Bat Chain Puller) all turned out very well.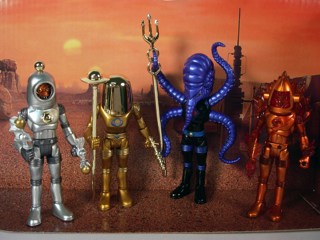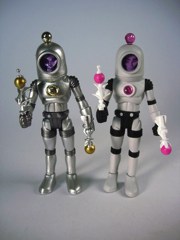 Metamorpho (or "Metalmorpho") has weapons decorated to match the outfit, complete with the shiny gold and silver from the figure. A little extra cash was spent adding vac-metal gold to the knob on his head and the disc on his chest, which also look pretty great. At the risk of cutting it short, you know what to expect: it's just shinier this time and looks a lot better.
The set remains in stock at full price, which is both interesting and kind of depressing. I appreciate that the $125 I spent didn't result in a clearance sale prior to my even reviewing all four figures, but on another hand, it shows that the market just plain doesn't like overpriced repaints. As gorgeous as this figure is, the asking price remains too high and the fact that only 200 were made and an unknown number may still be bought speaks volumes. I like what I see, but as pricing goes, I hope they don't do it again. (Having said that, if the price is right for you, it's a good, quality figure.)
--Adam Pawlus
Additional Images

Click here to see more Four Horsemen figures in Figure of the Day.

Click here to see more Outer Space Men figures in Figure of the Day.

Click here to see more Glyos Compatible figures in Figure of the Day.