Neptune
R24-06

Zoids 24 Scale Upsized Zoids
Item No.: n/a
Manufacturer: Tomy
Includes: 1 fully-jointed driver, SCUBA tank, dart gun, vehicle
Action Feature: Wind-up motor
Retail: unknown
Availability: 1988
Other: Recolored as Zevle Bolide, an even more obscure Tomy line

PREVIOUS
RSS
NEXT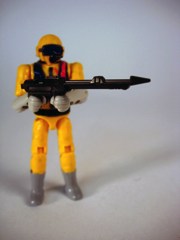 The Zoids 24 Scale Neptune kit was a birthday gift from a friend, and by "gift from a friend" I mean "I endlessly nagged people that the local Hobby Bench got in a Japanese Zoids kit and I absolutely had to have it." If you recall the late 1980s, toys shifted away from action figures to minifigures plus vehicles-- Dino-Riders, Battle Beasts, Bone Age, Starcom, Legions of Power, M.A.S.K., and Air Raiders were just a few of many lines that fit this new paradigm. I was absolutely in love with Zoids and they were incredibly hard to find, so seeing this mutant of a toy with a ginormous 3-inch pilot figure with 11 points of articulation and a SCUBA tank and a spear gun, well, how could you not loose your cool?
None of these sets got proper US distribution, but some hobby shops had a few and Neptune in particular got a reissue in the late 2000s. The nameless driver has articulated ball-jointed wrists-- real ball-and-socket joints-- plus has numerous places to plug in accessories, were there accessories included beyond a SCUBA tank which plugs into his back. He wears a breathing mask, has a bright yellowish orange suit with grey gloves and boots. It may not look like much in 2012, but let me tell you this thing was amazing when you compared him to the likes of Matt Trakker or Turret. In 1988, a tiny figure having jointed knees and one color of paint on its head was really something. This thing had friggin' ball joints and really feels ahead of its time. It's a crying shame nobody brought these over here because the figure alone is pretty amazing.
Oh, and he has holes in his feet. As far as I can tell they have no real use, but they're here!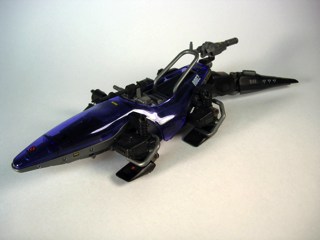 The robotic vehicle is inspired by an alligator, albeit an electronic futuristic one. The figure lays on his belly to reach the controls, which also have a slot for the figure's dart gun weapon. The dark blue, clear plastic shield covers the figure's body and is a sharp contrast to the mostly silver robotic vehicles sold in Japan. He has a wind-up motor, posable tail, and-- this is what really gets me happy-- an extra tail gun. The tail gun is cool because it can be rotated and the figure can "grip" it and "shoot," making the vehicle something like a bunker. Amping up the fun factor, the tail on Neptune has Zenevas kill marks, and a HELIC Combat Team symbol on its head complete with the name spelled out. I just like that sort of detail.
When you wind the toy up, it lumbers forward and the tail sweeps a bit. I have a feeling that most children of the 1980s found wind-up motors a bit antiquated, even larger Zoids had batteries back then. I view it as an underrated form of technology because batteries are sort of wasteful, and I love mechanical toys that don't have a strong chance of becoming corroded if I forget to take out the power unit. I have to say the sculpt is impressive too, with lots of smooth panels and some sculpted bolts giving it a "futuristic" look that I think still holds to this day. I wouldn't have minded things like eyes or a mouth on the walking machine part, but well, they tried something different and I dig it.
Unlike some of the other figures I've brought up this week, Neptune is one you can actually get. The reissue is Neptune is about $40, which is worth it. Sure, it's not a huge Zoids kit but owning one is an experience that's hard to describe. Combining the Zoids we all love with an action figure component is beyond cool and it infuriates me they only really reissued the one I had from childhood on the cheap. Deathpion and Shotwalker are kind of expensive. It's my hope that Tomy digs into their vaults and cranks more of these out, I've got a job and would shell out mondo bucks for a Megatropos.
--Adam Pawlus
Additional Images

See more Tomy toys in Figure of the Day:
Day 170: Tomy Zoids Wardick
Day 263: Tomy Zoids Gorgodos Action Figure
Day 364: Tomy Robostrux Brutox Figure Kit
Day 382: Tomy Robostrux Slithor Figure Kit
Day 406: Tomy Zoids Twinhorn Action Figure
Day 484: Tomy Robostrux Brox Figure Kit
Day 486: Tomy Zoids 24 Scale Neptune Figure Kit
Day 1,352: Tomy Robostrux Batlar Figure Kit
Day 1,422: Tomy Zoids Gator Figure Kit

See more Zoids, Robostrux, and Techno-Zoids in Figure of the Day:
Day 170: Tomy Zoids Wardick
Day 263: Tomy Zoids Gorgodos Action Figure
Day 364: Tomy Robostrux Brutox Figure Kit
Day 382: Tomy Robostrux Slithor Figure Kit
Day 406: Tomy Zoids Twinhorn Action Figure
Day 484: Tomy Robostrux Brox Figure Kit
Day 486: Tomy Zoids 24 Scale Neptune Figure Kit
Day 1,352: Tomy Robostrux Batlar Figure Kit
Day 1,422: Tomy Zoids Gator Figure Kit
Day 1,471: Takara-Tomy Zoids Masterpiece Shield Liger
Day 2,000: Takara-Tomy Zoids Wild ZW-05 Gannontoise Figure Kit
Day 2,008: Takara-Tomy Zoids Wild ZW-01 Wild Liger Figure Kit
Day 2,013: Takara-Tomy Zoids Wild ZW-03 Kabtor Figure Kit
Day 2,017: Takara-Tomy Zoids Wild ZW-04 Scorpear Figure Kit
Day 2,039: Takara-Tomy Zoids Wild ZW-06 Gabrigator Figure Kit
Day 2,075: Takara-Tomy Zoids Wild ZW-07 Kuwaga Figure Kit