Gator
Guylos Empire 022

Zoids "NJR" Series
Item No.: No. ???
Manufacturer: Tomy
Includes: 1 pilot
Action Feature: Wind-up motor
Retail: 600 yen? (I got it for about $6)
Availability: 1999
Other: Recolored Japanese "Geruder" from Zoids

PREVIOUS
RSS
NEXT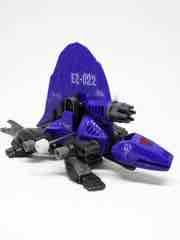 This is an old kit - but Tomy found more uses for it. I got this Zoids kit because I always wanted and never got the originals. Gator was originally sold as a silver and mauve kit in the 1980s, and then was released as a silver and blue Robostrux kit named Reptex in 1986 for the American market, and then in 1999 we got this mostly purple reissue - now aligned with the Guylos Empire. As such, it has a new faction sigil which, I must say, I don't love as much as the Zenebas Empire snake-and-dagger. It's just as good as the original kits in terms of functionality, and the colors work nicely. I snagged it and a couple of others from HobbyLink Japan when they were released way back when, mostly because it had been years since I had a new Zoids toy and in college, while most people were having fun and drinking, I was chasing down toys.
This is a small kit, roughly 5-inches long. The little dimetrodon has a grey tail and legs, with a body, sail, and head in purple. You should be able to pop it off the sprues and have it fully assembled. The design is similar to the early Zenebas kits in that there's a clamshell-like head, a big cannon on the fin, and four moving legs. Sadly, the fin isn't exactly locked down - it does snap in to place, but it also slides right out if you aren't careful. As such, I suggest that you not pick it up by the fin.
As a reissue of a mid-1980s kit, it looks like a reissue of a mid-1980s kit. There are a few panel lines and grooves, some vents, and not all that many technical details carved in to his body. The legs wobble nicely, moving the little fellow forward into battle or the edge of whatever table you're going to march him across. There aren't many other moving parts - the head can turn a tiny bit, the gun is more or less where it needs to be - so don't expect any hidden cannons like on Brox [FOTD #484] or Batlar [FOTD 1,352].
It was a great update of a very 1980s design - how they managed to make it work, well, that's a miracle. I still want the originals, and a Robostrux Reptex is one of my most-wanted but not-yet-bought vintage toys. Still, there's nothing wrong with this one, and for the asking price in 1999 it was a steal. For under $10, it's awesome - more than that, well, consider your dinosaur toy options first. But if you've never put together a Zoids toy, you absolutely should snag one and give it a shot. There's nothing quite like assembling your own wind-up robot dinosaur.
--Adam Pawlus
Additional Images


See more Tomy toys in Figure of the Day:
Day 170: Tomy Zoids Wardick
Day 263: Tomy Zoids Gorgodos Action Figure
Day 364: Tomy Robostrux Brutox Figure Kit
Day 382: Tomy Robostrux Slithor Figure Kit
Day 406: Tomy Zoids Twinhorn Action Figure
Day 484: Tomy Robostrux Brox Figure Kit
Day 486: Tomy Zoids 24 Scale Neptune Figure Kit
Day 1,352: Tomy Robostrux Batlar Figure Kit
Day 1,422: Tomy Zoids Gator Figure Kit

See more Zoids, Robostrux, and Techno-Zoids in Figure of the Day:
Day 170: Tomy Zoids Wardick
Day 263: Tomy Zoids Gorgodos Action Figure
Day 364: Tomy Robostrux Brutox Figure Kit
Day 382: Tomy Robostrux Slithor Figure Kit
Day 406: Tomy Zoids Twinhorn Action Figure
Day 484: Tomy Robostrux Brox Figure Kit
Day 486: Tomy Zoids 24 Scale Neptune Figure Kit
Day 1,352: Tomy Robostrux Batlar Figure Kit
Day 1,422: Tomy Zoids Gator Figure Kit
Day 1,471: Takara-Tomy Zoids Masterpiece Shield Liger
Day 2,000: Takara-Tomy Zoids Wild ZW-05 Gannontoise Figure Kit
Day 2,008: Takara-Tomy Zoids Wild ZW-01 Wild Liger Figure Kit
Day 2,013: Takara-Tomy Zoids Wild ZW-03 Kabtor Figure Kit
Day 2,017: Takara-Tomy Zoids Wild ZW-04 Scorpear Figure Kit
Day 2,039: Takara-Tomy Zoids Wild ZW-06 Gabrigator Figure Kit
Day 2,075: Takara-Tomy Zoids Wild ZW-07 Kuwaga Figure Kit