Stepper
Mail-In Offer from Japan

Transformers United Generations 2011 Vol. 1
Item No.: No. n/a
Manufacturer: Takara-Tomy
Includes: Gun, Nebulon, speakers
Action Feature: Changes from Robot to Car
Retail: $100-$120 at importers
Availability: December 2011
Other: Reveal the Shield Jazz with more paint and Cyclonus' gun

PREVIOUS
RSS
NEXT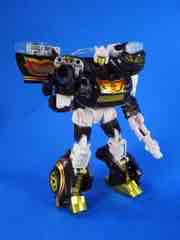 For whatever reason, Hasbro has played it more conservative with its Transformers repaint toys. We usually get "Powered Up" characters, as well as the various essential redeco squads like Starscream becoming Thundercracker and Skywarp. Japan gave us some cool new characters like Stepper. The original toy was a late-G1 Japanese exclusive, eventually released in the USA as Ricochet in the Generation One Commemorative Collection (clearance at $7.99) and as an Alternators toy. This 2011 release was exclusive to Japan, and a pricey mail-in offer at that. Odds are you didn't get him - or Artfire, Goshooter, Shouki, or any of the other many really cool figures sold as an adjunct to the "Generations" books. I eventually overpaid for this figure, but thanks to the power of people getting older and dumping stuff, I got him and Artfire for a fair-ish price.
As with other higher-priced Japanese special editions, Stepper has a lot of paint. A ton. The rerelease had a lot of gold foil stickers, and Takara-Tomy sprang the cash to just paint all these shiny gold bits right on the toy. Mine is pretty fantastic - the gold feet have a tiny hint of green, but the car doors and stripes are immaculate. They aren't reflective like the original toy, but I consider this a point in the newer version's favor.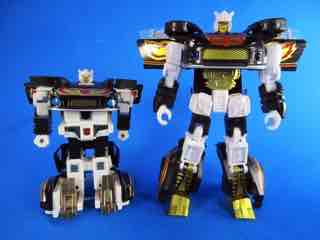 The nearly 6-inch tall robot was great as Special Ops Jazz. Now in 2016, it also feels pretty huge - the robot is bulkier and beefier than most figures we've had since the downsizing of deluxes kicked off in 2012. The figure is loaded with cool deco features, like blue car lights and a gold grille on his chest. The robot itself isn't exactly exceptionally decorated, because all those pennies were spent on bits that work best in the car mode. The original toy and its reissues had special stickers on the waist and thighs, this one omits those completely - but it's not obvious, and it doesn't feel like anything is lacking. There is plenty of sculpted detail, and with over 20 points of articulation it's not at all a bad toy. If anything, even though I paid quite a premium to get this, it's one of my favorite recent purchases.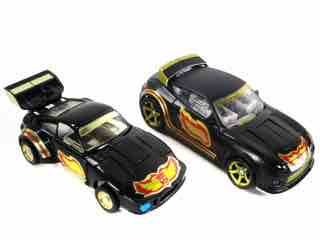 Transformation is fairly nifty with spring-loaded shin covers, folding arms, pop-out doors, and enough to keep you interested. It's not obnoxious, and the resulting car is pretty awesome - he can wear his speakers on the outside of his doors! What a lovely little feature. The car itself can store his white gun, but there's nowhere to stow Nebulon in vehicle mode.
Nebulon is his gun - also sold as "Nightstick" in the USA, not coincidentally the same name of the same gun when it was sold with Cyclonus around 2009. It's functionally similar, but it can't plug in Stepper's arm as a replacement hand - that functionality is, so far, unique to Cyclonus. I love Targetmaster toys so the inclusion of the gun here makes me pretty happy.
In the US alone, this mold was sold as Special Ops Jazz, a G2-inspired Jazz, Wheelie, Shockwave/Longarm, Stepper, Treadshot, and Kick-Over - so it's not like taking this mold and adding paint to it is particularly unique. If you like the idea of owning an updated piece of history, this is pretty nifty - but there are other, cheaper ways to get a Stepper. If you look at this figure and can't imagine not having it, though, I will say that getting it in my hand after a wait of nearly four years was pretty satisfying. There's so much gold paint here it hurts, but it's so, so pretty. If you have more money than sense, get one.
--Adam Pawlus
Additional Images

See more Takara-Tomy figures in Figure of the Day:
Day 180: Takara-Tomy Transformers Animated Ironhide (Bulkhead) Key Chain
Day 435: Takara-Tomy Transformers Prime Gacha Arms Micron Optimus Prime Blaster
Day 476: Takara-Tomy Transformers Prime Bumblebee Sword Action Figure
Day 495: Takara-Tomy Beast Saga Raioga Action Figure
Day 529: Takara-Tomy Beast Saga Kingdom of Sea Death Action Figure Set
Day 534: Takara-Tomy Beast Saga Dolphin Burst Action Figure
Day 540: Takara-Tomy Beast Saga Kingdom of Gloria Action Figure Set
Day 544: Takara-Tomy Beast Saga Aldyle Action Figure
Day 549: Takara-Tomy Beast Saga Dorfan Action Figure
Day 551: Takara-Tomy Beast Saga Eledram Elephant Action Figure
Day 564: Takara-Tomy Beast Saga DX Starter Set Action Figure Set
Day 568: Takara-Tomy Beast Saga Tarlock Action Figure
Day 573: Takara-Tomy Beast Saga Long Giraf Action Figure
Day 579: Takara-Tomy Beast Saga Garrison G Action Figure
Day 580: Takara-Tomy Beast Saga GachaBooster General Hawk Knight Action Figure
Day 585: Takara-Tomy Beast Saga Beast Machines Sky Darling Vehicle
Day 586: Takara-Tomy Beast Saga Killer Shark Burst Action Figure
Day 593: Takara-Tomy Beast Saga Rynas Action Figure
Day 595: Takara-Tomy Beast Saga Seylas Action Figure
Day 597: Takara-Tomy Transformers Prime Zad Action Figure
Day 601: Takara-Tomy Beast Saga Bamet Burst Action Figure
Day 616: Takara-Tomy Beast Saga Long Giraf Burst Action Figure
Day 622: Takara-Tomy Beast Saga Bamet Action Figure
Day 626: Takara-Tomy Beast Saga Killer Shark Action Figure
Day 637: Takara-Tomy Beast Saga Liorga Action Figure
Day 642: Takara-Tomy Beast Saga Aldyle Burst Action Figure
Day 663: Takara-Tomy Beast Saga Janjan Action Figure
Day 669: Takara-Tomy Beast Saga Ogre Burst Action Figure
Day 678: Takara-Tomy Beast Saga Swordbill Action Figure
Day 693: Takara-Tomy Beast Saga Guarl Burst Action Figure
Day 715: Takara-Tomy Beast Saga Guarl Action Figure
Day 824: Takara-Tomy Beast Saga Mantaray Action Figure
Day 828: Takara-Tomy Beast Saga Aljaylo Action Figure
Day 839: Takara-Tomy Beast Saga Ogre Action Figure
Day 846: Takara-Tomy Beast Saga Dakker Action Figure
Day 856: Takara-Tomy Beast Saga Moreek Action Figure
Day 873: Takara-Tomy Beast Saga Wonderriver Action Figure
Day 905: Takara-Tomy Transformers Masterpiece Edition Lambor G-2 Ver.
Day 937: Takara-Tomy Beast Saga Rynas Burst Action Figure
Day 974: Takara-Tomy Beast Saga Super Win Deck Impact Set Action Figure Set
Day 993: Takara-Tomy Beast Saga Kannigal Burst Action Figure
Day 1,127: Takara-Tomy Transformers Sega Genesis Megatron Action Figure
Day 1,207: Takara-Tomy Transformers United Rumble & Frenzy
Day 1,224: Takara-Tomy Transformers Adventure Roadblock
Day 1,242: Takara-Tomy Transformers Go! Go
Day 1,247: Takara-Tomy Transformers Go! Sen
Day 1,259: Takara-Tomy Transformers Go! Geki
Day 1,262: Takara-Tomy Transformers Masterpiece Bumble G-2 Ver.
Day 1,273: Takara-Tomy Transformers Go! Ex
Day 1,284: Takara-Tomy Transformers Go! Shou
Day 1,310: Takara-Tomy Transformers Legends Slipstream
Day 1,327: Takara-Tomy Transformers Unite Warriors Grand Scourge
Day 1,328: Takara-Tomy Transformers Unite Warriors Nightbird Shadow
Day 1,326: Takara-Tomy Beast Saga Buffam Action Figure
Day 1,328: Takara-Tomy Transformers Adventure Override
Day 1,332: Takara-Tomy Beast Saga Bunikis Action Figure
Day 1,339: Takara-Tomy Beast Saga Aljaylo Burst Action Figure
Day 1,357: Takara-Tomy Transformers United Stepper
Day 1,381: Takara-Tomy Beast Saga Eledram Burst Action Figure
Day 1,429: Takara-Tomy Transformers Legends Armada Starscream Super Mode
Day 1,468: Takara-Tomy Transformers Unite Warriors Grand Galvatron
Day 1,471: Takara-Tomy Zoids Masterpiece Shield Liger
Day 1,496: Takara-Tomy Beast Saga Dacker Burst Action Figure
Day 1,627: Takara-Tomy Transformers Legends Convobat
Day 1,670: Takara-Tomy Transformers Legends Leo Prime
Day 1,814: Takara-Tomy Beast Saga Mantaray Burst Action Figure
Day 1,842: Takara-Tomy Transformers Legends Blackarachnia
Day 1,911: Takara-Tomy Beast Saga Wolfen Burst Action Figure
Day 1,964: Takara-Tomy Beast Saga Buffam Burst Action Figure
Day 2,000: Takara-Tomy Zoids Wild ZW-05 Gannontoise Figure Kit
Day 2,006: Takara-Tomy Beast Saga Raioga Burst Action Figure
Day 2,008: Takara-Tomy Zoids Wild ZW-01 Wild Liger Figure Kit
Day 2,013: Takara-Tomy Zoids Wild ZW-03 Kabtor Figure Kit
Day 2,017: Takara-Tomy Zoids Wild ZW-04 Scorpear Figure Kit
Day 2,039: Takara-Tomy Zoids Wild ZW-06 Gabrigator Figure Kit
Day 2,075: Takara-Tomy Zoids Wild ZW-07 Kuwaga Figure Kit
Day 2,191: Takara-Tomy Transformers Generations Selects Deluxe Gulf (Skalor) Action Figure
Day 2,200: Takara-Tomy Transformers Generations Selects Deluxe Turtler (Snaptrap) Action Figure
Day 2,213: Takara-Tomy Beast Saga Kannigal Action Figure
Day 2,273: Takara-Tomy Transformers Generations Selects Voyager Super Megatron Action Figure
Day 2,463: Takara-Tomy Beast Saga Moreek Burst Action Figure

Click here to see more Transformers figures in Figure of the Day.

Want to buy this figure? Check Transformers availability at our sponsors:
Entertainment Earth