Blackarachnia
Actual Japanese name "Black Widow"

Transformers Legends LG 17
Item No.: No. ???
Manufacturer: Takara-Tomy
Includes: Grappling weapon
Action Feature: Changes from spider to robot
Retail: 3,100 yen (or $21-$30 at importers)
Availability: October 2015
Other: Recolor/remold of Animated Blackarachnia

PREVIOUS
RSS
NEXT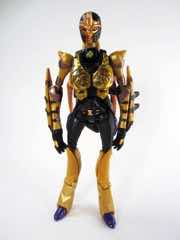 If you loved Beast Wars on TV, you probably dug Blackarachnia (the character) as much as you didn't care for Blackarachnia (the Tarantulas toy repaint.) The original toy looked very little like the TV show counterpart - the spider mode was good, but the robot? Not even close. The mold had been repainted several times with some applying a heck of a lot of gold to a black robot to result in something that still wasn't very good. The body type was wrong, and the head was not even close. Rather than try it again, the Japanese designers had another idea - take the Animated Blackarachnia toy, give it a new head, chest, and clear gold bra, and see what happens. The results, while not a perfect match, hit the "good enough" bar. "A" for effort, and for creativity - as exploiting old tooling goes, this was pretty brilliant. I mean, it worked on me!
While mostly a cybernetic spider, this new Blackarachnia has slightly more organic spider eyes plus pedipalps that fold up to her chest to form a bra in robot mode. This raises numerous questions, not the least of which would be the functionality of said anatomy for a race of transforming robots who seem to be more or less forged and scanned from alien life. But hey, whatever - it's closer to the cartoon model. The Predacon choker and the unique head are created here nicely, but Legends Blackarachnia lost the show mode's claw hands and changed up how her robot limbs and spider limbs were configured. What you get is a robot that looks a lot like what probably exists in your imagination, but it's not entirely true to the show - and the robot neck is a little awkward. A visible gap between the base of her neck and over her chest is really obnoxious, but if you put the spider pincer weapon on her as a backpack you probably won't notice it as much. The Animated version had a similar problem.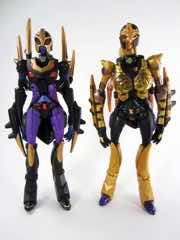 The figure is, functionally, pretty much the same as her purple and gold Decepticon forebear. The arms have a slot to plug in her retracting string weapon. The arms move in two places. She's quite tall at a hair over 6-inches high, which places her a head above her fellow deluxe toys and her boy pal Silverbolt. If you look at the animation model posters, she's actually one of the shorter characters on the TV show.
The only area in which I would say the execution lets me down would be the head. The clear yellow eyes seem rather lifeless compared to toys with opaque painted peepers, and the gold deco on her head stops when you reach her ears. There's a gold halo that should go all the way around, but stops thanks to the entire back half of the head being completely unpainted. Slipstream has the same design choice.
Transformation from spider to robot is fairly simple - you probably won't need instructions. The folding of the legs and twisting of the claws on the arms are quite clever, but there's no doubt that you're left with either a spider with some exposed Predacon parts or a robot with some exposed arachnid parts. Any way you slice it, it's a little awkward - yet still better than the 1990s toy.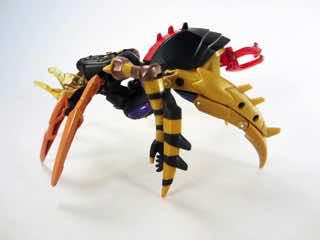 As a spider, she's a spider. Eight legs, and goofy pedipalps that you can't not see as a bra mustache. I defy you to visualize the clear yellow pieces as anything else. In order to achieve the desired look for the robot, I assume there's really no better way to do this - no matter what, there will be some awkwardness. The legs all move a tiny bit and if you want, you can attach the weapon to her backside and pretend she's on a web. It's so short, it's really not worth the effort - it's too bad there are safety rules. With only a couple of inches of string, it serves little actual purpose.
Since the Universe line started revisiting Beast Wars in 2009, we've received all-new molds of Rattrap, Rhinox, Cheetor, Dinobot, and Waspinator! Blackarachnia is closer to their new style, but they aimed to be much closer to the look and feel of the TV show. This Blackarachnia is close in terms of coloration, head, and torso but still sticks out as something of a sore thumb when viewed as part of a larger collection of characters. Since we get so few figures from Beast Wars I'd still suggest getting her if you're a fan - she's not disappointing or terrible, but she is the very best 1990s-style Blackarachnia you can get based on a completely unrelated spider toy from 2009.
--Adam Pawlus
Additional Images
Additional Transformers Legends October 2015 Wave Images

See more Takara-Tomy figures in Figure of the Day:
Day 180: Takara-Tomy Transformers Animated Ironhide (Bulkhead) Key Chain
Day 435: Takara-Tomy Transformers Prime Gacha Arms Micron Optimus Prime Blaster
Day 476: Takara-Tomy Transformers Prime Bumblebee Sword Action Figure
Day 495: Takara-Tomy Beast Saga Raioga Action Figure
Day 529: Takara-Tomy Beast Saga Kingdom of Sea Death Action Figure Set
Day 534: Takara-Tomy Beast Saga Dolphin Burst Action Figure
Day 540: Takara-Tomy Beast Saga Kingdom of Gloria Action Figure Set
Day 544: Takara-Tomy Beast Saga Aldyle Action Figure
Day 549: Takara-Tomy Beast Saga Dorfan Action Figure
Day 551: Takara-Tomy Beast Saga Eledram Elephant Action Figure
Day 564: Takara-Tomy Beast Saga DX Starter Set Action Figure Set
Day 568: Takara-Tomy Beast Saga Tarlock Action Figure
Day 573: Takara-Tomy Beast Saga Long Giraf Action Figure
Day 579: Takara-Tomy Beast Saga Garrison G Action Figure
Day 580: Takara-Tomy Beast Saga GachaBooster General Hawk Knight Action Figure
Day 585: Takara-Tomy Beast Saga Beast Machines Sky Darling Vehicle
Day 586: Takara-Tomy Beast Saga Killer Shark Burst Action Figure
Day 593: Takara-Tomy Beast Saga Rynas Action Figure
Day 595: Takara-Tomy Beast Saga Seylas Action Figure
Day 597: Takara-Tomy Transformers Prime Zad Action Figure
Day 601: Takara-Tomy Beast Saga Bamet Burst Action Figure
Day 616: Takara-Tomy Beast Saga Long Giraf Burst Action Figure
Day 622: Takara-Tomy Beast Saga Bamet Action Figure
Day 626: Takara-Tomy Beast Saga Killer Shark Action Figure
Day 637: Takara-Tomy Beast Saga Liorga Action Figure
Day 642: Takara-Tomy Beast Saga Aldyle Burst Action Figure
Day 663: Takara-Tomy Beast Saga Janjan Action Figure
Day 669: Takara-Tomy Beast Saga Ogre Burst Action Figure
Day 678: Takara-Tomy Beast Saga Swordbill Action Figure
Day 693: Takara-Tomy Beast Saga Guarl Burst Action Figure
Day 715: Takara-Tomy Beast Saga Guarl Action Figure
Day 824: Takara-Tomy Beast Saga Mantaray Action Figure
Day 828: Takara-Tomy Beast Saga Aljaylo Action Figure
Day 839: Takara-Tomy Beast Saga Ogre Action Figure
Day 846: Takara-Tomy Beast Saga Dakker Action Figure
Day 856: Takara-Tomy Beast Saga Moreek Action Figure
Day 873: Takara-Tomy Beast Saga Wonderriver Action Figure
Day 905: Takara-Tomy Transformers Masterpiece Edition Lambor G-2 Ver.
Day 937: Takara-Tomy Beast Saga Rynas Burst Action Figure
Day 974: Takara-Tomy Beast Saga Super Win Deck Impact Set Action Figure Set
Day 993: Takara-Tomy Beast Saga Kannigal Burst Action Figure
Day 1,127: Takara-Tomy Transformers Sega Genesis Megatron Action Figure
Day 1,207: Takara-Tomy Transformers United Rumble & Frenzy
Day 1,224: Takara-Tomy Transformers Adventure Roadblock
Day 1,242: Takara-Tomy Transformers Go! Go
Day 1,247: Takara-Tomy Transformers Go! Sen
Day 1,259: Takara-Tomy Transformers Go! Geki
Day 1,262: Takara-Tomy Transformers Masterpiece Bumble G-2 Ver.
Day 1,273: Takara-Tomy Transformers Go! Ex
Day 1,284: Takara-Tomy Transformers Go! Shou
Day 1,310: Takara-Tomy Transformers Legends Slipstream
Day 1,327: Takara-Tomy Transformers Unite Warriors Grand Scourge
Day 1,328: Takara-Tomy Transformers Unite Warriors Nightbird Shadow
Day 1,326: Takara-Tomy Beast Saga Buffam Action Figure
Day 1,328: Takara-Tomy Transformers Adventure Override
Day 1,332: Takara-Tomy Beast Saga Bunikis Action Figure
Day 1,339: Takara-Tomy Beast Saga Aljaylo Burst Action Figure
Day 1,357: Takara-Tomy Transformers United Stepper
Day 1,381: Takara-Tomy Beast Saga Eledram Burst Action Figure
Day 1,429: Takara-Tomy Transformers Legends Armada Starscream Super Mode
Day 1,468: Takara-Tomy Transformers Unite Warriors Grand Galvatron
Day 1,471: Takara-Tomy Zoids Masterpiece Shield Liger
Day 1,496: Takara-Tomy Beast Saga Dacker Burst Action Figure
Day 1,627: Takara-Tomy Transformers Legends Convobat
Day 1,670: Takara-Tomy Transformers Legends Leo Prime
Day 1,814: Takara-Tomy Beast Saga Mantaray Burst Action Figure
Day 1,842: Takara-Tomy Transformers Legends Blackarachnia
Day 1,911: Takara-Tomy Beast Saga Wolfen Burst Action Figure
Day 1,964: Takara-Tomy Beast Saga Buffam Burst Action Figure
Day 2,000: Takara-Tomy Zoids Wild ZW-05 Gannontoise Figure Kit
Day 2,006: Takara-Tomy Beast Saga Raioga Burst Action Figure
Day 2,008: Takara-Tomy Zoids Wild ZW-01 Wild Liger Figure Kit
Day 2,013: Takara-Tomy Zoids Wild ZW-03 Kabtor Figure Kit
Day 2,017: Takara-Tomy Zoids Wild ZW-04 Scorpear Figure Kit
Day 2,039: Takara-Tomy Zoids Wild ZW-06 Gabrigator Figure Kit
Day 2,075: Takara-Tomy Zoids Wild ZW-07 Kuwaga Figure Kit
Day 2,191: Takara-Tomy Transformers Generations Selects Deluxe Gulf (Skalor) Action Figure
Day 2,200: Takara-Tomy Transformers Generations Selects Deluxe Turtler (Snaptrap) Action Figure
Day 2,213: Takara-Tomy Beast Saga Kannigal Action Figure
Day 2,273: Takara-Tomy Transformers Generations Selects Voyager Super Megatron Action Figure
Day 2,463: Takara-Tomy Beast Saga Moreek Burst Action Figure

Click here to see more Transformers figures in Figure of the Day.

Want to buy this figure? Check Transformers availability at our sponsors:
Entertainment Earth