Fraggle Rock Fraggle Rock Gobo Fraggle Action Vehicle
Carrot Car

Fraggle Rock Happy Meal Toy
Item No.: n/a
Manufacturer: Funko
Includes: n/a
Action Feature: Rolling wheels
Retail: $1.99ish
Availability: 1988
Other: Farewell Tour

PREVIOUS
RSS
NEXT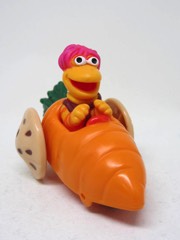 Since this is Figure of the Day #1,715, you might guess I have a lot of toys. And I'm getting older. As a kid I loved the Muppets so I didn't have the critical air needed to truly appreciate Jim Henson's underground hippie utopia that is Fraggle Rock. I watched it, but it didn't make a big impression - but I asked for the toys, and many of them are still in my home. I can see why - it's a nifty little carrot car with a surprisingly good sculpt for that era, but I'm also writing this as a farewell exercise.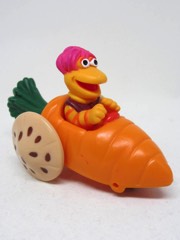 It's a sturdy, durable toy that held up in some boxes being battered around for 29 years. The carrot is a hard, orange plastic with tan wheels featuring painted markings. A green top to the carrot extends out the back, with wheels that roll better than pretty much any toy vehicle I've bought in recent years that aren't Hot Wheels. None of my Transformers are anywhere near this roll-friendly, as the metal axle on this toy rolls freely and gives kids a zippy and above-par toy.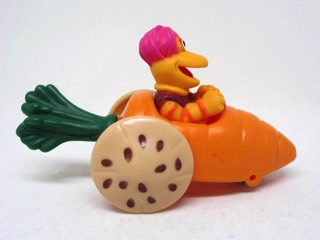 Granted, in the 1980s the notion of a toy car not rolling was pretty alien. If you got one, you probably considered it a garbage toy. Most of the old Go-Bots, Transformers, Stompers, Matchbox Cars, and everything else rolled freely and in some cases impressively. It works so well, you barely notice that the stuck-in-the-seat Gobo figure has perfectly sculpted pink hair, eyes with three colors of paint, striped sleeves, and a maroon vest. Given that this was a prize given away with hamburgers, fries, and a drink it's a pretty good deal. Heck, I don't know how many of you lived on fast food kid meals in college but a lot of these tended to be worth the asking price even without the food. This one comes close. Today this would probably sell for $3.99 at a toy store and seem like a perfectly good plaything - except I would assume this rolls better than a lot of modern stuff.
So to you Gobo, I say goodbye. You were awesome when I was a kid and I need the space now. It's not you, it's me - with the countless new additions in nearly every license I liked as a kid I now know I'll probably never display this or have a really good place to put it beyond it being one of hundreds - if not thousands - of toys in a box that occupy one of a couple of rooms filled with boxes. I gotta get beyond that. If you see this one at a flea market or thrift store, it's totally awesome. It's really neat. I just don't need it in my house anymore, so off to the nearest thrift store with you. May you delight a confused child.
--Adam Pawlus
Additional Images

See more McDonalds figures in Figure of the Day:
Day 166: McDonalds Toy Story 2 Hamm Action Figure
Day 994: McDonald's Transformers Beast Machines Optimus Primal
Day 1,406: McDonald's Changeables Egg McMuffin Robot
Day 1,423: McDonald's Changeables French Fries Robot
Day 1,715: McDonald's Fraggle Rock Gobo Fraggle Action Vehicle
Day 1,986: McDonald's Muppet Babies Gonzo on Bike Figure with Vehicle

See more Muppets figures in Figure of the Day:
Day 1,340: Funko Pop! Sesame Street Season 1 Oscar the Grouch Vinyl Figure
Day 1,715: McDonald's Fraggle Rock Gobo Fraggle Action Vehicle
Day 1,986: McDonald's Muppet Babies Gonzo on Bike Figure with Vehicle