Optimus Prime
It's like the Age of Extinction ones, but different

Transformers The Last Knight Premier Edition Voyager
Item No.: Asst. C0891 No. C1334
Manufacturer: Hasbro
Includes: 1 sword, 1 shield
Action Feature: Transforms from Robot to Truck
Retail: $29.99
Availability: April 24, 2017
Other: Good enough, let's roll.

PREVIOUS
RSS
NEXT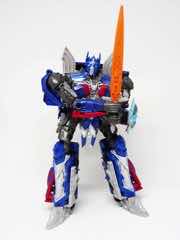 Somehow I always wind up buying a new Optimus Prime for each new movie. I've never actually seen one of the entire movies, but somehow I get sent one, or get a cheap one, or have a chance to get one early, or just bought one. It varies. When I first saw this new Premier Edition one - think "Generations," as "Premier Edition" is the new "Black Series" for collector Transformers right now - I didn't much care for the deco sheet or early test shots, but it grew on me. I picked up a wave 1 case from work, which came with a Grimlock, which I kinda really don't think I need. Optimus is an all-new toy that threatens a 30-step transformation. While some steps are pretty brief, it's not hyperbolic. Hasbro's push-and-pull with the idea of simplified toys has seemingly completely abandoned the premise of this being for the tiny tots, as the transformation is incredibly involved and you're probably going to want the instructions. I don't doubt the age rating of 8 and up is accurate, but this is one complex little robot in disguise.
I should start by pointing out/dumping on the packaging. One thing Hasbro usually does well is create striking, visually new packaging with most of its new toy lines. Rarely do they rest on their laurels, but this time they're doing some laurel resting. The fonts and basic layout of the boxes are basically the same as Age of Extinction with some more definition and grit - but the logo is basically the same, the colors are basically the same, the dimensions are basically the same, and so on. It's by no means bad - but given Hasbro's proclivity to amaze, it takes the alien script feel from Revenge of the Fallen with the same layout as Age of Extinction, giving us something that may not be immediately seen as "new" by all consumers. Given that many of the figures are holdovers from previous movies, in some cases the exact same molds, that could mean this series may not hit the ground running.
With an above average range of movement in the arms and decent leg articulation, Optimus Prime sports better deco than we're used to seeing and we're being charged accordingly - both the Voyager and the Deluxe price points are receiving a healthy retail (and wholesale) price increase for this new movie. It's fancier, and you're footing the bill. Given inflation versus what a $20 Optimus Prime looked like in 2007, this is a huge improvement. I'm not saying that the design which is basically a holdover from Age of Extinction is going to make you want to run out and buy one, but in and of itself I was surprised to find myself impressed.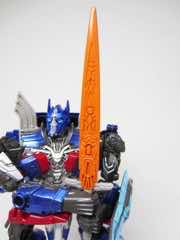 At 7 1/4-inches tall, this take on Optimus is bigger than the various other Voyager-class toys on my desk. With 18 joints he won't necessarily outclass them in terms of number of joints, but I got this one to double-grip a sword without a fight. Most normal action figures can't even do that, let alone Transformers toys. With the metallic paint in most of the places you'd want to see it, the toy has turned out largely quite nicely. The kibble comes loaded with pegs and tabs and slots to hold everything in place, so you're unlikely to see any flapping hoods or roofs on this guy. It's pretty sturdy and while not a perfect match for the on-screen model, it's a pretty great toy unto itself.
The deco is similarly described - it's a great-looking robot. It's not perfect when comparing it to the movie. The character model from the film has purple eyes rather than blue, a bunch more flames on his chest and shoulders and forearms, and even traces of gold - none of which you'll see here. A little more silver on the head seems like it would be welcome, but it still looks decent as movie Optimus toys go. I'm also sure a better redeco would be possible using this mold, be it as a Platinum-edition toy or an overseas release.
Transformation is something of a hassle - lots of bits need to be spun, rotated, and configured just-so in order to fit everything in the precise place. I got close - it seems a little off when I put it in truck mode, thanks in part to the amazing leg explosion required to make the bottom chunk of the truck. It's a real puzzle, with hard-to-read instructions that require squinting or a bright light. You'll be able to make it happen, but I strongly recommend using the instructions if you're the kind of person who says "now that can't be right" when you transform some of these toys. Optimus' blue and red chesticles are jointed - you have to move them to transform the toy. Who would have ever expected?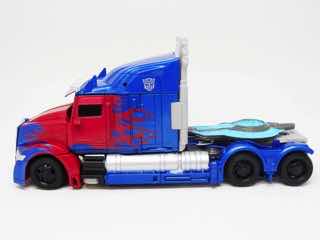 The truck mode ain't bad. It feels small, but it does a good job hiding most of the robot kibble. There's a bit of it around the trailer hitch and on the back of the cab - otherwise it does a good job looking like the Western Star truck from the films. Other die-cast metal ones may be more authentic, but they don't transform. I'd love it if the exhaust pipes were silver to match other parts of the car, but that is the price of love. Painted wheels would be nice too, but its obvious that the emphasis is on the robot mode's deco. You can plug the shield in the trailer hitch to hide some kibble, and the sword fits nicely in its undercarriage. They did a nice job here.
I'm not a fan of price increases, and it's changing what it means to be a "Voyager." Optimus here has a surprisingly good paint job with decorated accessories, gorgeous flames, and lots of metallic bits that delight me in all sorts of ways. His casemate Grimlock costs the same as Optimus, but was cleared out cheaply after being $20-$25 for the last movie. Of the two, Optimus is arguably worth the money. Were he an import toy at this price, you'd fawn over it and buy it. The domestic price increase certainly stings, but it's a higher-grade product. I'm not saying you shouldn't be happy with the Leader-class Optimus Prime [FOTD #920] you may have purchased last time, but I was more impressed with the 2017 Voyager than the 2014 Leader. Having not seen the movie I can only assume this toy mold could be reused for a future Transformers film, or we may get another take on the same robot/alt mode combination another 3 or 4 times. If you see this one on clearance, get it - it's complicated to a fault and you'll enjoy futzing with it. Once or twice. And then you'll just leave it in robot mode because eventually you need time to do things like clean your house or go to work.
A lot of really great stuff is being written about this movie series right now, thanks to the new film and the 10th anniversary of the first one all happening now. They're great at giving perspective, not the least of which is that this megahit franchise pretty much exists apart from the toys which birthed it, and it's increasingly likely that anyone who sees the new movie will be unfamiliar with anything which came prior to the movies - and the movies themselves are a sort of divine, strange spectacle increasingly worthy of analysis thanks to their global reach and ability to transcend a language barrier. What's fascinating is that this all probably means that the rampant success of this franchise comes from Michael Bay's style and a robust marketing machine from the movie studio and licensing partners, with the movies themselves being the real moneymaker while Hasbro's toys are increasingly just icing on the cake of whatever royalties they get from the studios. I say all of this without never actually having sat all the way through one, but I do love my robot toys. It's fascinating to see how the bizarre trail of G.I. Joe - which became Henshin Cyborg in Japan, which got downsized to Microman, which got imported back to the USA along with Diaclone toys as Transformers, which had endured long enough to get caught up in the "let's license any existing brand to make a movie" system we've got going only to become a franchise that has pulled in $3.77 billion dollars so far by giving audiences pretty people, robot fights, explosions, and zero pretense of being anything than what may be the totality of America's greatest export as a pixel-encrusted nugget of what passes for Americana. It's pretty amazing, especially when you consider that the 1986 animated movie counts for .0015% of the franchise's movie gross. It's an absolute miracle that we're getting any toys from the classic era, let alone the surprisingly robust selection in Titans Return over the last ten months.
I'd say get yourself this Optimus with the caveat that this may well be another step on the slow road to perfection. There's room for improvement, but taken on its own this is a fun and impressive plaything. A replacement head could do a lot to change his look and feel, particularly the eyes and face. I look forward to being impressed with customized efforts in the coming months, but until then I'll have fun futzing with this one on my desk. Temporarily. Hey, I loves the "classics" and these are just repeatedly best described as perfectly fine toys. I assume you will enjoy one if you like having a ton of parts to juggle. It definitely makes the Titans Return Optimus Prime look like a cruddy first attempt at a character toy, though, so don't let the lack of complete authenticity sway you from a fairly impressive robot experience.
--Adam Pawlus
Additional Images

Click here to see more Hasbro figures in Figure of the Day.
Click here to see more Transformers figures in Figure of the Day.

Want to buy this figure? Check Transformers availability at our sponsors:
Entertainment Earth