Twin Twist
Flameout & Twin Twist

Transformers Generations Titans Return Deluxe
Item No.: Asst. B7762 No. C2394
Manufacturer: Hasbro
Includes: Card, 2 blasters, tiny head robot Flameout
Action Feature: Transforms from drill tank to robot
Retail: $17.99
Availability: July 2017
Other: Retool of Topspin

PREVIOUS
RSS
NEXT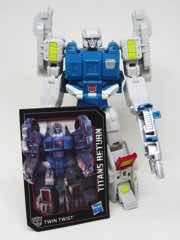 As part of a duo that many had and few wanted, Titans Return Twin Twist is the rare update that will make you care even if you don't love the original toy. Originally a toy that flipped up after folding in the middle, this new one is bigger, bulkier, and generally more impressive than the average modern toy. Topspin and Twin Twist rarely appear in media, but as Wreckers they have a minor following and with these toys, people are more interested than ever before. This is not much of a challenge.
The tiny head robot is a lot like Freezeout - 1.5-inches tall, same mold, but Flameout has a blue visor. A little paint goes a long way, and this 5-jointed figure fits nicely in the spacecraft's cockpit. The sculpting is pretty good and this form factor, it turns out, will continue in Power of the Primes - if you like it you'll get more. I like the face plate on the back, but I'm a sucker for a big, bright visor across a face. The face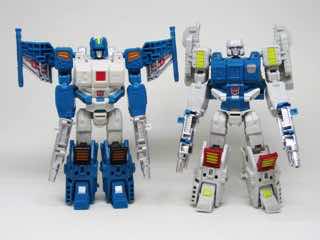 As a robot, it's great. The helmet works well since the limbs are all the same color, so it feels like more of a complete head than a face with some crap behind it. The lips are a little silly, but it works. The guns are the same as his brother, and the kibble gives it a sufficiently different appearance when you also work in the new paint masks. With double-jointed elbows, knee flaps, and wide feet this is a figure that can assume a good number of battle poses.
Transformation is a lot like Topspin [FOTD #1,692]. They share many parts and pieces, save for the upper arms and some backpack kibble, plus some bits on the back of the legs. It's sort of mad genius what they're doing here, saving money and giving fans more toys with a better return on tooling investment.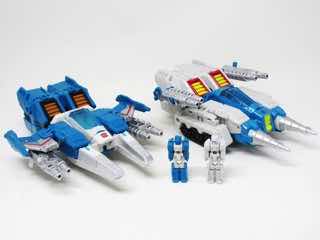 The drill tank is neat - the deco looks a lot like the original toy, and while there's no chrome you do get that gorgeous blue all over. The seat fits one Titan Master, and there are places you could probably peg more specialized gear but what, I don't know Little indentations on the top are sized for the ankle spurs, so you can have Titan Master robots sit on top, or plug in Prime Masters later. You've got options. Tiny wheels are hidden under the treads, but they don't spin well. They may as well have left them off, because you can't really get them to move once your thumb leaves the plastic. I do love the fact that it's a pretty cool tank, though, and the coloring is sharp.
Like Topspin, this is a toy you didn't know you wanted. It's a little bigger, it's an unusual alt mode, and the coloring is about as unabashedly 1980s as you could want. I know you never wanted to see another Jumpstarter in your life, but in this new format they're quite nice. I'd also like some more Jumpstarters, but that's me. Get this if you see it.
--Adam Pawlus
Additional Images

Click here to see more Hasbro figures in Figure of the Day.
Click here to see more Transformers figures in Figure of the Day.

Want to buy this figure? Check Transformers availability at our sponsors:
Entertainment Earth