Commander Comet
Big Blue Eyed Beans from Venus

Outer Space Men Action Figure Xpress San Diego Comic-Con Exclusives
Item No.: n/a
Manufacturer: Four Horsemen
Includes: Alternate arms, crossbow, staff, 2-part helmet, wings, 7 more figures
Action Feature: Pops apart for part-swapping action
Retail: $115.00 (sold as a set with Astro-Nautilus, Inferno, Xodiac, Alpha 7, Mystron, Commander Comet, and Metamorpho)
Availability: July 2013
Other: The Sparsely Decorated White Plastic One

PREVIOUS
RSS
NEXT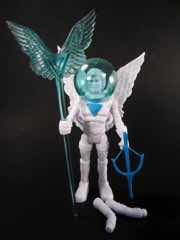 Believe it or not, I expected the look at White Star Commander Comet to be the obituary for this line - maybe I've said that before a few times. By the end of 2013 and 2014, fan sentiment toward the Four Horsemen's two Glyos properties seemed to straddle the fence between adoration and loathing. On one hand, Power Lords and The Outer Space Men were amazingly well-crafted indie toys using familiar licenses to make something for the discriminating action figure fan. On the other, to recoup the tooling investment fans were effectively used to subsidize the tooling with varied, dull unpainted figures like this one. Effectively a blank that didn't have the good sense to actually be unpainted, this figure was part of a set that actually cost more than the fully-painted figures while delivering less. Even more unfortunate, the set continued - 14 of the (so far) 17 unique characters were done up in bare white plastic. And, if you can believe it, the set is going to be finished up very very soon, and at least those three have more interesting designs that make more of the whole White Star motif.
There are many great Commander Comet figures. This is the least interesting of them. It does a great job highlighting the Four Horsemen's sculpting work, but the paint on the decorated figures were so spectacular that it's a crime to not see them do another pigmented take.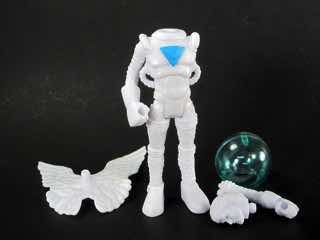 In white, the quasi-feather space suit armor comes to life in a new way. Granted, it was already pretty lively in gold or blue, the white color shows the outlines quite nicely as the shadows cast do much to help the many tubes and sculpted bits "pop." The blue helmet actually does a nice job framing the head and providing an actual halo of sorts around it, with the clear staff providing a nice match. The opaque chest ornament matches a painted blue crossbow, giving an air of non-uniformity to the package. All together it's a good base for a custom figure, but it would be even better with no paint and clear colorless - or all white - accessories. As it stands, it's sort of - but not quite - the marble statue take on the figure. A hall of these would look pretty cool, but as an incomplete subset it sort of loses that charm.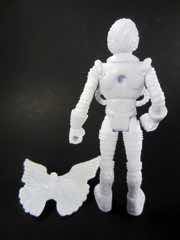 The pricing on the White Star figures has been high and low over the last few years, and I can't honestly say I'd ever want to suggest someone to pay a premium for a white plastic figure due to how the color tends to yellow over time with most toys. (I should note, I have yet to see a yellowed Glyos figure.) For me, these figures were bought, placed on a shelf, and largely ignored until I wrote these reviews - they're not great, but there's nothing technically wrong with them. If you like what you see, they're good examples of the figure tooling. They're not the best, though, but if this is what you want you won't be disappointed. If you can get this set under its issue price - I'd say $80 or less - it's a great starter kit or customs resource. In and of itself, it's not something I'm fond of to the point where I'd want you to shell out good money.
--Adam Pawlus
Additional Images
Additional Outer Space Men 2013 White Star SDCC Exclusive Images

Click here to see more Four Horsemen figures in Figure of the Day.

Click here to see more Outer Space Men figures in Figure of the Day.

Click here to see more Glyos Compatible figures in Figure of the Day.