Phanoid
Tribute to Fisher-Price Adventure People Branoid

Glyos System Series
Item No.: No. n/a
Manufacturer: Onell Design
Includes: Bonus Pheyden head, scarf
Action Feature: Pops apart
Retail: $12.00
Availability: April 5, 2017
Other: Exquisite Paint Guy

PREVIOUS
RSS
NEXT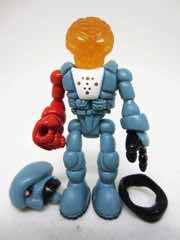 A tribute! Standing about 3-inches tall, Phanoid is the next in this year's series of ongoing tributes to Fisher-Price's surprisingly wonderful Adventure People 3 3/4-inch action figure line. The genius of it was that it was packed with mundane normal then-modern Earth stuff, plus it had a swell space line partially made up of mixing and matching parts from said mundane line in wacky colors to create the likes of X-Ray Man and Clawtron. It was a great example of how you could make something new out of a recolor that doesn't generally feel like the original.
Onell Design has whipped out three of these this year so far, with Phanoid being the newest one based on Brainoid - a brain in a jar on a man's body. Earlier we got Rayexx and Pheytron, and I have to assume more may be coming as the year goes on.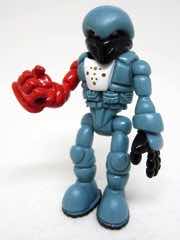 The biggest surprise in this figure - aside from what it is, being sold as a blanked-out mystery figure - was the return of the Phanost head which we haven't seen a lot of lately. Onell Design cast it in clear orange and plopped it on a bluegrey Pheyden body which was slathered in paint to create the necessary homage.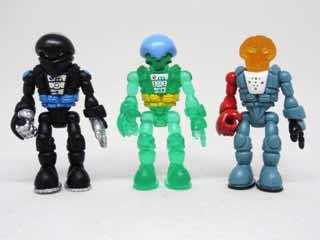 The figure did sell out pretty quickly, and rightly so - the right arm of my sample was covered in red paint to match the classic Brainoid, plus there is a unique chest symbol of which variations could be spotted on many of the space Adventure People toys. The glossy gold painted dots closely mimic the way light reflected off those classic 1980s space figures, and the pattern is very similar to my Alpha Star pilot's helmet deco. It's shiny and bright, and it'll look good all night. Phanoid has some more paint on it, but not a ton - his scarf is paitned to match the dark blue of his hands and, oddly, the soles of the boots. This is also a tribute to hte original toy, which shows the kind of attention to detail Onell Design will pay to even a fairly obscure homage.
To those who got the joke - or got their orders in early - this is a fantastic figure and probably one of the two or three superstars of the release. Sure, there's a lot of good stuff but this is pretty spectacular for the older toy fans out there. I love how it makes the classic Pheyden design into something more, although it does make me wish that Fisher-Price or Mattel or whoever could crank out a new line of bonkers Adventure People for today's kids. Granted, the way things are going it seems today's kids want toys that transform into things or interact with video games, with the action figure becoming less of a playroom staple and more of a souvenir. Collecting is done more with blind bags at lower prices, so if nothing else the clever Phanoid concept shows just how far we've come and how much we've lost in the last few generations of children's toys. It's neat, it's sold out, and I'm thrilled to have been fortunate enough to snag mine. Here's hoping Opticon from the vinyl Block isn't all that far off down the line - I'd like to see that! Granted, I'd also like to see the Space Commander done with an awkward beard slapped on Pheyden, but that's me. What do you want?
--Adam Pawlus
Additional Images


Click here to see more Onell Design figures in Figure of the Day.
Click here to see more Glyos Compatible figures in Figure of the Day.