Bisk
Lobster Batmobile

Transformers Robots in Disguise Warrior Class
Item No.: Asst. B0070 No. B8969
Manufacturer: Hasbro
Includes: Twin pistols
Action Feature: Transforms from Car to Robot
Retail: $14.99
Availability: October 2016
Other: Available in Legion and 1-Step

PREVIOUS
RSS
NEXT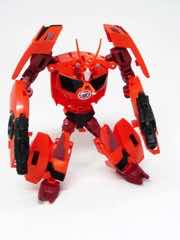 Since we first heard about the line and its trailers, Bisk was high on our wish lists. Of course, Hasbro deemed Decepticons not worthy of inclusion for most of the first year, so we had to wait for this lobster robot warrior until just a few months ago.
Robots in Disguise occupies an interesting spot - the sticker faction symbol sets them apart from what most people would consider a normal collection, as does the nifty stylized animated look. It's a shame these don't mix as well with the Generations most of the older farts buy, but that doesn't stop us from buying them when they're cool. This one's cool.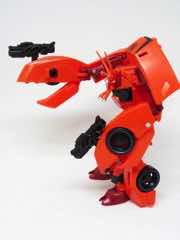 The robot is where it shines, because you don't have a lobster Decepticon that turns into a car. There aren't many figures that divert from the usual hands and feet thing, but here you've got a hunched-over lobster-headed robot with claw hands and little feet. The head has little antennae on it, giving it a silhouette unlike almost anything you've ever seen. Well, OK, Beast Wars Scorponok and Gimlet/Sea Clamp, but not generally on automobiles.
Two 5mm guns peg on to the tops of his claws, which is reasonable. They have to go somewhere. The orange robot doesn't have a ton of paint on it - the face does, but a little purple and not much else covers this figure. Interestingly, the Adventure release of Bisk from Japan doesn't look a heck of a lot different - you can just get the US version and save a few bucks. Articulation is quite good, with enough joints to assume some interesting poses. Hasbro did a nice job wringing more motion and a good size out of the price point, which seemed doomed for downsizing since its introduction in late 2014.
Transformation isn't difficult or arduous, but getting the steps right is important. Everything does fit together nicely, and various bits from the claws help lock the car mode together quite nicely. This one was really well-thought-out.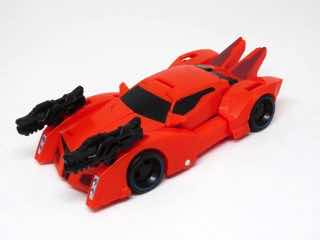 As a car, this may remind you of Animated Blurr or the Batmobile. What astounds me here is that it's actually good - there's one teensy bit of cost-cutting in that there's a blank spot where a Decepticon sigil should go as a hood ornament, but they painted the headlights, the black intake area, and all the windows. Hasbro rarely paints all of the windows the same color, or at all, even in Generations - so that's nice to see here. Even the wheels have painted blue rims which, again, are something of a rare luxury.
One area it falls short? The wheels. They don't roll very well, thanks to the snap-in functionality adding a lot of friction here. It's acceptable because most of us will never roll it around, but if the wheels didn't roll you wouldn't be missing much. If car play is a big deal to you, this one isn't so hot - but at least you can mount guns on the fenders, much like the Batmobile.
Thermidor, a blue redeco of Bisk, is expected this year. It looks like Bisk has already - quickly - exited circulation, so I hope you got yours or get it on sight. It's a fun toy, and it really is a different format from what we usually see in the collector line. I hope Hasbro and IDW integrate him into the "G1" comic line in some capacity, because he's neat. The toy's worthwhile if you like different and new things, but if you're a collector on a budget I'm sure Masterpiece Editions are sucking down your spare scratch. I think you can still afford a Bisk, though.
--Adam Pawlus
Additional Images

Click here to see more Hasbro figures in Figure of the Day.
Click here to see more Transformers figures in Figure of the Day.

Want to buy this figure? Check Transformers availability at our sponsors:
Entertainment Earth