Fractyl and Lifeline
and Quicklsinger and Scorponok

Transformers Generations Subscription Service 5.0 Box #1
Item No.: No. n/a
Manufacturer: Hasbro
Includes: 4 figures, 4 blasters, 2 swords, 1 hand/foot/gun
Action Feature: Transforms from car/jet/car/jet to robots
Retail: $330ish for the set of 3 shipments
Availability: April 2017
Other: Delayed, a bunch

PREVIOUS
RSS
NEXT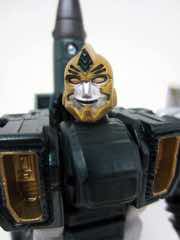 Thanks to the many delays of this set, shipping about a quarter late and almost a year after I paid for it, Fractyl and Lifeline finally shipped. Apparently the entire set of figures hit all at once, but rather than save some money and ship them in one big box the former collector's club decided to incur storage fees and sit on them for a couple of months. I don't understand business. You've got my money, give me my toys! Well, it's all moot now. The FunPub generation of conventions and clubs has ended, with goodness knows what stepping in to replace it. This set is made entirely of existing figure molds with new paint - as such it's pretty expensive for what you get.
Let's start with Fractyl. Since we got Packrat a few years ago, Fractyl makes sense - the club already had a Combiner Wars Terrorsaur head they could use, so making it in green and gold makes sense since it's so easy to do. It is based on the Air Raid mold, giving you a green fighter jet with gold spots. It's a little silly, but it's a nod to one of the first BotCon exclusives - this is what makes it fun. Also, those Combiner Wars molds are some of the best Hasbro has ever given us. They're simple, versatile, and fun. The robot has 13 points of articulation and is plenty chunky. The metallic gold helmet and silver face are striking, and sort of uncommon. Hasbro generally doesn't give us that much metal, typically it's a matte color with some silver on the helmet or the face. Fractyl's big grinning face feel has lot different than the standard Hasbro/Takara/Tomy fare, and unlike Terrorsaur he has a purple hand/foot/gun accessory. The green metallic blaster is a nice touch, too.
Conversion from jet to robot is a snap, and the jet mode is a nifty one. It's not particularly fancy, and you've no doubt seen this mold as any of nearly a dozen other toys. They're all good. This one may have more painted detail with added vents, fins, toes, and other elements showing p with more color than you're used to seeing. Even the forearms are slathered in green metallic paint with gold fingers.
His sidekick is Scorponok, who in Beast Wars was smaller than his toy relative to his crewmates. The Scamper mold from Metroplex was repurposed here as a purple and grey Predacon with bright red wheels and yellorange shins. He's about the size of a typical Legends figure minus a head, skinny and armed with a small purple blaster. The head has a lot of great painted detail on it, including a visor and helmet markings.
The car ode is a treat visually, with a spoiler that recalls a scorpion tail, bright red cannons, purple roof-mounted blasters, and silver windows. It's bright and cheery, also arguably a perfect fit for something out of the latter era of Generation 2 or even G1 - which was, itself, a prequel to Beast Wars in every sense of the term. This figure also completes the 11-year project of Fun Publications producing the main cast of Beast Wars' first season in pre-Earth vehicle modes. I can't say I'm impressed by it, but they did an excellent job and delivered something that doesn't seem at all out of line. Given the costs of these sets, it's a welcome and almost required extra.
The two Predacons are acceptable - a Wrecker who helps recoup a tooling investment, and a main cast member to finish out a set. Love it or hate it, they're sensible toys with a generous helping of paint relative to their retail equivalents. Nice job all around, if you can get beyond the sticker shock.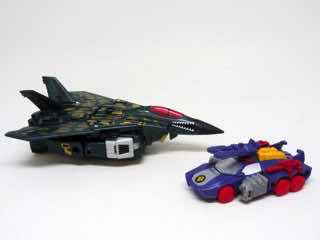 On the Autobot side of the box, you have a great idea with adequate execution. Lifeline is the Paradron Medic - a green Arcee redeco based on that one episode of The Transformers which has become the token redeco for almost every Arcee toy or statue ever. Does anyone want her? Probably only for recognition reasons, myself included - she and Toxitron were why I signed up. Lifeline is pretty cool - it's a green Arcee with more paint. The bad news is they used the first draft of the Arcee mold with the bad hands - you know the ones they retoold for the Combiner Hunters set? Yeah, we don't get those. We get the ones with the nubs so she can't hold her own accessories well, and can't hold Quickslinger at all. She can barely grip her own accessories, and they fit in various slots on her car and robot modes. The grip for Quickslinger is just too big for her to use, at all, in any mode. Boooooo.
Lifeline has about 13 points of articulation, so she can look perfectly nice standing around but not using her gear. Transforming her is pretty much the same as Arcee, so if you liked that you'll like this. I like the painted pink arms and hands, with the green that resembles medical scrubs. The paint on her face seems a bit better than Arcee, but the car mode loses a lot of its faux future retro charm in green. Something about pink just reeked of backwards futurism, while this green has never been and may never be in style in my lifetime. It delivers a toy according to your expectations.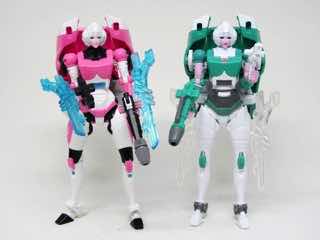 Filling out the set is the value-add Quickslinger. She's a tiny redeco of that Micromasters mold you saw in Thrilling 30, with more paint and a lot of purple plastic. It can be a jet, a robot, or a gun. Since Lifeline can't hold it, well, it's just kinda there. I assume it'll get lost in some shelf shuffle for years, never to be seen again.
Considering the price of the entire subscription, that would plop this box of toys at about $110. Since they're repaints of toys that sold for $15-$18, it's difficult to say that you're getting your money's worth. The interest in Paradron Medics will probably be sated, as it's one of those things that people just expect to happen... and didn't. Fractyl's a great nod to older fans as his second toy in 20 years. While neither feels essential, one of a classic G1 robot that will no doubt be welcome in many collections while the other will serve as a leg in a large robot on a shelf. In hindsight I guess I could've saved my money, but neither is disappointing. It's just lacking "oomph."
--Adam Pawlus
Additional Images

Click here to see more Hasbro figures in Figure of the Day.
Click here to see more Transformers figures in Figure of the Day.

Want to buy this figure? Check Transformers availability at our sponsors:
Entertainment Earth