Leo Prime
Japanese Exclusive Alpha Trion in Lio Convoy Drag

Transformers Legends LG 41
Item No.: No. 205020
Manufacturer: Takara-Tomy
Includes: Swords, Head Master, Claw, Blaster
Action Feature: Changes from Ancient Leo to Space Carrier to Robot
Retail: 5,400 yen (or $55 at importers)
Availability: February 2017
Other: Lion Optimus Prime

PREVIOUS
RSS
NEXT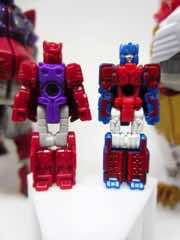 If you pre-order early and from the right place, you can get Japanese Takara-Tomy releases like Leo Prime at a decent discount. It's still about twice what a similar toy costs in the USA, but I went through HobbyLink Japan (from who I've been ordering for almost 20 years) and got this for about $44 delivered. Considering it's basically just a fancy recolor of the US Alpha Trion toy with a different head and a bonus weapon, a $20 upcharge may seem like a lot. That's because it's a lot. Japanese releases have a standard retail price that's quite a bit higher than what an item costs in the USA, but if you're in Europe or elsewhere in the world the line between American and Japanese prices blur thanks to shipping charges and occasional mark-ups on US toys. I've seen a few toy sites identify this as a toy that was clearly meant to be Lio Convoy before Alpha Trion, and I don't know if I'd agree with that. The original Lio Convoy from the 1990s had hand-held rocket launchers, a lion's head on his shoulder with flip-out weapons, moving eyes and a mouth, and was a fairly different design overall. The colors match, sure, but it's not like the original had a sword or a claw weapon. Or a unicorn lion alt mode.
It's more expensive than the functionally identical US mold. It's an homage to a character from a show you've probably never seen and will never watch, and will likely also never get a localization in English. But it's a Maximal, it looks sort of like Optimus Prime, and who doesn't like a Japanese-exclusive character? I can't justify picking up a more expensive, superior redeco of somebody I can pick up at a big box store, but I can generally accept buying a unique character. And this one ain't bad.
The colors are a lot like the original, with yellow eyes and a slightly paler blue helmet - complete with matching gun (previously sold with Sentinel Prime/Astrotrain). His sword is cast in clear plastic with a gold outer edge and a silver grip, which looks more expensive but not necessarily better than Alpha Trion's orange and purple weapon. The claw weapon is red, and has seating for one Titan Master figure. If you're so inclined, that is.
Leo Prime can carry or store these figures on his various modes. There's a place on the backpack to store the claw, plus 5mm ports on the back of his shoulders for the other weapons. Articulation is higher than some toys, with about 21 meaningful points of articulation. Some of these aren't given a huge range of motion, but the unique transformation does give the ankles a tiny bit more motion than we've seen in other Voyager-class toys recently. I love the red plastic color, and I'm crazy about the Maximal symbol on the red spark crystal outlined in gold. It certainly looks a bit more regal, and/or like Optimus Prime got Buzz Lightyear's armor and gave it a makeover. It's a little bulky and arguably a lot sillier than other toys released recently, but it certainly adds a sense of variety to that Optimus/Convoy shelf you've been filling out these past 33 years.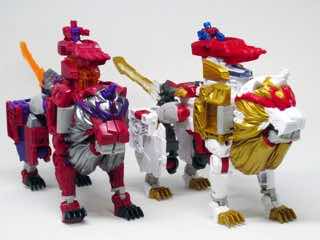 The original Lio Convoy toy - and most other Lio Convoy toys - had a furry-sculpted lion as an organic beast mode, as opposed to this Leo Prime which has hints at hair but is ultimately a mechanical jungle cat. The toy is cast in mostly white and red plastic with a gold mane and incredibly awkward jaw-as-hands. Seriously, his lower teeth are fists - but the mane is the back of his forearms. The beast mode looks sort of brickly, and that's because there is minimal articulation. It's a beast forged from robot and spaceship pieces, which is sort of clever and sort of wonky. Triple changer toys are always a little strange because generally one - if not two - of the modes require a generous application of your imagination to accept them for what you see. I can get behind a robot space lion in a red mask with a unicorn's horn, but the hind legs don't really feel a heck of a lot like good legs.
If you want a tail, his mostly clear sword will fit that role quite nicely The "Ancient Leo" mode has a little cockpit on his back for the partner Head Master (which I assume has no other name). If you don't dig that, the claw weapon can be mounted on two tabs on the clear part, allowing Head Master to sit out and see the sun or the cold, deadly vacuum of space from the top of the lion. You've got options - both of which are also available on the Space Carrier mode.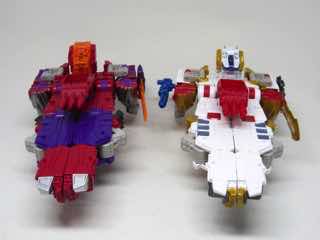 I dig the Space Carrier, mostly. It's basically an aircraft carrier, as this mold was previously used for Alpha Trion (which was loosely based on Vector Prime), who had a simlar mode in the IDW comics. It's also going to be reused for Tidal Wave and Broadside, one of many legendary toys cited as one of the less exciting toys in the line. Figures can stand on the deck of this shp, and you can also have them sit in the driver's seat or in the red claw weapon. The sword stows nicely on the side thanks to a 5mm peg, and that's pretty much all this vehicle does. You can park Titan Masters vehicles on the deck, and foot pegs for figures are there too. It's almost a mini playset - if you're a collector, you can do a lot with this mode as far as display and play goes. It just doesn't do anything.
I pre-ordered this from Japan, partially because I dug the idea and the Maximal faction symbol, but also because it was bigger and cheaper than Convo Bat. A dumb reason, you say? You're not wrong. I don't have a good sense on where this particular iteration fits in the fiction beyond a brief write-up on TFWiki, so I basically have to enjoy the toy on its own merits. The design owes a lot to previous toys of Lio Convoy and BotCon Alpha Trions, and I'd be lying if I said it was unquestionably worth the asking price. The American release of Alpha Trion is pretty easy to find and generally quite cheap by comparison - plus it's a new character, if that matters to you. If the price is to your liking, this is a neat toy. I'd argue it's really no more or less fun than a Leader-class toy (which sells in the USA for $45), and the enhanced deco does look pretty sharp. You could also get an original Lio Convoy for a couple of dollars more on eBay, or the smaller Legends Lio Convoy (previously from the Robot Masters line) if you're willing to spend a little more. I'd say do some comparison shopping - I'm a big fan of the tiny Robot Masters toys, but I also got them pretty cheaply.
For the curious, the upcoming schedule for Transformers Legends is pretty dire right now - this came out in late February. Godbomber is coming in May, and Dinosaurier (Trypticon) is due in late August. And, as far as I can see, that's pretty much it as of now.
--Adam Pawlus
Additional Images

See more Takara-Tomy figures in Figure of the Day:
Day 180: Takara-Tomy Transformers Animated Ironhide (Bulkhead) Key Chain
Day 435: Takara-Tomy Transformers Prime Gacha Arms Micron Optimus Prime Blaster
Day 476: Takara-Tomy Transformers Prime Bumblebee Sword Action Figure
Day 495: Takara-Tomy Beast Saga Raioga Action Figure
Day 529: Takara-Tomy Beast Saga Kingdom of Sea Death Action Figure Set
Day 534: Takara-Tomy Beast Saga Dolphin Burst Action Figure
Day 540: Takara-Tomy Beast Saga Kingdom of Gloria Action Figure Set
Day 544: Takara-Tomy Beast Saga Aldyle Action Figure
Day 549: Takara-Tomy Beast Saga Dorfan Action Figure
Day 551: Takara-Tomy Beast Saga Eledram Elephant Action Figure
Day 564: Takara-Tomy Beast Saga DX Starter Set Action Figure Set
Day 568: Takara-Tomy Beast Saga Tarlock Action Figure
Day 573: Takara-Tomy Beast Saga Long Giraf Action Figure
Day 579: Takara-Tomy Beast Saga Garrison G Action Figure
Day 580: Takara-Tomy Beast Saga GachaBooster General Hawk Knight Action Figure
Day 585: Takara-Tomy Beast Saga Beast Machines Sky Darling Vehicle
Day 586: Takara-Tomy Beast Saga Killer Shark Burst Action Figure
Day 593: Takara-Tomy Beast Saga Rynas Action Figure
Day 595: Takara-Tomy Beast Saga Seylas Action Figure
Day 597: Takara-Tomy Transformers Prime Zad Action Figure
Day 601: Takara-Tomy Beast Saga Bamet Burst Action Figure
Day 616: Takara-Tomy Beast Saga Long Giraf Burst Action Figure
Day 622: Takara-Tomy Beast Saga Bamet Action Figure
Day 626: Takara-Tomy Beast Saga Killer Shark Action Figure
Day 637: Takara-Tomy Beast Saga Liorga Action Figure
Day 642: Takara-Tomy Beast Saga Aldyle Burst Action Figure
Day 663: Takara-Tomy Beast Saga Janjan Action Figure
Day 669: Takara-Tomy Beast Saga Ogre Burst Action Figure
Day 678: Takara-Tomy Beast Saga Swordbill Action Figure
Day 693: Takara-Tomy Beast Saga Guarl Burst Action Figure
Day 715: Takara-Tomy Beast Saga Guarl Action Figure
Day 824: Takara-Tomy Beast Saga Mantaray Action Figure
Day 828: Takara-Tomy Beast Saga Aljaylo Action Figure
Day 839: Takara-Tomy Beast Saga Ogre Action Figure
Day 846: Takara-Tomy Beast Saga Dakker Action Figure
Day 856: Takara-Tomy Beast Saga Moreek Action Figure
Day 873: Takara-Tomy Beast Saga Wonderriver Action Figure
Day 905: Takara-Tomy Transformers Masterpiece Edition Lambor G-2 Ver.
Day 937: Takara-Tomy Beast Saga Rynas Burst Action Figure
Day 974: Takara-Tomy Beast Saga Super Win Deck Impact Set Action Figure Set
Day 993: Takara-Tomy Beast Saga Kannigal Burst Action Figure
Day 1,127: Takara-Tomy Transformers Sega Genesis Megatron Action Figure
Day 1,207: Takara-Tomy Transformers United Rumble & Frenzy
Day 1,224: Takara-Tomy Transformers Adventure Roadblock
Day 1,242: Takara-Tomy Transformers Go! Go
Day 1,247: Takara-Tomy Transformers Go! Sen
Day 1,259: Takara-Tomy Transformers Go! Geki
Day 1,262: Takara-Tomy Transformers Masterpiece Bumble G-2 Ver.
Day 1,273: Takara-Tomy Transformers Go! Ex
Day 1,284: Takara-Tomy Transformers Go! Shou
Day 1,310: Takara-Tomy Transformers Legends Slipstream
Day 1,327: Takara-Tomy Transformers Unite Warriors Grand Scourge
Day 1,328: Takara-Tomy Transformers Unite Warriors Nightbird Shadow
Day 1,326: Takara-Tomy Beast Saga Buffam Action Figure
Day 1,328: Takara-Tomy Transformers Adventure Override
Day 1,332: Takara-Tomy Beast Saga Bunikis Action Figure
Day 1,339: Takara-Tomy Beast Saga Aljaylo Burst Action Figure
Day 1,357: Takara-Tomy Transformers United Stepper
Day 1,381: Takara-Tomy Beast Saga Eledram Burst Action Figure
Day 1,429: Takara-Tomy Transformers Legends Armada Starscream Super Mode
Day 1,468: Takara-Tomy Transformers Unite Warriors Grand Galvatron
Day 1,471: Takara-Tomy Zoids Masterpiece Shield Liger
Day 1,496: Takara-Tomy Beast Saga Dacker Burst Action Figure
Day 1,627: Takara-Tomy Transformers Legends Convobat
Day 1,670: Takara-Tomy Transformers Legends Leo Prime
Day 1,814: Takara-Tomy Beast Saga Mantaray Burst Action Figure
Day 1,842: Takara-Tomy Transformers Legends Blackarachnia
Day 1,911: Takara-Tomy Beast Saga Wolfen Burst Action Figure
Day 1,964: Takara-Tomy Beast Saga Buffam Burst Action Figure
Day 2,000: Takara-Tomy Zoids Wild ZW-05 Gannontoise Figure Kit
Day 2,006: Takara-Tomy Beast Saga Raioga Burst Action Figure
Day 2,008: Takara-Tomy Zoids Wild ZW-01 Wild Liger Figure Kit
Day 2,013: Takara-Tomy Zoids Wild ZW-03 Kabtor Figure Kit
Day 2,017: Takara-Tomy Zoids Wild ZW-04 Scorpear Figure Kit
Day 2,039: Takara-Tomy Zoids Wild ZW-06 Gabrigator Figure Kit
Day 2,075: Takara-Tomy Zoids Wild ZW-07 Kuwaga Figure Kit
Day 2,191: Takara-Tomy Transformers Generations Selects Deluxe Gulf (Skalor) Action Figure
Day 2,200: Takara-Tomy Transformers Generations Selects Deluxe Turtler (Snaptrap) Action Figure
Day 2,213: Takara-Tomy Beast Saga Kannigal Action Figure
Day 2,273: Takara-Tomy Transformers Generations Selects Voyager Super Megatron Action Figure
Day 2,463: Takara-Tomy Beast Saga Moreek Burst Action Figure

Click here to see more Transformers figures in Figure of the Day.

Want to buy this figure? Check Transformers availability at our sponsors:
Entertainment Earth