Bumble G-2 Ver.
Volkswagen Type 1

Transformers Masterpiece
Item No.: No. n/a
Manufacturer: Takara-Tomy
Includes: Gun, 3-piece jet pack, 2 alternate faces, stickers
Action Feature: Changes from Volkswagen Beetle
Retail: 6,480 yen (or as low as US $36)
Availability: July 2015
Other: MP-21G

PREVIOUS
RSS
NEXT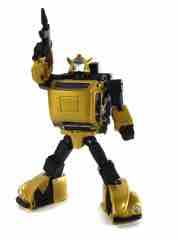 As you may know, I'm generally hesitant to buy "collector" figures at high prices. I will make exceptions for Generation 2 anything, so when I heard Takara Tomy had Bumblebee G2 as Bumble G-2 Ver. I said "OK, get me one of those." It's a small toy - smaller than a US deluxe or Warrior toy - and it usually costs around US $40. It's very expensive for the size, but it's also unquestionably cool. Optional stickers are included if you want to gloss it up a bit, but the original toy was bare so you may want to leave them off. You've got options galore, from a license plate to a spare tire in car mode to three different faces for the robot head. It defaults to "toy head" but there are also smiling and normal faces based on the cartoon show.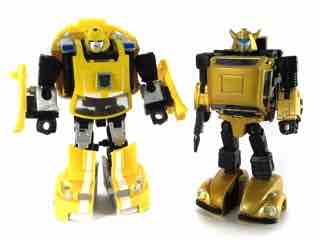 When it comes to deco, it's kind of a cheat - the original Generation 2 toy was vac-metal gold, shiny like a C-3PO figure and largely lacking in detail. In that respect, this is arguably more "Goldbug" than "G2 Bumblebee" thanks to his blue visor and numerous non-reflective surfaces. It's basically the same mold used for the regular versions of Bumble(bee), which means you get 20 points of articulation - most of which are in the legs. Rocker ankles and double knees are here for you, although as a robot you really don't need that much movement. The arms are about on par with most deluxe toys - ball-jointed shoulders, swivel biceps, and a hinge elbow.
Swappable faces are a nice bonus, but are also a pain. The main "toy" face is fused in there pretty good - I had to unscrew the head to pop it out. After getting the default face out, it's a lot easier to change "toy face" (previously an Amazon.jp exclusive for the cartoon version) with "cartoon face" and "cartoon smile face." It's remarkable how different the figure feels with the other heads, even if you have to go out to get a small screwdriver to get the dang thing loose.
The chest has a rotating rectangle on it - one side can be stickered, and the other one can be kept plain. It's also worth noting that the jet pack is a 3-piece affair that operates a little differently than you may be used to. Each one of the shoulder straps plugs in first, and then the big pack plugs in to that - and to a piece of the figure's back. The gun is much simpler, as it just fits in his hand.
Despite being about the same size as the 2006 Classics Bumblebee, and with slightly better articulation, it's hard to deny the appeal of a toy that merges so many.shtmlects of the cartoon with fictional appearances. It's fun and if you think you might like this, and have money, you'll enjoy it.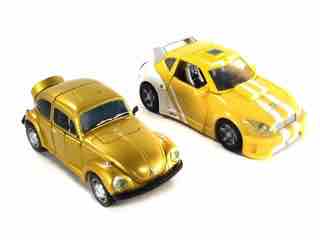 The car mode looks like a VW bug. It's small - much smaller than a deluxe toy, although bigger than a Legends toy. With rolling wheels and clear headlights, it's nice. Clear windows and swappable accessories make it even better. A spare tire can be mounted on back of the car or under the vehicle. A license plate can also be mounted in its position, which has one-time use stickers and can be stored inside the spare tire so you don't lose it. (It's small, you might lose it.) Also easily lost, a sprue of two side mirrors for the car which you can use if you choose. They're very small, so be careful with those. There's no obvious storage for them.
I have very few Masterpiece toys - and this one is probably the least impressive. The US release of Soundwave offered a ton of bang for the buck. Grimlock was big and for $80, impressive. Bumblebee is small, and were it released on a single card for $15-$20 you'd be impressed with it. The licenses, extra articulation, and spare parts don't come cheap and as such you're paying probably double what a toy like this is "worth." I'll probably buy more weird G2 toys as they're made - seriously, I can't help myself and there aren't many of them - but I can't imagine everybody is as delighted by this weirdness as I am. If the price is right, get yourself one. Or two. But don't overpay.
--Adam Pawlus
Additional Images

See more Takara-Tomy figures in Figure of the Day:
Day 180: Takara-Tomy Transformers Animated Ironhide (Bulkhead) Key Chain
Day 435: Takara-Tomy Transformers Prime Gacha Arms Micron Optimus Prime Blaster
Day 476: Takara-Tomy Transformers Prime Bumblebee Sword Action Figure
Day 495: Takara-Tomy Beast Saga Raioga Action Figure
Day 529: Takara-Tomy Beast Saga Kingdom of Sea Death Action Figure Set
Day 534: Takara-Tomy Beast Saga Dolphin Burst Action Figure
Day 540: Takara-Tomy Beast Saga Kingdom of Gloria Action Figure Set
Day 544: Takara-Tomy Beast Saga Aldyle Action Figure
Day 549: Takara-Tomy Beast Saga Dorfan Action Figure
Day 551: Takara-Tomy Beast Saga Eledram Elephant Action Figure
Day 564: Takara-Tomy Beast Saga DX Starter Set Action Figure Set
Day 568: Takara-Tomy Beast Saga Tarlock Action Figure
Day 573: Takara-Tomy Beast Saga Long Giraf Action Figure
Day 579: Takara-Tomy Beast Saga Garrison G Action Figure
Day 580: Takara-Tomy Beast Saga GachaBooster General Hawk Knight Action Figure
Day 585: Takara-Tomy Beast Saga Beast Machines Sky Darling Vehicle
Day 586: Takara-Tomy Beast Saga Killer Shark Burst Action Figure
Day 593: Takara-Tomy Beast Saga Rynas Action Figure
Day 595: Takara-Tomy Beast Saga Seylas Action Figure
Day 597: Takara-Tomy Transformers Prime Zad Action Figure
Day 601: Takara-Tomy Beast Saga Bamet Burst Action Figure
Day 616: Takara-Tomy Beast Saga Long Giraf Burst Action Figure
Day 622: Takara-Tomy Beast Saga Bamet Action Figure
Day 626: Takara-Tomy Beast Saga Killer Shark Action Figure
Day 637: Takara-Tomy Beast Saga Liorga Action Figure
Day 642: Takara-Tomy Beast Saga Aldyle Burst Action Figure
Day 663: Takara-Tomy Beast Saga Janjan Action Figure
Day 669: Takara-Tomy Beast Saga Ogre Burst Action Figure
Day 678: Takara-Tomy Beast Saga Swordbill Action Figure
Day 693: Takara-Tomy Beast Saga Guarl Burst Action Figure
Day 715: Takara-Tomy Beast Saga Guarl Action Figure
Day 824: Takara-Tomy Beast Saga Mantaray Action Figure
Day 828: Takara-Tomy Beast Saga Aljaylo Action Figure
Day 839: Takara-Tomy Beast Saga Ogre Action Figure
Day 846: Takara-Tomy Beast Saga Dakker Action Figure
Day 856: Takara-Tomy Beast Saga Moreek Action Figure
Day 873: Takara-Tomy Beast Saga Wonderriver Action Figure
Day 905: Takara-Tomy Transformers Masterpiece Edition Lambor G-2 Ver.
Day 937: Takara-Tomy Beast Saga Rynas Burst Action Figure
Day 974: Takara-Tomy Beast Saga Super Win Deck Impact Set Action Figure Set
Day 993: Takara-Tomy Beast Saga Kannigal Burst Action Figure
Day 1,127: Takara-Tomy Transformers Sega Genesis Megatron Action Figure
Day 1,207: Takara-Tomy Transformers United Rumble & Frenzy
Day 1,224: Takara-Tomy Transformers Adventure Roadblock
Day 1,242: Takara-Tomy Transformers Go! Go
Day 1,247: Takara-Tomy Transformers Go! Sen
Day 1,259: Takara-Tomy Transformers Go! Geki
Day 1,262: Takara-Tomy Transformers Masterpiece Bumble G-2 Ver.
Day 1,273: Takara-Tomy Transformers Go! Ex
Day 1,284: Takara-Tomy Transformers Go! Shou
Day 1,310: Takara-Tomy Transformers Legends Slipstream
Day 1,327: Takara-Tomy Transformers Unite Warriors Grand Scourge
Day 1,328: Takara-Tomy Transformers Unite Warriors Nightbird Shadow
Day 1,326: Takara-Tomy Beast Saga Buffam Action Figure
Day 1,328: Takara-Tomy Transformers Adventure Override
Day 1,332: Takara-Tomy Beast Saga Bunikis Action Figure
Day 1,339: Takara-Tomy Beast Saga Aljaylo Burst Action Figure
Day 1,357: Takara-Tomy Transformers United Stepper
Day 1,381: Takara-Tomy Beast Saga Eledram Burst Action Figure
Day 1,429: Takara-Tomy Transformers Legends Armada Starscream Super Mode
Day 1,468: Takara-Tomy Transformers Unite Warriors Grand Galvatron
Day 1,471: Takara-Tomy Zoids Masterpiece Shield Liger
Day 1,496: Takara-Tomy Beast Saga Dacker Burst Action Figure
Day 1,627: Takara-Tomy Transformers Legends Convobat
Day 1,670: Takara-Tomy Transformers Legends Leo Prime
Day 1,814: Takara-Tomy Beast Saga Mantaray Burst Action Figure
Day 1,842: Takara-Tomy Transformers Legends Blackarachnia
Day 1,911: Takara-Tomy Beast Saga Wolfen Burst Action Figure
Day 1,964: Takara-Tomy Beast Saga Buffam Burst Action Figure
Day 2,000: Takara-Tomy Zoids Wild ZW-05 Gannontoise Figure Kit
Day 2,006: Takara-Tomy Beast Saga Raioga Burst Action Figure
Day 2,008: Takara-Tomy Zoids Wild ZW-01 Wild Liger Figure Kit
Day 2,013: Takara-Tomy Zoids Wild ZW-03 Kabtor Figure Kit
Day 2,017: Takara-Tomy Zoids Wild ZW-04 Scorpear Figure Kit
Day 2,039: Takara-Tomy Zoids Wild ZW-06 Gabrigator Figure Kit
Day 2,075: Takara-Tomy Zoids Wild ZW-07 Kuwaga Figure Kit
Day 2,191: Takara-Tomy Transformers Generations Selects Deluxe Gulf (Skalor) Action Figure
Day 2,200: Takara-Tomy Transformers Generations Selects Deluxe Turtler (Snaptrap) Action Figure
Day 2,213: Takara-Tomy Beast Saga Kannigal Action Figure
Day 2,273: Takara-Tomy Transformers Generations Selects Voyager Super Megatron Action Figure

Click here to see more Transformers figures in Figure of the Day.

Want to buy this figure? Check Transformers availability at our sponsors:
Entertainment Earth