Ironhide
Optimus Maximus #5 of 5

Transformers Generations Combiner Wars Deluxe
Item No.: Asst. B0974 No. B3057
Manufacturer: Hasbro
Includes: Comic book, axe, hand/foot/weapon
Action Feature: Transforms from Robot to Truck to Hand to Foot
Retail: $15.99
Availability: August 2015
Other: Retooled from Offroad

PREVIOUS
RSS
NEXT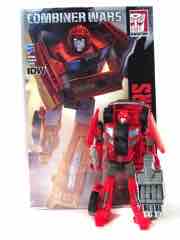 Hasbro has had a rough time with Ironhide over the years. The Prime one never came out here. The G1 version had no head. The Universe "Classics" version was awkward and painted with a blue face - Hasbro promised a running change with a fixed silver face that never came out. And now, we've got him as a truck combiner. Since the mold was previously used for a figure fans complained about, this one seems to be suffering from residual disdain despite being pretty decent. It's not perfect - a better one down the road with another gimmick would be welcome - but we've had much worse.
The robot mode is Offroad with a new head that, to me, reminds me a lot of Mega Man. There's a big helmet and it's very round, and in blue I bet many would agree with me. In red, though, it's more Ironhidey which is good given that it is in fact Ironhide. The chest has blue that vaguely resembles his chest or head windshield, while he has some grey on his limbs just like the classic cartoon. He also has door shoulder pads, which, well, he didn't have those before - nothing wrong with a nice new change, but it's worth noting there was, in fact, a change.
He has no problems holding his axe or his hand/foot/gun, as his fists are the traditional and much appreciated 5mm peg holes. I will say the fists are a very tight fit for his accessories, though - moreso than the others in this line.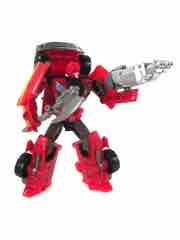 Transformation is a snap - if you have played with multiple Combiner Wars toys you basically know what to expect. Legs fold open, arms tuck in, hood covers the head, and so on. It's easy.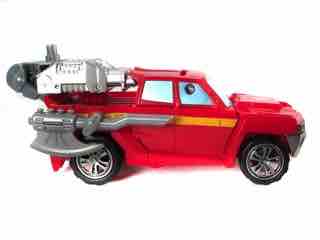 This vehicle looks Ironhide-esque. He was originally a van, which this is not - but if you mount the gun in his truck bed, he gets closer. If this were meant as a younger version of the character I'd say it'd be a great fit - it's still quite good. Bright blue shiny windows, a yellow stripe, and rolling wheels are really all you can ask for these days, and it delivers. 5 unique 5mm holes let you store weapons or gear, and that's about all there is to say about it. It's neat - it's new. You'll like it. And hey, he was a pickup during G2.
As an arm or a leg, it's exactly like Offroad. He's great! It doesn't do more than other combiner limbs, and it's easy to do without too much fidgeting. I wish I had more to say at this point, but Combiner Wars limbs are sturdy, satisfying, and pretty simple. They work, they're fun, get some.
If you don't have a Ironhide, and you probably don't, get this one. The price isn't terrible and if you hate it, you can use it as a combiner part. It's a classic win-win. Well, it's more of a no-money-back guarantee. Even if it doesn't charm you, you can still use it with your other toys. I like it, and it's neat, and it seems to be selling well - but there's still room for more takes on Ironhide. I'd love to see some other gimmick deployed on him in the next few years.
--Adam Pawlus
Additional Images

Click here to see more Hasbro figures in Figure of the Day.
Click here to see more Transformers figures in Figure of the Day.

Want to buy this figure? Check Transformers availability at our sponsors:
Entertainment Earth