Classic Color Mario
Inspired By Super Mario Bros. from the NES and Famicom

Super Mario Maker Amiibo Wave 3 Amiibo
Item No.: No. NVL C AFAA USZ
Manufacturer: Nintendo
Includes: n/a
Action Feature: Works with Super Mario Maker, more
Retail: $13.99
Availability: September 2015
Other: Also available in red and blue, supposedly, good luck with that

PREVIOUS
RSS
NEXT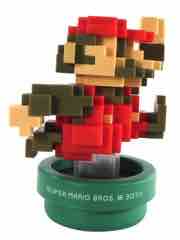 I continue my love/hate relationship with Amiibo - I love the concept and was totally on board to buy the lot of them, but artificial limitations on collectibility tend to make me angry. (It also means I'll be waiting for you to age out of this and buy your stuff at a net loss for you.) I'll still buy some now as I find them, as I lucked in to Classic Color Mario on a recent trip to New York's World of Nintendo shop. They actually had a pretty decent selection of the 3 1/2-inch figure, which also has the dubious benefit of introducing yet another variation into a line that really, honestly, doesn't need new ways to irritate those who are trying to assemble a complete set. As one of two 8-bit Mario figures made for this game, this one is in the original game's colors - brown and red. A version with blue overalls, a red shirt, and white gloves can also be found if you're some sort of amazing truffle-sniffing pig. I haven't seen that one outside Walmart's bundle packs yet.
This particular figure is more massive than his companions, despite sporting a skinnier plastic bubble package. The pixel figure does a good job of proving Nintendo basically understands how to do a "retro" toy by delivering the colors from the original game rather than illustrations based on said game - a literal interpretation being the easier-to-find version totally works for me. I've got a lot of Mario toys, so I'm pleased when they find a way to do it different. It's pretty much a pixel-perfect recreation of non-super Mario's jumping sprite with the added dimension we rarely see. If you rotate him, you'll see a pair of yellow pixels stand in for the letter M on his hat, both eyes, plus the bottom of his shoe and a head-on look at his face. Nintendo doesn't bring new dimensions to its old game sprites all that often, so seeing something like this really nails down their commitment to drag nostalgists into the present. It's old and new, breaking the illusion for its green pipe display stand which reads "Super mario Bros [crown] 30th." As a small collectible toy trophy for under $15, it's actually a perfectly nice little tribute piece - not cheap, but not ugly either. With no articulation and nice, clean paint it's a cute little statue and that alone is enough for me to say snag it if you see it. I sincerely hope to see more 8-bit figures like this for, I hope, Zelda and Metroid maker games down the road. (This will never happen.)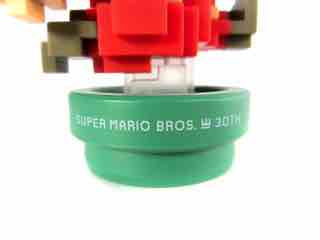 As an Amiibo it also adds to games you may already have. Super Mario Maker boasts an in-figure DLC which unlocks when you swipe it with a giant Pixel Mario that can crush blocks on the screen, and that's a lot of fun. In Super Smash Bros. Wii U, he functions just like a standard Mario Amiibo with a fireball. The same is true for Mario Kart 8, you just get the Mario outfit for the Amiibo racer. Downloaders of Amiibo Tap will get another grab, I got Super Mario World when I swiped it.
If the Amiibo line was easier to deal with, I'd have bought a ton more of these - but they're not, so I don't. I'll snag more as I can because most are nicely made, well-painted, nifty collectible figures that have an added NFC ability to unlock stuff in some games. As Classic Color Mario figures go you could do worse, and thankfully the price isn't bonkers yet. Get it if you can.
--Adam Pawlus
Additional Images


See more Amiibo figures in Figure of the Day:
Day 1,083: Nintendo Super Smash Bros. Amiibo Samus Aran
Day 1,107: Nintendo Super Smash Bros. Amiibo Link
Day 1,280: Nintendo Super Mario Maker Classic Color Mario
Day 1,296: Nintendo Super Smash Bros. Amiibo Mega Man
Day 1,299: Nintendo Super Smash Bros. Zero Suit Samus
Day 1,345: Nintendo Super Smash Bros. R.O.B., Mr. Game & Watch, and Duck Hunt
Day 1,433: Nintendo Shovel Knight Amiibo
Day 1,599: Nintendo Toad Amiibo
Day 1,605: Nintendo The Legend of Zelda Link Amiibo
Day 1,649: Nintendo Super Smash Bros. Little Mac Amiibo
Day 1,691: Nintendo Super Smash Bros. Zelda Amiibo
Day 1,733: Nintendo Super Smash Bros. Wii Fitness Trainer Amiibo
Day 1,795: Nintendo Super Mario Boo Amiibo
Day 1,812: Nintendo Metroid Samus Aran and Metroid Amiibo
Day 2,068: Nintendo Super Smash Bros. Ridley Amiibo
Day 2,159: The Legend of Zelda: Link's Awakening Amiibo Link
Day 2,170: Nintendo Super Smash Bros. Simon Amiibo
Day 2,361: Nintendo Metroid Dread Samus Aran and E.M.M.I. Amiibo

See more Nintendo figures in Figure of the Day:
Day 134: Applause Super Mario Bros. Super Mario with Koopa Troopa Action Figure
Day 369: Applause Zelda II: The Adventure of Link Link PVC Figure
Day 833: K'Nex Super Mario Blind-Bagged Series #2 Boo Action Figure
Day 926: Hasbro Pokemon Ash & Pikachu
Day 1,032: Jakks Pacific World of Nintendo Skyward Sword Link Action Figure
Day 1,083: Nintendo Super Smash Bros. Amiibo Samus Aran
Day 1,107: Nintendo Super Smash Bros. Amiibo Link
Day 1,125: Jakks Pacific World of Nintendo Metroid Action Figure
Day 1,162: Jakks Pacific World of Nintendo Metroid Samus Action Figure
Day 1,182: Jakks Pacific World of Nintendo Mario Action Figure
Day 1,186: Jakks Pacific World of Nintendo Luigi Action Figure
Day 1,280: Nintendo Super Mario Maker Classic Color Mario
Day 1,296: Nintendo Super Smash Bros. Amiibo Mega Man
Day 1,299: Nintendo Super Smash Bros. Zero Suit Samus
Day 1,320: Jakks Pacific World of Nintendo 8-Bit Link Action Figure
Day 1,335: Mattel Hot Wheels Nintendo Cool-One (Super Mario)
Day 1,336: Jakks Pacific World of Nintendo 8-Bit Luigi Action Figure
Day 1,341: Jakks Pacific World of Nintendo 8-Bit Donkey Kong Action Figure
Day 1,345: Nintendo Super Smash Bros. R.O.B., Mr. Game & Watch, and Duck Hunt
Day 1,347: Jakks Pacific World of Nintendo ComicConBox.com Metallic Metroid Samus Action Figure
Day 1,349: Jakks Pacific World of Nintendo 8-Bit Mario Action Figure
Day 1,363: Jakks Pacific World of Nintendo Shy Guy Action Figure
Day 1,367: Jakks Pacific World of Nintendo Convention Exclusive Jakks Giants Link Action Figure
Day 1,369: Jakks Pacific World of Nintendo Jakks Giants Mario Action Figure
Day 1,380: Jakks Pacific World of Nintendo Tanooki Mario Action Figure
Day 1,392: Toy Biz Video Game Super Stars Mario Kart 64 Mario Action Figure
Day 1,398: Jakks Pacific World of Nintendo Boo Action Figure
Day 1,404: Medicom Nintendo Series Legend of Zelda Link Ultra Detail Figure
Day 1,430: Sonic Drive-In Mario & Luigi Paper Jam Mario Figure
Day 1,433: Nintendo Shovel Knight Amiibo
Day 1,438: Jakks Pacific World of Nintendo Metroid Gravity Suit Samus Action Figure
Day 1,444: Jakks Pacific World of Nintendo 8-Bit Red Link Action Figure
Day 1,447: Jakks Pacific World of Nintendo 8-Bit Star Power Mario Action Figure
Day 1,454: Jakks Pacific World of Nintendo 8-Bit White Link Action Figure
Day 1,475: Jakks Pacific World of Nintendo Samus Mini Action Figure
Day 1,490: Jakks Pacific World of Nintendo 8-Bit Classic Mario Action Figure
Day 1,537: Jakks Pacific World of Nintendo Metroid Action Figure
Day 1,568: Good Smile Company The Legend of Zelda: A Link Between Worlds Link Deluxe Action Figure
Day 1,599: Nintendo Toad Amiibo
Day 1,601: The Octavirate Forge Shapeways NES Inspired Zapper Gun 5mm Grip
Day 1,605: Nintendo The Legend of Zelda Link Amiibo
Day 1,624: Jakks Pacific World of Nintendo Blooper Action Figure
Day 1,647: Jakks Pacific World of Nintendo Metroid Phazon Suit Samus Action Figure
Day 1,649: Nintendo Super Smash Bros. Little Mac Amiibo
Day 1,652: Jakks Pacific World of Nintendo Goomba Action Figure
Day 1,668: Jakks Pacific World of Nintendo 8-Bit Toad Action Figure
Day 1,672: Jakks Pacific World of Nintendo Boo Glow Action Figure
Day 1,677: Jakks Pacific World of Nintendo 8-Bit Star Luigi Action Figure
Day 1,691: Nintendo Super Smash Bros. Zelda Amiibo
Day 1,733: Nintendo Super Smash Bros. Wii Fitness Trainer Amiibo
Day 1,751: Jakks Pacific World of Nintendo 8-Bit Toad Variant Action Figure
Day 1,795: Nintendo Super Mario Boo Amiibo
Day 1,811: Hasbro Nintendo Diddy Kong Monopoly Gamer Power Pack
Day 1,812: Nintendo Metroid Samus Aran and Metroid Amiibo
Day 1,823: Hasbro Nintendo Boo Monopoly Gamer Power Pack
Day 1,843: Hasbro Nintendo Luigi Monopoly Gamer Power Pack
Day 1,858: Hasbro Nintendo Wario Monopoly Gamer Power Pack
Day 1,896: Good Smile Company Metroid Prime 3: Corruption Samus Aran Action Figure
Day 1,897: Hasbro Nintendo Fire Mario Monopoly Gamer Power Pack
Day 1,991: Jakks Pacific World of Nintendo 8-Bit Princess Peach Action Figure
Day 2,068: Nintendo Super Smash Bros. Ridley Amiibo
Day 2,159: The Legend of Zelda: Link's Awakening Amiibo Link
Day 2,170: Nintendo Super Smash Bros. Simon Amiibo
Day 2,340: Mattel Hot Wheels HW Screen Time Standard Kart
Day 2,361: Nintendo Metroid Dread Samus Aran and E.M.M.I. Amiibo
Day 2,614: Jakks Pacific Metroid Samus