Overload
Micromasters Transport

Transformers Micromasters Transports
Item No.: Asst. 5507 No. 5528
Manufacturer: Hasbro
Includes: Figure, vehicle
Action Feature: Transforms from Truck to Jet and Robot
Retail: $5.99
Availability: July 1989
Other: More... Much More than Meets the Eye!

PREVIOUS
RSS
NEXT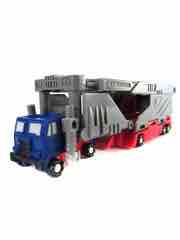 While not the only toy to hold this name - or even the only Micromasters toy with it - Overload is a toy I grabbed as a kid because I never had an Optimus Prime as a kid. It was pretty close - little truck, little robot, blue, red, and grey. Clearly it's not the same thing. No guns, no Roller, no faction markings, but that is the way of things in the late 1980s. Transformers transitioned from industry leader to a follower, capitalizing on Galoob's success with MicroMachines - a line of tiny cars which, per vehicle, cost about the same as the larger Hot Wheels line. This was a pretty fast transition and, to see an industry leader usurped so fast, it was not a thing people necessarily saw coming. Good marketing and a change in the perception of value - when clearly the actual value was not improved - caused other manufacturers to move to smaller, costlier things made of teensy-weensy little components. Small was the new big.
In addition to multi-packs and playsets, these transports provided the toys more interaction. If you got this truck, as a truck, it worked sort of like Ultra Magnus in that you could load other cars (sold separately, of course) inside and haul them around. Since cars were sold in a pack of 4, you might think you can fit a whole set inside here. You'd be wrong, but you could think that, as there's really only space for two. The six small wheels on the trailer turn, and the ramp lowers to load vehicles. For some reason, mine is incredibly stiff - it always was, but now it barely moves without a fight. The small truck also has rolling wheels and connects to the trailer by a 5mm peg and hole - see, Takara has been using these for years.
The trailer quickly unfolds into a makeshift get. The nosecone is under the wheels, the sides become wings, and there's even a place to sit Overload in his robot mode as a pilot - courtesy of his 5mm peg and hole, he'll stay put too. It's sort of like a mutant X-Wing Fighter, and with no labels or paint it's impossibly simplistic. It requires a bit more imagination to appreciate than some of the other toys, as weird bits of kibble and almost-but-not-quite modes weren't exactly unusual after the first few years of Transformers. It can only seat one figure, but at least that one figure is included - as was the fad of Micro toys, you got a complete play pattern in a box.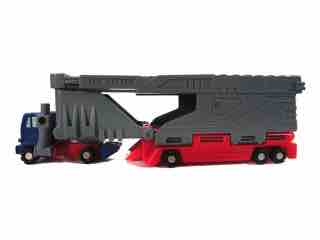 The truck isn't much of a toy, but at least it does something. The cab is an incredibly simple little toy, with the feet folding down, the legs going down, and the head popping up. The smokestacks become arms, and you're basically done with the toy. There's not a heck of a lot else for it to do, actually.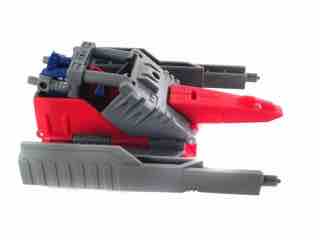 Other than standing and waving his arms, all he can do is serve as a pilot. Thankfully Takara and Hasbro articulated his leg - legs, but let's be honest, leg - so it can swing forward and sit down in the cockpit like an action figure can sit in a vehicle. It's a nifty thing, something we don't really see enough of in Transformers - the vehicle as an "action vehicle" with a driver would certainly be welcome in more frequent doses.
While not worthless, it's pretty cheap - if you want one of these, it's $15 or less. You can probably get an unboxed one as low as its original retail price, while carded ones will set you back considerably more. If you like tiny things it's totally worth snagging one, but it's simple. Very little paint on the truck cab means little detail, and the robot head has the simple visor and face you've come to expect from late-era Generation 1. I'd be lying if I called it great, but for the time it was a lot of fun. I'd like to see ideas like this brought back and expanded.
--Adam Pawlus
Additional Images


Click here to see more Hasbro figures in Figure of the Day.

Click here to see more Transformers figures in Figure of the Day.

Want to buy this figure? Check Transformers availability at our sponsors:
Entertainment Earth