Jack Asteroid
The Man from Earth

Outer Space Men Beta Phase New York Comic Con Exclusives
Item No.: n/a
Manufacturer: Four Horsemen
Includes: 2-piece helmet, backpack, ray gun, flag
Action Feature: Swappable arms
Retail: $11.00 or $35.00 (sold as a set with Terra Firma and Gamma X)
Availability: October 10, 2013 (NYCC) and October 16, 2013 (Online)
Other: White!

PREVIOUS
RSS
NEXT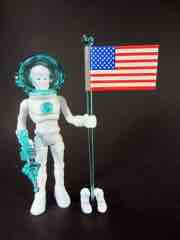 It's funny to write this column, because I get to watch how my excitement can turn into indifference or scorn with time. The well-priced White Star Jack Asteroid seems like great custom fodder, but as to the figure itself, a year later, I couldn't remember if I reviewed it or not. The White Star "set" remains incomplete with 3 aliens never being produced (or announced, as far as I know) and it wouldn't surprise me if the license was done. I'm a little surprised we didn't see a figure or two pop up as an exclusive somewhere, but here we are. After a year, I still haven't opened the White Star set and I don't know that I care to do so.
Jack Asteroid is, evolutionarily speaking, pretty good. The orange Alpha Phase figure was pretty wonky with a terrible flag, which the Four Horsemen fixed here (and was subsequently used for the Infinity Phase version earlier this year. The stickiness of the flag is still pretty awful - it's certainly below the usual standards of Four Horsemen figures - but you can squeeze it back together and it'll stay put for a few minutes before pulling itself apart again. The ray gun fits fine in his hand, though, so that's a plus.
The sculpt is, as always, good - the body is the same as Metamorpho, and the limbs are identical to the first year's quartet. He can stand and sit with no real problems, and the sculpt looks like it fell out of the late 1960s. A new head was created for Jack, and there are three flavors of him so far plus two official custom releases. The detail isn't what you would call stunning, but it's wholly appropriate for this style of figure. With no deco to speak of other than his blue eyes, you get a good look at the work that the Horsemen put into this release and the end results are pretty fantastic. Of course, if you have a shelf full of these it's just a bunch of ghostly white dudes in blue helmets.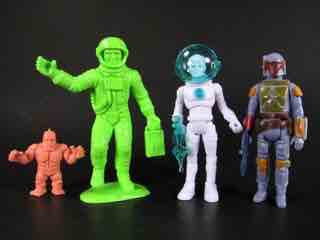 The helmet itself is an impressive piece of toymaking. A two-piece dome snaps over a lip on the neck, with an articulated visor able to swing over his face as desired. It's a delightful blue color, and it matches the chest jewel and the weapons. The backpack also has a blue cap on it, but without the coloring of the Infinity release it just feels like a horseshoe. It's still neat, but it's not as cool. It's just there.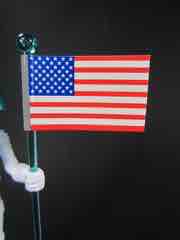 Given the nutty rollercoaster pricing this line has been subject to over the years, this figure was a bargain at $11. Ten bucks or so for a low-run indie figure is about normal, and given the nice selection of accessories and bonus parts it's hard to not find these more than a little exciting. There's a lot to like in the figure if you can appreciate it as a sort of a mutant 1980s Kenner toy and not a failed 2015 hyper-poseable toy. Still, I'd suggest putting your money in to the fully-decorated versions first and if you are thirsty for more, go ahead and grab White Star or the other releases. As a design from 2013, the subsequent Glyos-based Power Lords and upcoming Mythic Legions are stunning by comparison - so if you like the idea or the old characters, this is your can't-miss custom base for your very own Major Matt Mason.
--Adam Pawlus
Additional Images

Click here to see more Four Horsemen figures in Figure of the Day.

Click here to see more Outer Space Men figures in Figure of the Day.

Click here to see more Glyos Compatible figures in Figure of the Day.