PuppyCat
From the Internet Cartoon

Bee and PuppyCat Plush
Item No.: No. 5041
Manufacturer: Squishable
Includes: A small backpack clip
Action Feature: n/a
Retail: $8.99
Availability: July 2015
Other: It's a... one of those

PREVIOUS
RSS
NEXT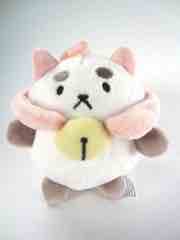 When The Bee and PuppyCat pop up on my Nintendo 2DS video menu a couple years back, I thought "Oh, yeah, gonna need to buy one of those." PuppyCat is one of the show's two stars, in what can best be described as a mashup of elements of Magical Girl anime and the American quarter-life crisis. The broke hero Bee is seem diving through dumpsters and scrounging to make ends meet when a new pet falls out of the sky and has the means to travel between dimensions to earn money doing odd jobs, like babysitting a fish. The creature is descriptively named and somewhat ambiguous so far, wearing accoutrements from a pet shop dumpster and maintaining a minimum amount of dignity. It's also voiced by the Vocaloid software, giving it a singing voice that's both adorable and unnerving. The likes of PuppyCat and Catbug aim to out-adorable one another for the hearts of tweens and media socialists, vying fort he growing attentions of the cat video generation. And the toy ain't bad either.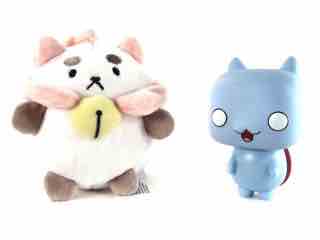 PuppyCat is roughly the size of a Pop! Vinyl figure and much, much fatter. Other versions exist but this one was available where I work so I got it. The non-ringing bell is placed on a decorative - but not particularly well-realized - collar. It sticks up a bit near the bell, making it look more like a shirt collar than a pet collar. Had it been sewn down more, it'd be perfect. The expression is close to that on the show - annoyed, perhaps disgusted at his human companion's actions. The coloring matches the show perfectly, and the oddly rotund shape does help this particular plush a bit in terms of longevity. Like Pop! Vinyl figures, its exaggerated form is intentionally incorrect - which means as we get better, more authentic plush toys stylized creations like this are just as good as they are today. You can't add authenticity to round and neckless, so what you see here is, arguably, perfect unless you wanted another format entirely.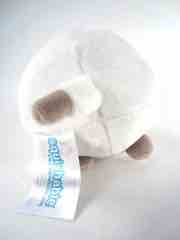 You've got lots of options and this is one of the lower-end ones. For a show with so few installments at press time - there's an awful lot of merch for the show given there are maybe 30 minutes worth of cartoons so far. The weird long waits between installments in a franchise are fertile ground for growth and merchandising, which things like Bravest Warriors and PuppyCat are finding. The endless excitement for a new installment of a fresh and interesting story only grows in the absence of something new, not unlike Star Wars in the 1980s. The opportunity is big and obviously it can't go on forever, so go ahead and pick one of these up while you're waiting. If nothing else it will help spread the word to the non-believers when they see it on your desk.
--Adam Pawlus
Additional Images

See more Squishable figures in Figure of the Day:
Day 1,239: Squishable Bee and PuppyCat Plush PuppyCat Micro Plush

See more Frederator Studios figures in Figure of the Day:
Day 1,225: Funko Bravest Warriors Pop! Television Impossibear Vinyl Figure
Day 1,229: Funko Bravest Warriors Pop! Television Catbug Vinyl Figure
Day 1,239: Squishable Bee and PuppyCat Plush PuppyCat Micro Plush
Day 1,285: Funko Bravest Warriors Pop! Television Commander Catbug Vinyl Figure