The Fifth Element Mangalore
Fittingly Retro

The Fifth Element ReAction Figure
Item No.: No. 5214
Manufacturer: Super7 x Funko
Includes: Rifle, pistol (2 guns)
Action Feature: n/a
Retail: est. $9.99
Availability: May 2015
Other: Loose Hips Sink Ships

PREVIOUS
RSS
NEXT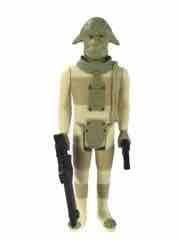 As one of the most identifiable races in The Fifth Element, a non-specific Mangalore ReAction figure just makes sense. It's not explicitly Aknot, but it's cool and it looks like it fell out of the 1980s. The paint is a little weak, as it should be - they nailed it here.
The sculpt is good with soem decent textures and a flight suit that looks like it could have been any of a number of classic sci-fi flicks. He has painted-toed shoes, weird bands on his legs, painted armor rivets on his frontside, and couldn't feel more like a "plays with" alien toy from the 1980s. They nailed it. I'm sure my sample is just, uh, "lucky" but one of the leg joints on mine is kind of floppy. That's a genuine flea market find feature of most toys.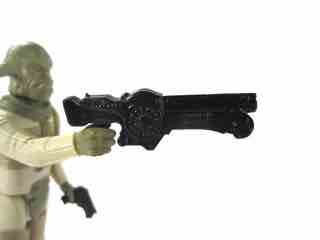 As with some of the others, the cuts in the hips are weird. The return of the hard-corner butt cheeks are here, which isn't a problem when standing and probably won't bother most people, but it bugs me. It doesn't feel like the parts fit quite right and it wouldn't surprise me if this figure (and a few others) were done by someone who hasn't quite mastered this form fit just yet. It's very rarely - perhaps never - a problem on most Kenner and Hasbro toys, so I find it unusual and worthy of poking with a stick.
The rifle is great - glossy black, and it fits right into his three-fingered hand. It's painted, so that's weird, but it looks nice. Meanwhile the pistol seems molded in black, and fits just fine in his other hand. Given the figure's army-buildability, the inclusion of two weapons certainly raises the reasons to get more than one and set up a nice little display. (I can't afford to keep doing that.) The figure is almost completely matte other than the gun, which means you have something that's mostly - but not entirely convincingly - retro.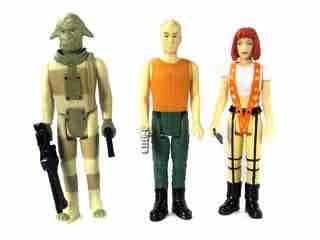 As the line's sole army builder, it's a good one. His nasty grimace, pointed ears, and white teeth are presented nicely without looking too modern. The sculpting is smooth, the detail is light. Were it a tad lighter it would feel even more legit, and as it is works just fine. This is one of those figures where I can say "if you only buy one The Fifth Element toy, this would be a good choice." The aliens just work better, and this one is particularly nice.
--Adam Pawlus
Additional Images

See more Super 7 and Funko x Super 7 figures in Figure of the Day:
Day 792: Super 7 ALIEN SDCC Exclusive Sales Samples
Day 821: Super7 x Funko Alien ReAction Ripley
Day 844: Super7 x Funko Alien ReAction Dallas
Day 852: Super7 x Funko Alien ReAction Alien
Day 857: Super7 x Funko Alien ReAction Kane in Space Suit
Day 861: Super7 x Funko Alien ReAction Ash
Day 945: Super7 x Funko The Rocketeer ReAction Rocketeer Action Figure
Day 945: Super7 x Funko Predator (Invisible, Bloody) Action Figure
Day 985: Funko Back to the Future Marty McFly ReAction Figure
Day 1001: Funko Nightmare Before Christmas Jack Skellington (Early Bird Figure) ReAction Figure
Day 1,005: Funko Universal Monsters The Mummy ReAction Figure
Day 1,008: Funko Back to the Future George McFly ReAction Figure
Day 1,008: Funko Back to the Future Doc Brown ReAction Figure
Day 1,029: Super7 x Funko Predator (Attack Mode) ReAction Figure
Day 1,037: Funko Nightmare Before Christmas Saly ReAction Figure
Day 1,038: Funko Universal Monsters Creature from the Black Lagoon ReAction Figure
Day 1,039: Funko Universal Monsters The Invisible Man ReAction Figure
Day 1,040: Funko Universal Monsters The Phantom of the Opera ReAction Figure
Day 1,041: Funko Universal Monsters The Wolf Man ReAction Figure
Day 1,042: Funko Universal Monsters The Bride of Frankenstein ReAction Figure
Day 1,059: Funko Predator (Masked) ReAction Figure
Day 1,068: Funko Universal Monsters Frankenstein's Monster ReAction Figure
Day 1,078: Funko Back to the Future Biff Tannen ReAction Figure
Day 1,082: Funko T800 Endoskeleton (Chrome) ReAction Figure
Day 1,094: Funko Universal Monsters Dracula ReAction Figure
Day 1,059: Funko Predator (Masked) ReAction Figure
Day 1,102: Funko Predator (Unmasked) ReAction Figure
Day 1,108: Funko Universal Monsters The Invisible Man
Day 1,108: Funko Universal Monsters The Invisible Man Clear Entertainment Earth Exclusive
Day 1,111: Funko Predator (Glow Version) ReAction Figure
Day 1,117: Funko The Terminator Sarah Connor ReAction Figure
Day 1,133: Funko The Terminator (Tech Noir Jacket) ReAction Figure
Day 1,138: Funko Pulp Fiction Mia Wallace ReAction Figure
Day 1,149: Super7 x Funko Alien Egg Chamber Action Playset
Day 1,183: Super7 x Funko Alien ReAction Alien (with Metallic Flesh)
Day 1,187: Funko Predator (Invisible) ReAction Figure
Day 1,199: Super7 x Funko Alien ReAction Ripley (Spacesuit)
Day 1,208: Funko Predator (Thermal Vision) ReAction Figure
Day 1,211: Funko The Fifth Element Leeloo ReAction Figure
Day 1,217: Funko The Fifth Element Diva Plavalaguna ReAction Figure
Day 1,222: Funko The Fifth Element Korben Dallas ReAction Figure
Day 1,227: Funko The Fifth Element Mangalore ReAction Figure
Day 1,236: Funko Gremlins Mogwai Stripe ReAction Figure
Day 1,244: Funko The Fifth Element Ruby Rhod ReAction Figure
Day 1,250: Super7 M.O.T.U.S.C.L.E. Set B
Day 1,252: Funko The Fifth Element Zorg ReAction Figure
Day 1,263: Super7 M.O.T.U.S.C.L.E. Set A
Day 1,267: Funko The Fifth Element Leeloo (Straps Costume) ReAction Figure
Day 1,272: Super7 x Funko Alien ReAction Kane (Chestburster)
Day 1,275: Funko Gremlins Billy Peltzer ReAction Figure
Day 1,277: Super7 x Funko Alien ReAction Kane (Facehugger)
Day 1,286: Funko Nightmare Before Christmas Behemoth
Day 1,288: Super7 M.O.T.U.S.C.L.E. Set C
Day 1,295: Funko Nightmare Before Christmas Mayor
Day 1,302: Super7 M.O.T.U.S.C.L.E. SDCC Promo Skeletor
Day 1,327: Super7 x Funko Alien ReAction Nostromo Crew (Dallas, Kane, Lambert)
Day 1,333: Funko Gremlins Cinema Gremlin ReAction Figure
Day 1,342: Funko Gremlins Gremlin Stripe ReAction Figure
Day 1,358: Funko Gremlins Bandit Gremlin ReAction Figure
Day 1,628: Super7 Masters of the Universe M.U.S.C.L.E. Series 2 Set C
Day 1,633: Super7 Masters of the Universe M.U.S.C.L.E. Series 2 Set B
Day 1,637: Funko E.T. The Extra-Terrestrial Elliot, E.T., and Gertie ReAction Figures
Day 1,639: Super7 Masters of the Universe M.U.S.C.L.E. Series 2 Set D
Day 1,639: Super7 Masters of the Universe M.U.S.C.L.E. Series 2 Set A
Day 1,656: Super7 Alien M.U.S.C.L.E. Set A
Day 1,676: Super7 Alien M.U.S.C.L.E. Set C
Day 1,686: Super7 Alien M.U.S.C.L.E. Set B
Day 1,693: Super7 Alien M.U.S.C.L.E. Set D
Day 1,801: Super7 Street Fighter II M.U.S.C.L.E. Set A
Day 1,817: Super7 Street Fighter II M.U.S.C.L.E. Set B
Day 1,834: Super7 Street Fighter II M.U.S.C.L.E. Set D
Day 1,840: Super7 Masters of the Universe M.U.S.C.L.E. Series 3 Set D
Day 1,846: Super7 Aliens M.U.S.C.L.E. Set E
Day 1,843: Super7 Masters of the Universe M.U.S.C.L.E. Series 3 Set E
Day 1,857: Super7 Street Fighter II M.U.S.C.L.E. Set C
Day 1,862: Super7 Masters of the Universe M.U.S.C.L.E. Series 3 Set C
Day 1,864: Super7 Aliens M.U.S.C.L.E. Set A
Day 1,877: Super7 Masters of the Universe M.U.S.C.L.E. Series 3 Set F
Day 1,881: Super7 Mega Man M.U.S.C.L.E. Series 1 Set B
Day 1,884: Super7 Aliens M.U.S.C.L.E. Set D
Day 1,894: Super7 Mega Man M.U.S.C.L.E. Series 1 Set D
Day 1,904: Super7 Mega Man M.U.S.C.L.E. Series 1 Set A
Day 1,914: Super7 Mega Man M.U.S.C.L.E. Series 1 Set C
Day 1,920: Super7 Halloween Series Nosferatu Glow in the Dark
Day 1,922: Super7 Masters of the Universe M.U.S.C.L.E. Series 3 Set B
Day 1,937: Super7 Masters of the Universe M.U.S.C.L.E. Series 3 Set A
Day 2,161: Super7 Masters of the Universe Transforming He-Man Action Figure
Day 2,211: Super7 Toxic Crusaders Glow in the Dark Toxie Action Figure
Day 2,235: Super7 Ultimates Voltron Action Figure
Day 2,237: Super7 Teenage Mutant Ninja Turtles Ultimates Raphael Action Figure
Day 2,253: Super7 Teenage Mutant Ninja Turtles Ultimates Foot Soldier Action Figure
Day 2,358: Super7 Killer Bootlegs Rhamnusia's Revenge Action Playset with Draco Knuckleduster and Phantom Starkiller Action Figures
Day 2,388: Super7 Teenage Mutant Ninja Turtles Ultimates Glow-in-the-Dark Mutagen Man Action Figure
Day 2,454: Super7 Metropolis Silver Maria ReAction Figure
Day 2,458: Super7 G.I. Joe Red Ninja ReAction Figure
Day 2,465: Super7 Godzilla Godzilla '54 (Glow-in-the-Dark) ReAction Figure
Day 2,480: Super7 Transformers Grimlock G2 ReAction Figure
Day 2,526: Super7 Vincent Price Master of Mayhem ReAction Figure
Day 2,530: Super7 Godzilla Mechagodzilla (Glow-in-the-Dark) ReAction Figure
Day 2,534: Super7 Planet of the Apes Mendez XXVI ReAction Figure
Day 2,546: Super7 Planet of the Apes Cornelius ReAction Figure
Day 2,554: Super7 Alien UCCSS Nostromo Action Figure Set 1 with Kane with Facehugger, Ripley with Jonesy, Ash with Removable Head
Day 2,562: Super7 Universal Monsters The Mummy ReAction Figure
Day 2,570: Super7 Universal Monsters The Metaluna Mutant ReAction Figure
Day 2,577: Super7 Transformers Hot Rod ReAction Figure
Day 2,590: Super7 Planet of the Apes General Aldo ReAction Figure
Day 2,594: Super7 Mars Attacks Destroying A Dog ReAction Figure
Day 2,598: Super7 Planet of the Apes Dr. Zaius ReAction Figure
Day 2,606: Super7 Universal Monsters Official World Famous Super7 Monsters! Creature from the Black Lagoon (Super She Creature) Glow-in-the-Dark
Day 2,610: Super7 Planet of the Apes Taylor ReAction Figure
Day 2,626: Super7 Planet of the Apes Zira ReAction Figure
Day 2,630: Super7 Universal Monsters The Metaluna Mutant ReAction Figure
Day 2,634: Super7 Planet of the Apes General Ursus ReAction Figure
Day 2,638: Super7 Universal Monsters Dracula ReAction Figure

See more The Fifth Element figures in Figure of the Day:
Day 1,211: Funko The Fifth Element Leeloo ReAction Figure
Day 1,217: Funko The Fifth Element Diva Plavalaguna ReAction Figure
Day 1,222: Funko The Fifth Element Korben Dallas ReAction Figure
Day 1,227: Funko The Fifth Element Mangalore ReAction Figure
Day 1,244: Funko The Fifth Element Ruby Rhod ReAction Figure
Day 1,252: Funko The Fifth Element Zorg ReAction Figure
Day 1,267: Funko The Fifth Element Leeloo (Straps Costume) ReAction Figure