Motormaster
Menasor #3 of 5

Transformers Generations Combiner Wars Voyager
Item No.: Asst. B0975 No. B1809
Manufacturer: Hasbro
Includes: Trading Card, sword, gun
Action Feature: Transforms from Robot to Truck to Torso
Retail: $24.99
Availability: January 2015
Other: ...this is a damn good figure.

PREVIOUS
RSS
NEXT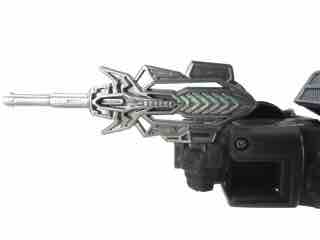 The first torso I saw for this line was Optimus Prime, and back when I first saw it (behind closed doors) I didn't know that a much, much more exciting Motormaster would be following him in short order. Having him share so many parts with Optimus Prime is a clear money-saving move, but it also really does make for a decent toy. The original Motormaster wasn't bad, but it did look a little weird as a solo robot. I wouldn't have minded if they kept the "Lemmified" Animated elements, but I will say that this is a really nice figure and an even better combiner torso.
While some of the people I talk with who love this stuff are waffling on the Combiner Wars think, I adore it. I'm planning on buying every mainline toy because they're all quite nice and ratchey and fun. Motormaster is basically Optimus Prime with a new head, chest, Combiner chest, and new arms above the elbows. If you don't enjoy this toy when you play with it, I don't want to get to know you.
The 7-inch tall robot mode has 19 points of articulation, and for whatever reason the joints are a bit sturdier and I can get better poses out of him than the Optimus Prime based on the same engineering. He can hold a sword or gun in either fist, but for some reason his left fist tends to be a tiny bit tighter on my sample. I love the Decepticon symbol on the chest and grille on his arm, and the head sculpt is charmingly old-school with a tiny face on a big, boxed head. My only real gripe about the Motormaster head is that the eyes are dark and largely unpainted - I wish it was red or yellow so they popped out a bit more.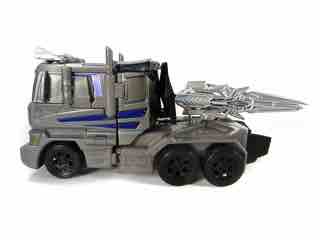 Transformation is nearly identical to Optimus Prime - other than a couple of articulated pieces on the car roof, it's the same. The legs turn into the back of the truck, the chest and arms are the cab, and the head rotates down inside. You can figure this one out without the instructions, but you may need to properly massage tabs together to get the solid, sturdy truck mode.
Truck mode looks similar to Optimus Prime, but not identical - some articulated flaps on teh top of the cab, a new grille, and the back side of the cab are clearly new parts. Everything else visible in truck mode is very similar. The truck is mostly grey as opposed to the mostly black cab of the original, and of course there's no container/trailer for this one. His wheels roll, and you can tab the sword onto the gun to stow in robot mode. Due to the abundance of silver paint, I wouldn't suggest doing that much as it tends to wear down over time. (Or just buy two.)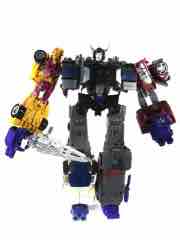 Torso mode is, to say the least, impressive - the only Stuncticon limb I had when Motormaster showed up in the mail was Dragstrip, so he's sort of incomplete right now. The head's horns are pretty menacing, and his angry face with open mouth are quite impressive. I don't yet have a Blackjack, but that's not a problem - the tiny car can plug into the open chest, but you don't have to have one. You can leave the chest closed and it looks fine, with a different design than Optimus has. You can also leave it open and there's a completely new design inside there too, with a different sculpt than Optimus. Hasbro really did a nice job making a toy that feels fairly different from his Autobot mold brother. If you ask me, this is the best of the first three Voyagers - although more are coming and we might be surprised as time goes on.
I liked Superion just fine, and I like Menasor. The torso and head are fantastic and the giant merged weapon doesn't seem to be too small, either. If you only get one Combiner Wars team, make it the Stunticons. I'm even tempted to buy an extra set to leave merged in a display case in my office I like it so much, but I also suspect BotCon or someone, at some point, will do a Generation 2 redeco so I'll be buying that as well. If it happens. And we all hope it does.
--Adam Pawlus
Additional Images

Click here to see more Hasbro figures in Figure of the Day.
Click here to see more Transformers figures in Figure of the Day.

Want to buy this figure? Check Transformers availability at our sponsors:
Entertainment Earth