Scattershot
Betatron #3 of 5

Transformers Generations Combiner Wars Voyager
Item No.: Asst. B0975 No. B4664
Manufacturer: Hasbro
Includes: Trading Card, 2-piece blaster
Action Feature: Transforms from Robot to Plane to Torso
Retail: $24.99
Availability: November 2015
Other: Silverbolt Reshelled Redux

PREVIOUS
RSS
NEXT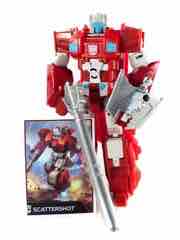 For a remold, it's not bad. Scattershot takes the same basic toy you got with Cyclonus or Silverbolt and makes a few hard changes. One of these changes are Betatron's limbs - the box puts his team as the 1984 combiner cars Prow, Mirage, Sunstreaker, and Ironhide. The guns are the same, but are off-white plastic painted silver. The other big changes are his robot head, jet wings, and jet nosecone - other than deco, pretty much everything else is the same. You'll be seeing the mold again for Seaclamp (a.k.a. Rocket Lobster) very soon. At Comic-Con, Hasbro's presentation not-so-subtly mentioned that Scattershot's combined mode is Betatron, because he's a beta version of the computer-named Computron. Hmmm. Well, we've got drill tanks and bike limbs coming, so who knows? Lightspeed, Afterburner, and Nosecone seem like easy pickins.
It's exactly as fun as Silverbolt, minus the fact that he doesn't have his own team just yet - either customizers or perhaps Hasbro will need to make that happen. Or you could just swipe Ramhorn and Cicadacon from the 2016 club set... they're pretty close.
As with Silverbolt, Scattershot is a 7-inch tall robot mode with 19 points of articulation. The chunky update of Silverbolt does a good job of updating the character, although with a few minor tweaks (new shoulders, head deco) this could be a marvelous update of character. As it is, he's a decent (not great) update of the toy - his visor and face are painted blue, and he's mostly red. Early renderings of the toy (including his packaging) show brown elements, but the final toy has a darker red color that isn't really all that dark compared to the red that makes up his chest and other parts. As the "Betatron" name hints, it's almost really neat - as it is, it's OK. If you don't count the baggage of the original toy, it's actually really fun because it's a new character to this line with a new head. We don't get a ton of those, so I won't say that you're going to love him, but he works. He works very well.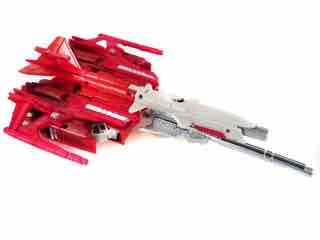 Transformation is nothing special - you know the drill by now. To get the futuristic jet mode, the head tucks in to the chest, the nosecone rotates up, the legs twist around, the arms fold in, and the wings come down. There's a little more to it, but that's pretty much it - Silverbolt toys aren't very complicated, nor are their descendants.
New space jet! That's pretty cool - it looks vaguely like the original toy, especially in that the nose of the ship looks like a weapon. It could probably have incorporated some sort of rocket launcher or 5mm connector, but it doesn't. Along with this, some new cannons were added to one of the fins on the back plus we got all-new wings. The wings are cast in a more flexible (but not rubbery) plastic than other toys in this line over the years, so long-time fans will immediately notice a different feel with the more porous, less glossy finish on the space wings. There's also a landing skid, but as it's under the area where you mount his weapons in vehicle mode you probably won't use it all that much.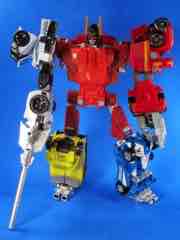 As far as we know, the torso mode - Betatron - is some sort of story stepping stone to Computron. I could see Takara-Tomy doing one with a few more tweaks to the tooling and deco to get us something truly spectacular, because as it is he's really not much more than a red Superion torso with a dark metallic grey Superion head. I assume budgets kept things down, so the combined mode isn't really all that thrilling. He's very functional, he works well, and there's nothing bad about this toy other than the name evokes yet another design that we didn't get here. One of the key problems with toy lines catering to collectors - long-term fans, at least - is expectation management. If they named the toy "Buckshot" or something, and he wasn't explicitly named to reference an existing team leader, this would be another fun gem in an already great line of combiners. It really is a blast to futz with it!
If Takara-Tomy finishes the job and converts this thing full-on to a Computron torso with brown bits, I assume this Scattershot will get dumped into the toy junk bins of history real quick and/or will just be a fantastic Voyager robot on your shelf. Right now, today, it's a fun toy and 2 of the 3 molds show a lot of effort and creativity on Hasbro's part - but the box' inclusion of some brown on the limbs make me think that Hasbro is aware they can milk this design one last time if they really wanted to do so.
--Adam Pawlus
Additional Images

Click here to see more Hasbro figures in Figure of the Day.
Click here to see more Transformers figures in Figure of the Day.

Want to buy this figure? Check Transformers availability at our sponsors:
Entertainment Earth