Teletraan I
Free Diorama Remix

Action Stage Transformers Leader
Item No.: No. #23
Manufacturer: Entertainment Earth
Includes: n/a
Action Feature: Transforms from Robot to Tank
Retail: free with purchase
Availability: July 2015
Other: You are most welcome

PREVIOUS
RSS
NEXT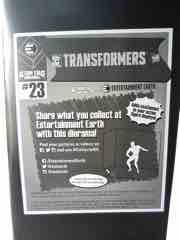 One of my favorite "extras" in an exclusive was the diorama that pops out from the box from last year's Hasbro Transformers Age of Extinction SDCC Exclusive Ark. Since day one, after I came up with the idea for "action stage" freebies for Entertainment Earth, I wanted to include something from a license. This year, I got to do two - my personal favorite being Teletraan I. This nifty thing is a flat stage which comes in a plastic bag and was given away for free with purchase at Comic-Con 2015 in San Diego. If you bought something at the Entertainment Earth booth, you got either this or the My Little Pony one. Considering the other set was quite expensive, this one is free and worth it. Perhaps even twice free.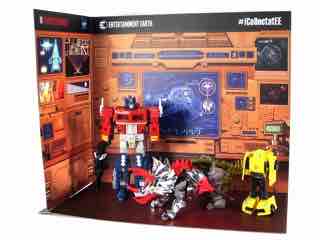 The item folds out and gives you a remixed version of graphics from the original set. Monitors show the Age of Extinction Snarl mold as well as a G1 Grimlock head and various galactic elements. Obviously it's not a multi-stage three-dimensional piece with a volcano and a crashed space ship, but it is a great way to replicate the scenes from the cartoon on a budget. The printed diorama isn't glossy, but it does sport a somewhat waxy finish. It's sized the same as the other Action Stages, which means it works pretty well for figures up to 8-inches tall. This means Voyagers look great, but Leaders do not. Masterpiece Edition cars also fit quite nicely, being as they're roughly the same size as the much-cheaper Voyager-class toys.
My pitch and plan and discussions on this - which I may recount down the road, as it is interesting in spots - centered around the importance of this environment to the earlier cartoons, and how it played in as a place that you saw the individual elements of Superion at least a couple of times. As cartoon lore goes, this is the Central Perk, or Cheers, or Jerry's apartment for the franchise. Most of the time you're on Earth, and there's going to be a place for exposition to happen, it will be somewhere in the Ark. Specifically, Teletraan I scanned the alt modes, track time warps, and provided the history of Cosmic Rust - among other things. As useful fictional supercomputers go, this is one of the best. And it's not evil, either.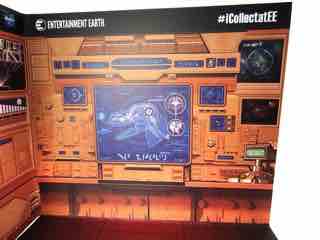 Fully assembled it's about 11 x 9.5 x 6-inches. This means it fits fine in an IKEA Detolf, and you can have two of them on a shelf back-to-back as a sort of a level divider.
I've been curious how these will shake out, as we made a decent quantity of them and they went to just about anyone who bought anything. So maybe you kept it and loved it, or gave it to a friend, or chucked it in the trash - it remains to be seen. Few have appeared on eBay and the going rate is about ten bucks. So if you got one of this, and don't want it, I suggest trying to sell it or trade it. I'm willing to bet some got tossed out when it came time to pack the luggage, mostly because I know promo paper items are usually the first to go as my bags (let's be honest - boxes) fill up at a convention. If you can, get one. If you can't, try - it's neat enough to put on a shelf, and small. It's actually a marketing ploy - the hope is you get one and post pictures of it on Twitter or Instagram with the #icollectatee hashtag, and that it's popular enough where I can go back to the people who finance my zany schemes so I can do more. Because most of these weren't licensed, ones involving characters and environments from licensed properties do take a few extra steps. If you got one, please do make a fuss about it - because then we can do more, and I can make your shelves happy.
--Adam Pawlus
Additional Images

See more Entertainment Earth figures and toys in Figure of the Day:
Day 1,230: Entertainment Earth Action Stage Transformers Teletraan I Action Stage
Day 1,983: Entertainment Earth Justice League Batman Push Puppet

Click here to see more Transformers figures in Figure of the Day.

Want to buy this figure? Check Transformers availability at our sponsors:
Entertainment Earth