Blast Off
Bruticus #1 of 5

Transformers Generations Combiner Wars Deluxe
Item No.: Asst. B0974 No. B4662
Manufacturer: Hasbro
Includes: Comic book, turret, hand/foot/weapon
Action Feature: Transforms from Robot to Plane to Hand to Foot
Retail: $15.99
Availability: November 2015
Other: Quickslinger (and Fireflight) Redeco

PREVIOUS
RSS
NEXT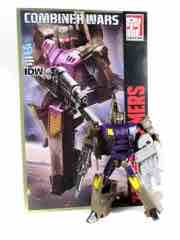 Here's a weird one. Nearly every wave of Deluxe toys this year included 4 remakes of characters from the 1980s combiner teams, with one replacement. A team of jets had a helicopter mixed in, a rescue wave added a SWAT vehicle, a car was replaced by a truck. For this reason, the "one of these things is not like the other" space shuttle of this team could be easily - and convincingly - replaced, but instead Hasbro decided to give fans Blast Off in a new (for him) body. The space shuttle is gone, replaced by Quickslinger's body and head. This is a sensible idea in terms of making a more coherent military vehicle team, but considering Blast Off had a faceplate (and if they just used the Fireflight mold, he still could have) it's kind of odd.
In some respects, this toy is a lot like Scattershot - it's good, but it may not be what you assumed you'd be getting. That's one of the unfortunate.shtmlects of legacy toys being remade in a more cost-conscious era - Hasbro wants to redecorate its investments, and why not? The problem comes from that when a toy has looked a certain way on nearly every incarnation - including a Cybertronian Space Shuttle as 2012's Fall of Cybertron Blast Off - that a toy like this can be somewhat jarring.
It really isn't bad - the dark brown shuttle has a purple canopy and numerous purple details. Since it's based on an Autobot, the designers did a pretty good job applying Blast Off's colors to that mold - the head has new paint masks making it look less like a balding robot and more like his own man. A splash of yellow on his vents gives him some life, while the articulation gives him a lot more to do than his 1986 ancestor. I think he looks great as part of the team - I'd rather it be a more slavish G1 remake, but I'm old. I'll live, though, because he doesn't look like he doesn't belong here.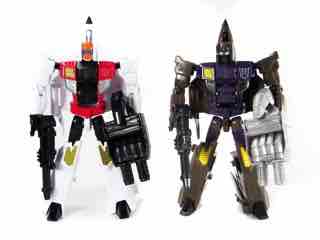 Transformation is identical to Quickslinger and Fireflight. This is to say, good and simple. The robot legs open up and fold over the shins. The nosecone covers the head. The arms tuck in. There's really not much to it - this is why I like it. After a few hundred of these buggers, I don't find I enjoy spending 10 minutes converting them to go from one mode to another, let alone five so I can build a combiner team.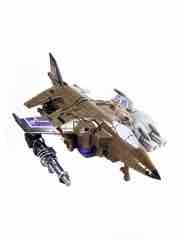 As with his ancestors, the plane is just fine. For new fans, the loss of the space shuttle may be no big deal while classic collectors could see it as b.shtmlhemous. A brown space shuttle is sort of ridiculous, but so was most of that original line with its fire-breathing kaiju robots and armored tigers with robot kitty cats inside. Given the variety of jets we've had in this line, a brown fighter plane doesn't seem remotely outlandish - it just doesn't do much. There's a retractable landing skid and places to mount 5mm weapons in its wings, but that's about it. It's not bad, it's just the new, increasingly light on features normal.
You may be glad to know the combiner modes are still fantastic. The hand/foot works great in unpainted grey, and his gun has some added gunmetal paint to bring that to life. Blast Off works fine as an arm or as a leg, which should surprise no one as the mold was one of the first and best entries in the line. It's great when a toy just works, and this is one of those toys.
If you aren't hung up on G1 accuracy, Blast Off is a fun toy - if they named him Movor or some other alternate name used for the Blast Off toy mold, though, I bet fans would be slightly more accepting of the deviations from the norm. As it is they're practically begging for a third-party substitute or at the very least, a new head upgrade kit. As I write this Takara-Tomy is expected to debut a Shuttle with their Bruticus, but we've not seen it yet. I assume a lot of fans are holding their breath to see how it turns out because, much like Defensor's Japanese Groove, it's hard to let go of how we remember things.
--Adam Pawlus
Additional Images
Additional Transformers Combiner Wars Bruticus Images

Click here to see more Hasbro figures in Figure of the Day.
Click here to see more Transformers figures in Figure of the Day.

Want to buy this figure? Check Transformers availability at our sponsors:
Entertainment Earth