Prowl
Optimus Maximus #4 of 5

Transformers Generations Combiner Wars Deluxe
Item No.: Asst. B0974 No. B3058
Manufacturer: Hasbro
Includes: Comic book, axe, hand/foot/weapon
Action Feature: Transforms from Robot to Police Car to Hand to Foot
Retail: $15.99
Availability: August 2015
Other: Retooled from Streetwise

PREVIOUS
RSS
NEXT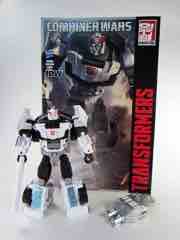 He's good! He's... not great. While arguably a good guy, Prowl has evolved into more of a bad good guy - an overly dangerous threat to pretty much anybody with a different political viewpoint, even if they're on the same team. So naturally, you want to make him part of a team made of other robots. It more or less worked out in the comics just fine, and actually made for a decent, fun toy. I quite like how the head turned out.
The robot mode is Streetwise with a new head, who was himself a modified Dead End. Prowl's chest was obfuscated ever-so-slightly on Streetwise by painting it to not look like a hood of a car, but here it really pops nicely. It goes well with the black and white in Prowl-esque doses, but a police car robot is a police car robot to some extent. The "POLICE" graphics on his arms are visible, there's a nice Autobot symbol on his chest, and the crest on his head is painted in an unusual way with a white outline. It looks good - it's distinctive. He also looks a bit more menacing than the skinnier Prowl from Universe a few years ago.
He has no problems holding his shotgun or his hand/foot/gun, because the now-standard 5mm pegholes are sized correctly. I even handed him some other weapons from other toys, and so far everything seems to fit without much of a fight - Microns, BMOGs, whatever.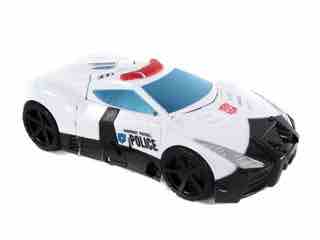 Transformation is the same as the rest - the big twist with Prowl (and Streetwise and Dead End) is how his feet open up so the thighs go inside. Everything else is more or less par for the Combiner Wars course - sturdy, solid, and not as varied as one might have hoped.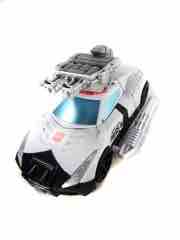 This car looks a lot like Prowl - light bar, police markings, the works. Painted windows are a must due to the clear plastic not necessarily working for this kind of a toy, plus black unpainted wheels show that there's not too much money in the budget for detailing. Thankfully he does get "HIGHWAY PATROL POLICE" tampos as well as the obligatory Autobot marking on the hood of the car. It's sturdy, it's nice, it all fits together well.
As an arm or a leg, well, you know the drill - it works. I won't say it impresses, but it makes for a perfectly fine leg and a decent arm.
Since new Prowls don't come along all that often, this is a good one for a perfectly reasonable price. I assume we will get more of them with increasingly complex or fun gimmicks, but for the time being Prowl-as-combiner is worth your time and interest. This line is well-engineered so having some more recognizable individuals in a line based on teams and combining is actually somewhat refreshing. I mean, your average fan probably can't name all the components of any of the original special teams, but I assume people familiar with the original TV show know Prowl or Sunstreaker or Mirage. If you've got a Prowl-shaped hole in your collection, this is a fun way to fill it.
--Adam Pawlus
Additional Images

Click here to see more Hasbro figures in Figure of the Day.
Click here to see more Transformers figures in Figure of the Day.

Want to buy this figure? Check Transformers availability at our sponsors:
Entertainment Earth