Bodacious Bovine
Japanese name "White Cow"

Battle Beasts Series 3
Item No.: #68
Manufacturer: Hasbro
Includes: Bread & Butter Sword, seven additional figures
Action Feature: n/a
Retail: approx. $9.99
Availability: ca. 1987
Other: This sample has a "Fire" rubsign

PREVIOUS
RSS
NEXT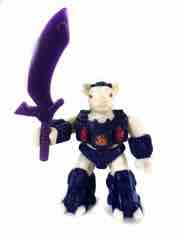 Have a cow, man! The Bodacious Bovine came out as part of an eight-pack. It's a cow, but udder-ly devoid of feminine characteristics. You're going to love this.
Molded in white plastic, this one doesn't have as much paint as you might hope. Sure, it has red eyes and blue armor, but no black or brown spots. You'll notice grooves in its skin indicating where those kinds of markings could go, but the toy budgets of the late 1980s gave us wonderful things like toy lines with very few repaints. Small figures with low articulation were popular, so that's what we have here - an albino bovine created deftly enough for general heifer-interested junkies. Sure, the horns are unpainted and white, but this line had a green rabbit in the first wave and if you can deal with that, you can deal with the weird claw-like hooves and awesomely robotic armor. The quasi-Transformers aesthetic is just gorgeous, with that perfect feel that's hard to put into words.
This fellow doesn't do much - he can stand and his arms rotate, with hands designed to g.shtml the (at least in Japan) strangely named sword. It's the Bread & Butter Sword, which is a perfectly nice curved-blade weapon with a weird triangle guard around the grip. It's distinctive and not particularly cow-like. I don't know what else you might give it, to be honest - it's a decent fit.
While I'm generally not a big fan of customizing my toys, I can totally see why you'd want to add paint to this one. If they reissued it with more markings, I'd buy it. As it is, it looks sort of like a rare double-horned unicorn of some sort. We don't get a lot of cow toys - this reminded me of a recent Four Horsemen figure - so I'd say go ahead and snag it. A complete one should set you back less than $20 by mail, even cheaper if you buy a small lot or collection. I love these little guys, so I'd say go for it.
--Adam Pawlus
Additional Images

Click here to see more Hasbro figures in Figure of the Day.
See more Battle Beasts figures in Figure of the Day:
Day 82: Diamond Select Battle Beasts Minimates SDCC Gold Alligator Action Figure
Day 373: Diamond Select Battle Beasts Minimates Case Red Alligator Action Figure
Day 374: Hasbro Battle Beasts Sawtooth Shark Action Figure
Day 375: Hasbro Battle Beasts Wolfgang Walrus Action Figure
Day 376: Hasbro Battle Beasts Diving Duckbill Action Figure
Day 377: Hasbro Battle Beasts Spark Shark Action Figure
Day 390: Diamond Select Battle Beasts Minimates C2E2 2012 Red Vorin
Day 391: Hasbro Battle Beasts Anarchy
Day 395: Diamond Select Battle Beasts Minimates C2E2 2012 Grey Vorin
Day 417: Hasbro Battle Beasts Run Amuck Duck
Day 436: Hasbro Battle Beasts Horny Toad
Day 450: Diamond Select Battle Beasts Minimates SDCC 2012 Vorin & Zik
Day 451: Hasbro Battle Beasts Sledgehammer Elephant
Day 460: Diamond Select Battle Beasts Minimates SDCC 2012 Gold Vorin
Day 463: Diamond Select Battle Beasts Minimates C2E2 Exclusive Black Alligator
Day 451: Hasbro Battle Beasts Pillaging Polar Bear
Day 577: Hasbro Battle Beasts Slasher Seahorse
Day 610: Diamond Select Battle Beasts Minimates Gruntos the Walrus & Tate Reynolds
Day 639: Hasbro Battle Beasts Triple Threat Snake
Day 674: Hasbro Battle Beasts Hare Razing Rabbit
Day 720: Diamond Select Battle Beasts Minimates Shadow Merk
Day 723: Hasbro Battle Beasts Pillager Pig
Day 914: Hasbro Battle Beasts Rainbow Sam
Day 972: Hasbro Battle Beasts Pixilated Pointer
Day 1,084: Hasbro Battle Beasts Sir Sire Horse
Day 1,278: Hasbro Battle Beasts Hardtop Tortoise
Day 1,291: Hasbro Battle Beasts Tanglin Pangolin
Day 1,306: Hasbro Battle Beasts Eager Beaver
Day 1,313: Hasbro Battle Beasts Bodacious Bovine
Day 1,756: Diamond Select Independent Comic Book Minimates Battle Beasts Ruminant and Spyrnus
Day 1,815: Diamond Select Battle Beasts Minimates Stealth Vorin
Day 1,827: Hasbro Battle Beasts Sabre Sword Tiger
Day 1,890: Hasbro Battle Beasts Battling Deer Stalker Chariot
Day 1,905: Diamond Select Battle Beasts Minimates Antalor and Nychirix
Day 1,906: Hasbro Battle Beasts Killer Carp
Day 2,024: Fisher-Price Imaginext Series 11 Collectible Figures Triple Threat Snake
Day 2,074: Hasbro Battle Beasts Octillion Octopus