Tyrannosaurus Rex
Chomping Attack!

Jurassic World Bashers and Biters
Item No.: Asst. B1271 No. B1830
Manufacturer: Hasbro
Includes: n/a
Action Feature: Leg moves neck and opens jaws
Retail: $10.99
Availability: April 2015 (May 11, 2015 street date)
Other: Not bad, not big either

PREVIOUS
RSS
NEXT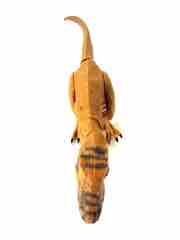 I certainly don't need more Tyrannosaurus Rex toys but this one came in the box with the rest. I jumped on the bigger chomping one earlier - and my guess is we can expect more and more recolors - but this one I like. As the consumer I suggest comparing prices because this one is about ten bucks and the next size up is significantly bigger and meaner, and Amazon price wars knocked it down to a paltry $15. Which is stupid cheap. This simpler, smaller toy is going to be ideal for some parents but the bigger one is unquestionably a more impressive toy with more obvious visual value. From tail to nose, this one is about 9-inches tall and with its larger head and smaller body, if you squint, it looks sort of like a fried chicken drumstick.
This creature's movie role was little more than a crowd-pleasing cameo with the means to end the movie in a hurry, because if you make a dinosaur movie without the T-Rex the kids are going to be mad. The classic beast is getting a lot of toy love from the tiny tube size to the larger price points, so keep in mind that there's no shortage of varieties out there in the world of 2015. Parents and collectors, do your research. Kids... do what your allowance and proximity allows.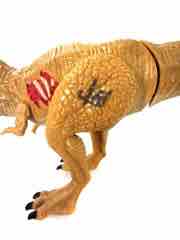 The sculpting is, unsurprisingly, good. With no soft dino skin or easily lost chunks of flesh, what you see is what you get. She's wrinkly and has a variety of textures, with big skin creases and a sort of elongated droop that does wonders to make this toy feel larger despite its teeny, tiny, small-even-for-Yoda arms. They're jointed, as are the back legs. Balancing the figure is easy and painless, she'll stay standing on your desk even if you bump into it a bunch. Hasbro didn't skimp on the deco - there's room for improvement on the back and tail, though. We got a nicely painted striped head with yellow eyes and a nice outline to make them pop, plus painted teeth and a decent mouth interior. Her foot claws and belly are also painted, although I'm beginning to think painting the belly is a waste given how much more visible the back seems to be here. Also included are the obligatory "JW" marking and some exposed meat and bone, because this is a Jurassic Park toy after all.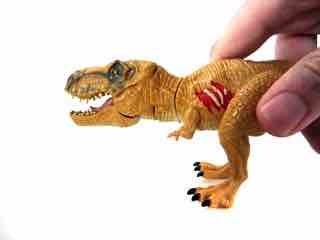 What I find the most charming about the toy is its action feature. The tail operates the head like a puppet. Move it down, and the head goes up. Tilt it to the side, and the jaw opens. I find it far more engaging than the larger counterpart in that respect, but it doesn't look as cool for the money. It's a toss-up - it's neat, but not awesome. It's a great feature, though, and one I hope Hasbro deploys on its other lines. I could see this being great in Star Wars beasts down the road, were they so inclined.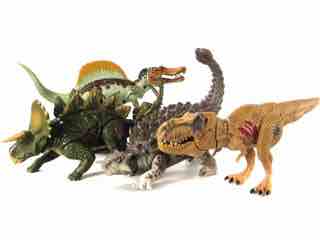 For ten or so dollars, you get your money's worth with this one. The many visible screws on the side you don't see while it's packaged may disappoint you, but the fun of the tail mechanism should make up for it. A recolor in green is scheduled for release shortly, so if you want to go that route you do have that option. I like it, but the proportions on the larger toy may be more to your liking if you have access and the cash to spare. This is a fine stocking stuffer or birthday gift, though, but I'm sure those with a massive dinosaur toy box have a sufficient gaggle of this creature as it is.
--Adam Pawlus
Additional Images

Click here to see more Hasbro figures in Figure of the Day.
See more Jurassic Park and Jurassic World figures in Figure of the Day:
Day 11: Hasbro Jurassic Park III Dr. Alan Grant
Day 138: Kenner Jurassic Park Chaos Effect Compstegnathus Action Figure
Day 172: Kenner Jurassic Park The Lost World Chasmosaurus Action Figure
Day 346: Kenner Jurassic Park Ian Malcolm Action Figure
Day 366: Kenner Jurassic Park Ellie Sattler Action Figure
Day 372: Hasbro Jurassic Park G.I. Joe Heavy Gunner Action Figure
Day 533: Kenner Jurassic Park Chaos Effect Amargospinus
Day 620: Hasbro Jurassic Park Pachyrhinosaurus Clash Action Figure Set
Day 651: Hasbro Jurassic Park Allosaurus Assault Action Figure Set
Day 851: Hasbro Jurassic Park Paul Kirby Action Figure
Day 1,180: Hasbro Jurassic World Tyrannosaurus Rex Action Figure
Day 1,180: Kenner Jurassic Park Alan Grant Action Figure
Day 1,196: Hasbro Jurassic World 3 Dinos Action Figure
Day 1,198: Kenner Jurassic Park Tim Murphy Action Figure
Day 1,202: Hasbro Jurassic World Spinosaurus Action Figure
Day 1,212: Kenner Jurassic Park Chaos Effect Ian Malcolm Action Figure
Day 1,216: Hasbro Jurassic World Ankylosaurus Action Figure
Day 1,219: Hasbro Jurassic World Stegoceratops Action Figure
Day 1,228: Hasbro Jurassic World Tyrannosaurus Rex Action Figure
Day 1,425: Hasbro Jurassic World Hybrid Velociraptor Action Figure
Day 1,455: Hasbro Jurassic World Bashers & Biters Indominus Rex Action Figure
Day 1,462: Hasbro Jurassic World Hybrid Tyrannosaurus Rex Action Figure
Day 1,472: Hasbro Jurassic World Pachycephalosaurus Action Figure
Day 1,509: Hasbro Jurassic World Hybrid Armor Indominus Rex Action Figure
Day 1,526: Hasbro Jurassic World Owen "Alpha" and Velociraptor "Blue" Action Figure
Day 1,528: Hasbro Jurassic World Hybrid Armor Ankylosaurus Action Figure
Day 1,540: Hasbro Jurassic World Hybrid Dilophosaurus Rex Action Figure
Day 1,550: Hasbro Jurassic World Hybrid Carnoraptor Action Figure
Day 1,560: Hasbro Jurassic World Hybrid Rampage Indominus Rex Action Figure
Day 1,567: Hasbro Jurassic World Hybrid Stegoceratops Action Figure
Day 1,573: Hasbro Jurassic World Hybrid Pteramimus Action Figure
Day 1,712: Hasbro Jurassic World Hybrid Spinosaurus Action Figure
Day 1,721: Hasbro Jurassic World Hybrid Dilophosaurus Action Figure
Day 1,918: Mattel Jurassic World Mini Action Dino Ankylosaurus Action Figure
Day 1,938: Funko Pop! Movies Jurassic Park Dr. Ian Malcolm (Wounded) Pop! Vinyl Figure
Day 1,943: Mattel Jurassic World Velociraptor "Blue" Action Figure
Day 1,950: Mattel Jurassic World Super Colossal Tyrannosaurus Rex Action Figure
Day 1,954: Mattel Jurassic World Dilophosaurus Action Figure
Day 1,959: Mattel Jurassic World Battle Damage Triceratops Action Figure
Day 1,963: Mattel Jurassic World Extreme Chompin' Tyrannosaurus Rex Action Figures
Day 1,965: Mattel Jurassic World Battle Damage Velociraptor "Blue" Action Figure
Day 1,967: Mattel Jurassic World Robert Muldoon Action Figure
Day 1,972: Mattel Jurassic World Gallimimus Action Figure
Day 1,981: Mattel Jurassic World Metriacanthosaurus Action Figure
Day 1,984: Funko Pop! Movies Jurassic Park Dr. Ian Malcolm Pop! Vinyl Figure
Day 1,989: Mattel Jurassic World Tyrannosaurus Rex, Stygimoloch "Stiggy," and Triceratops Action Figures
Day 1,994: Mattel Jurassic World Battle Damage Pachycephalosaurus Action Figure
Day 1,999: Mattel Jurassic World Owen & Baby "Blue" Action Figure
Day 2,003: Mattel Jurassic World Gift Set 6-Pack Action Figures
Day 2,053: Mattel Jurassic World Legacy Dr. Ian Malcolm Action Figure
Day 2,098: Mattel Jurassic World Dino Rivals Destroy 'N Devour Indominus Rex Action Figure
Day 2,103: Fisher-Price Imaginext Jurassic World Dr. Malcolm & Dimetrodon Action Figures
Day 2,111: Mattel Jurassic World Dino Rivals Mussaurus Action Figure
Day 2,511: Mattel Jurassic World Dominion Roar Strikers Iguanodon Action Figure
Day 2,558: Mattel Jurassic World Dino Trackers Danger Pack Nothosaurus Action Figure
Day 2,578: Mattel Jurassic World Mosasaurus Action Figure
Day 2,602: Mattel Jurassic World Dino Trackers Danger Pack Dakosaurus Action Figure