Mattel Jurassic World Robert Muldoon Action Figures
Mattel, 2018

Day #1,968: May 21, 2018
Robert Muldoon
Classic Human Assortment

Jurassic World Legacy Target Exclusive Humans
Item No.: Asst. FLN33 No. FLN35
Manufacturer: Mattel
Includes: Shotgun, Compsognathus
Action Feature: Can be hugged by small dinosaur
Retail: $7.99
Availability: April 2018
Other: Creature from the Robert Muldoon

PREVIOUS
RSS
NEXT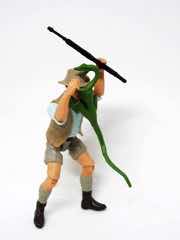 In 1993, you couldn't give away the Kenner human figures from Jurassic Park - I got a few of mine from JC Penny's clearance catalog, including this guy. The colors were off back then, but the new Robert Muldoon is pretty good. Mattel added a printed face to the figures, much like Hasbro's 6-inch Marvel and Star Wars releases. This one is about 4-inches tall, making him large compared to Star Wars 3 3/4-inch releases. Actor Bob Peck was just over six feet, so the lines are close in size - but not quite.
Mattel hasn't done a lot of collector-friendly 3 3/4-inch figures from classic film franchises, so this is sort of interesting simply for existing. Not a lot of decades-old movies have the power to support a retro line of figures for its human leads - and here we are.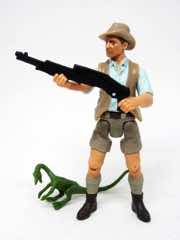 The sculpting is good - it looks like the guy, with a vest and shirt and shorts and a non-removable hat. What interests me the most is the radical departure in articulation - the joints are largely well-hidden, with no unsightly pins in the knees or elbows. The hips have a great range of motion, although the cuts in the hips are deep. You can get him to spread his legs and sit easily, with some of the best motion I've seen on a figure this century. Hasbro usually has a problem getting figures to sit right, this one has no such problems. I would love it if the hands could double-grip the shotgun better, but as is he can hold his gun. The elbows are decent and hidden by the sleeves, with shoulders that have no obvious peg or hook or any weirdness. It's just integrated nicely. I also had no problems getting this one to stand or to sit in the Jeep, which may not sound like a big deal but know I collect Star Wars. You usually get a few figures that can't sit or stand or hold their weapons.
While his shotgun has a big ugly "CHINA" stamped on one side, it's otherwise good. His Compy pal is basically a Fingerlings murdersaurus - it can clamp on to his arm or leg. While its eyes are sadly unpainted, the sculpting is good with visible ribs and green skin. It's creepy. It's a good departure from the original baby dinosaurs we got in the 1990s, and reminds me more of the Kenner Aliens Facehuggers we got. Those were pretty awesome.
The figure is a little different from the norm at this size, and if you compare it against Hasbro's current Star Wars offerings these are pretty slick. Hasbro has good figures with 5 joints and one or two accessories for the same price, while Mattel gives you an accessory, a dinosaur, and 18 points of articulation. Mattel's dinosaurs are also significantly more robust for the asking price, leading me to wonder if Hasbro has been coasting or if Mattel is trying to gain some power in the world of boy's toys. This figure is above average, especially for the price. I just couldn't help myself - it was neat enough to buy. The likeness is best viewed at a slight distance, but I'm impressed. Mattel has been kind of the company that does DC and little else to me lately, but now I want to see what else they can do for figure fans. For years Hasbro ruled the 3 3/4-inch roost, but Mattel seems to be showing they could be a suitable replacement host for the scale should Hasbro ever break up with it. So far only four classic humans are known to be coming, and I hope they keep it going with Peter Storemare, Julianne Moore, Filliam H. Muffman, and any other major player - it would be interesting. It can be fun. They can also be packed as food for other dinosaur toys. I'd be into it.
--Adam Pawlus
Additional Images

Click here to see more Mattel figures in Figure of the Day.

See more Jurassic Park and Jurassic World figures in Figure of the Day:
Day 11: Hasbro Jurassic Park III Dr. Alan Grant
Day 138: Kenner Jurassic Park Chaos Effect Compstegnathus Action Figure
Day 172: Kenner Jurassic Park The Lost World Chasmosaurus Action Figure
Day 346: Kenner Jurassic Park Ian Malcolm Action Figure
Day 366: Kenner Jurassic Park Ellie Sattler Action Figure
Day 372: Hasbro Jurassic Park G.I. Joe Heavy Gunner Action Figure
Day 533: Kenner Jurassic Park Chaos Effect Amargospinus
Day 620: Hasbro Jurassic Park Pachyrhinosaurus Clash Action Figure Set
Day 651: Hasbro Jurassic Park Allosaurus Assault Action Figure Set
Day 851: Hasbro Jurassic Park Paul Kirby Action Figure
Day 1,180: Hasbro Jurassic World Tyrannosaurus Rex Action Figure
Day 1,180: Kenner Jurassic Park Alan Grant Action Figure
Day 1,196: Hasbro Jurassic World 3 Dinos Action Figure
Day 1,198: Kenner Jurassic Park Tim Murphy Action Figure
Day 1,202: Hasbro Jurassic World Spinosaurus Action Figure
Day 1,212: Kenner Jurassic Park Chaos Effect Ian Malcolm Action Figure
Day 1,216: Hasbro Jurassic World Ankylosaurus Action Figure
Day 1,219: Hasbro Jurassic World Stegoceratops Action Figure
Day 1,228: Hasbro Jurassic World Tyrannosaurus Rex Action Figure
Day 1,425: Hasbro Jurassic World Hybrid Velociraptor Action Figure
Day 1,455: Hasbro Jurassic World Bashers & Biters Indominus Rex Action Figure
Day 1,462: Hasbro Jurassic World Hybrid Tyrannosaurus Rex Action Figure
Day 1,472: Hasbro Jurassic World Pachycephalosaurus Action Figure
Day 1,509: Hasbro Jurassic World Hybrid Armor Indominus Rex Action Figure
Day 1,526: Hasbro Jurassic World Owen "Alpha" and Velociraptor "Blue" Action Figure
Day 1,528: Hasbro Jurassic World Hybrid Armor Ankylosaurus Action Figure
Day 1,540: Hasbro Jurassic World Hybrid Dilophosaurus Rex Action Figure
Day 1,550: Hasbro Jurassic World Hybrid Carnoraptor Action Figure
Day 1,560: Hasbro Jurassic World Hybrid Rampage Indominus Rex Action Figure
Day 1,567: Hasbro Jurassic World Hybrid Stegoceratops Action Figure
Day 1,573: Hasbro Jurassic World Hybrid Pteramimus Action Figure
Day 1,712: Hasbro Jurassic World Hybrid Spinosaurus Action Figure
Day 1,721: Hasbro Jurassic World Hybrid Dilophosaurus Action Figure
Day 1,918: Mattel Jurassic World Mini Action Dino Ankylosaurus Action Figure
Day 1,938: Funko Pop! Movies Jurassic Park Dr. Ian Malcolm (Wounded) Pop! Vinyl Figure
Day 1,943: Mattel Jurassic World Velociraptor "Blue" Action Figure
Day 1,950: Mattel Jurassic World Super Colossal Tyrannosaurus Rex Action Figure
Day 1,954: Mattel Jurassic World Dilophosaurus Action Figure
Day 1,959: Mattel Jurassic World Battle Damage Triceratops Action Figure
Day 1,963: Mattel Jurassic World Extreme Chompin' Tyrannosaurus Rex Action Figures
Day 1,965: Mattel Jurassic World Battle Damage Velociraptor "Blue" Action Figure
Day 1,967: Mattel Jurassic World Robert Muldoon Action Figure
Day 1,972: Mattel Jurassic World Gallimimus Action Figure
Day 1,981: Mattel Jurassic World Metriacanthosaurus Action Figure
Day 1,984: Funko Pop! Movies Jurassic Park Dr. Ian Malcolm Pop! Vinyl Figure
Day 1,989: Mattel Jurassic World Tyrannosaurus Rex, Stygimoloch "Stiggy," and Triceratops Action Figures
Day 1,994: Mattel Jurassic World Battle Damage Pachycephalosaurus Action Figure
Day 1,999: Mattel Jurassic World Owen & Baby "Blue" Action Figure
Day 2,003: Mattel Jurassic World Gift Set 6-Pack Action Figures
Day 2,053: Mattel Jurassic World Legacy Dr. Ian Malcolm Action Figure