Micronus with Cloudburst Decoy Armor
Mini Pretenders!

Transformers Generations Power of the Primes Prime Masters
Item No.: Asst. E0566 No. E1110
Manufacturer: Hasbro
Includes: Blaster tip, small robot, robot suit
Action Feature: Transforms from Suit to Blaster and Robot to Ingot
Retail: $5.99
Availability: November 2017
Other: Tiny Pretender and Targetmaster

PREVIOUS
RSS
NEXT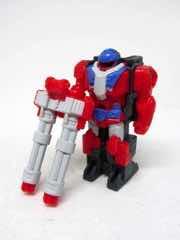 The original Pretenders don't get a lot of love, with few exceptions. Cloudburst was not one of these. The character has a great name, but has gone largely unseen for years. This new version drops the human head, but the basic red bulky suit remains, smaller, and in pretty much the same colors. There's no whip, but there's a way - it does have a blaster. It's a double-barrel number this time, instead of the single-barrel original.
The original suit looked more like a man in a suit - this one lacks some of the grey, but has a lot more blue. The human fleshy face has been replaced by a window allowing the inner robot Micronus to peer through. It's a perfect fit inside, and he has 2 joints as a 2-inch suit and 5 joints as a 1.5-inch robot. It's about the right size for the Titan citybots or the carrier modes for Tidal Wave, Leo Prime, Broadside, or Alpha Trion. The figure reminds me of the smaller "Legends" class around 2005-present (currently "legion") in which Hasbro made many major players from various series as tiny, collectible figures. I always hoped we'd see more smaller-scale big guys, like a Voyager Omega Supreme, to hang out with them. And instead we get a 24-inch Metroplex. I can live with that.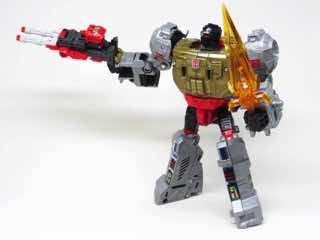 The Cloudburst Prime Armor comes with jointed arms. Each arm has a 3mm fist so you can pop off the backpack gun and give him a weapon. He can also be a weapon - just fold the blaster barrel up, fold the foot grip forward, and presto - targetmaster! The blaster for the Prime Masters toys is far better than the bulk of them for Titan Masters, resulting in a big blaster better for Leader and Voyager (and Combiner) toys.
Transformation is incredibly easy. Ridiculously easy. The inner robot goes from a "Prime Engine" to tiny robot - or also a head if you want. The robot shell can become a gun. The Micronus ingot is kind of a weird thing, and I find myself wishing it could just plug directly in to a figure's chest... on a new character. It's a blessing these were meant to plug in to an exterior bib rather than a deluxe toy directly, because the chests on the new toys are pretty nicely done.
The inner Micronus robot looks a little like Cloudburst. The colors are arguably more interesting than the original, which looked like a naked red robot with a blue face and red jams. The new one has a grey torso, red thighs, and grey boots - so it looks more varied. The arms move, the head turns, and the knees and hips also move. It does everything a Titan Master can do, with a symbol on its back that looks kind of like an "M." Also kind of like Samus Aran. The Prime Engine also can be plugged in to the weapon mode as a sort of plug-in external battery.
I got my money's worth. As a head, the Micronus thing looks sort of like the screen-replaced heads in More Than Meets the Eye's Functionist Cybertron. It plugs in the new combiner fists just fine - I guess - and I haven't tested it with the other large toys yet. I find the Targetmaster peg a tight fit on many toys, but it works. The sheer volume of variety right now is really fun - but I also assume that this line will get pretty tired a few waves on when everything is basically all made to a similar standard. I feel that there's a lot of untapped potential in this format, but maybe I'll see what that is when the Voyagers and Leaders show up.
--Adam Pawlus
Additional Images

Click here to see more Hasbro figures in Figure of the Day.
Click here to see more Transformers figures in Figure of the Day.

Want to buy this figure? Check Transformers availability at our sponsors:
Entertainment Earth