Killer Carp
Japanese name "Killer Fish"

Battle Beasts Series 1
Item No.: #5
Manufacturer: Hasbro
Includes: Killer Anchor weapon, second randomly-selected figure
Action Feature: n/a
Retail: approx. $3.99
Availability: ca. 1987
Other: This sample has a "Fire" rubsign

PREVIOUS
RSS
NEXT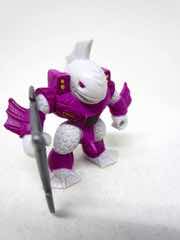 I didn't have a Killer Carp as a child, but it was on my short list of things to buy - like many kids, I loved toys and sea life. An armored pale fish with pink armor, duck feet, and an armor design that puts the "cod" into "codpiece" with a tail fin between his legs. It's a curious choice, to say the least.
The off-white or light grey plastic looks good, even 31 years later. This is a rubbery but crisp figure, with fairly clean paint lines given the low-rent nature of the figure and how there's a lot of molt and oily residue on some toys from this era. Yellow accents on the vents and lights of a purple-armored fish man give it a distinctive look, with red eyes and a square black rubsign over his body. It's not complicated, but it's clean and weirdly perfect.
The fish man's sculpt is pretty great for the era, with lots of scales and fins. It's smooth in parts, but the texture looks pretty good - even the duck-like feet turned out well. The armor is similar to the body parts of Transformers from that (and this) era, with various vents and plates whose function will never, ever be recognized.
Functionally, there's not much to this figure. It's a couple of inches high, has jointed arms, and can stand. There's a rubsign that indicates Fire, Water, or Wood power to play a game of sorts with the figures, and he can hold a weapon in his hand. It's simple, so the novelty mostly comes from the stickers or your love of the animal itself.
Complete with an anchor melee weapon, the beast warrior from the sea motif is complete. It was one of the first figures, and while it looks a lot like a blue shark it's still rather distinctive. Those forehead ridges almost look like a Klingon! The teeth look sharp. The scales are just perfect. While it lacks the detail of modern figures, it's a durable figure with mittens for hands. Some finger detail would have been nice, but series one Battle Beasts tend to skimp on such things. I love this one, and I'm glad to have it on my shelf of these guys. Without a weapon he's only a couple of bucks, but a complete one can set you back $25 or more. It's probably not going to bring you $25 of fun, though.
--Adam Pawlus
Additional Images

Click here to see more Hasbro figures in Figure of the Day.
See more Battle Beasts figures in Figure of the Day:
Day 82: Diamond Select Battle Beasts Minimates SDCC Gold Alligator Action Figure
Day 373: Diamond Select Battle Beasts Minimates Case Red Alligator Action Figure
Day 374: Hasbro Battle Beasts Sawtooth Shark Action Figure
Day 375: Hasbro Battle Beasts Wolfgang Walrus Action Figure
Day 376: Hasbro Battle Beasts Diving Duckbill Action Figure
Day 377: Hasbro Battle Beasts Spark Shark Action Figure
Day 390: Diamond Select Battle Beasts Minimates C2E2 2012 Red Vorin
Day 391: Hasbro Battle Beasts Anarchy
Day 395: Diamond Select Battle Beasts Minimates C2E2 2012 Grey Vorin
Day 417: Hasbro Battle Beasts Run Amuck Duck
Day 436: Hasbro Battle Beasts Horny Toad
Day 450: Diamond Select Battle Beasts Minimates SDCC 2012 Vorin & Zik
Day 451: Hasbro Battle Beasts Sledgehammer Elephant
Day 460: Diamond Select Battle Beasts Minimates SDCC 2012 Gold Vorin
Day 463: Diamond Select Battle Beasts Minimates C2E2 Exclusive Black Alligator
Day 451: Hasbro Battle Beasts Pillaging Polar Bear
Day 577: Hasbro Battle Beasts Slasher Seahorse
Day 610: Diamond Select Battle Beasts Minimates Gruntos the Walrus & Tate Reynolds
Day 639: Hasbro Battle Beasts Triple Threat Snake
Day 674: Hasbro Battle Beasts Hare Razing Rabbit
Day 720: Diamond Select Battle Beasts Minimates Shadow Merk
Day 723: Hasbro Battle Beasts Pillager Pig
Day 914: Hasbro Battle Beasts Rainbow Sam
Day 972: Hasbro Battle Beasts Pixilated Pointer
Day 1,084: Hasbro Battle Beasts Sir Sire Horse
Day 1,278: Hasbro Battle Beasts Hardtop Tortoise
Day 1,291: Hasbro Battle Beasts Tanglin Pangolin
Day 1,306: Hasbro Battle Beasts Eager Beaver
Day 1,313: Hasbro Battle Beasts Bodacious Bovine
Day 1,756: Diamond Select Independent Comic Book Minimates Battle Beasts Ruminant and Spyrnus
Day 1,815: Diamond Select Battle Beasts Minimates Stealth Vorin
Day 1,827: Hasbro Battle Beasts Sabre Sword Tiger
Day 1,890: Hasbro Battle Beasts Battling Deer Stalker Chariot
Day 1,905: Diamond Select Battle Beasts Minimates Antalor and Nychirix
Day 1,906: Hasbro Battle Beasts Killer Carp
Day 2,024: Fisher-Price Imaginext Series 11 Collectible Figures Triple Threat Snake
Day 2,074: Hasbro Battle Beasts Octillion Octopus