Sir Sire Horse
Japanese name "Bluehorse"

Battle Beasts Series 1
Item No.: #23
Manufacturer: Hasbro
Includes: Tomahorse axe, second randomly-selected figure)
Action Feature: n/a
Retail: approx. $3.99
Availability: ca. 1987
Other: This sample has a "Fire" rubsign

PREVIOUS
RSS
NEXT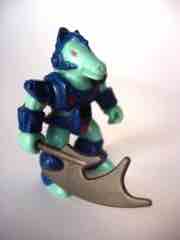 I didn't have this Battle Beasts figure as a kid, but I did buy Sir Sire Horse when I was in a rush to complete this collection of rubsign figures a few years ago, because I assumed wildly incorrectly that people would suddenly be more interested in this line with the Beast nouveau toy movement from 2010 to 2012. Ooops.
In Japan he was named "Bluehorse" and really, that's the correct name here. His mane is painted in the same greenish blue color of his skin, with nice blue armor. The paint job is nice and even, with red eyes and armor highlights. The figure flesh is pretty blandly sculpted, but the armor itself is quite nice. There are tons of panels and rivets, plus neat little shapes and grooves that really make everything pop nicely. The feet and hands are largely unformed, with what basically amount to mittens over both. Gripping hands can hold most 3mm weapons, so if you lose the included "Tomahorse" weapon you could substitute a LEGO broom or a shovel or whatever.
His hefty axe fits easily in his hand, and isn't too heavy to carry. The figure has a good center of gravity, and the weapon has a subtle, sparkly silver finish. As always, he has only two points of articulation - one at each shoulder - and it's a great fun little figure. He stands up well, looks cool, and is a lot of fun if you're in to this sort of thing. (You should be.)
As series 1 Battle Beasts go, this is a pretty solid one. The gritted teeth, the cool head gear, and the bizarrely great coloring makes for a fantastic toy. $5-$15 is the going rate, which isn't awful, but it's probably best that you get yours as part of a small collection as the per-figure price goes down considerably. These toys are classics, and if you ask me they're unappreciated gems. Granted, I'd say the same is true about several toy lines of the late 1980s - it was a great era, with Dino-Riders, Battle Beasts, Air Raiders, M.A.S.K., and so many other wonderful ranges of smaller (but not micro) action figure lines with a big emphasis on vehicles and creatures and playsets. This is a trend that's sadly gone away mostly, but we're seeing variations on it show up again every few years. Hasbro's recent smaller 2-packs for Guardians of the Galaxy is a fine example of trying for a similar format again, but my heart will probably always go with the classics.
--Adam Pawlus
Additional Images

Click here to see more Hasbro figures in Figure of the Day.
See more Battle Beasts figures in Figure of the Day:
Day 82: Diamond Select Battle Beasts Minimates SDCC Gold Alligator Action Figure
Day 373: Diamond Select Battle Beasts Minimates Case Red Alligator Action Figure
Day 374: Hasbro Battle Beasts Sawtooth Shark Action Figure
Day 375: Hasbro Battle Beasts Wolfgang Walrus Action Figure
Day 376: Hasbro Battle Beasts Diving Duckbill Action Figure
Day 377: Hasbro Battle Beasts Spark Shark Action Figure
Day 390: Diamond Select Battle Beasts Minimates C2E2 2012 Red Vorin
Day 391: Hasbro Battle Beasts Anarchy
Day 395: Diamond Select Battle Beasts Minimates C2E2 2012 Grey Vorin
Day 417: Hasbro Battle Beasts Run Amuck Duck
Day 436: Hasbro Battle Beasts Horny Toad
Day 450: Diamond Select Battle Beasts Minimates SDCC 2012 Vorin & Zik
Day 451: Hasbro Battle Beasts Sledgehammer Elephant
Day 460: Diamond Select Battle Beasts Minimates SDCC 2012 Gold Vorin
Day 463: Diamond Select Battle Beasts Minimates C2E2 Exclusive Black Alligator
Day 451: Hasbro Battle Beasts Pillaging Polar Bear
Day 577: Hasbro Battle Beasts Slasher Seahorse
Day 610: Diamond Select Battle Beasts Minimates Gruntos the Walrus & Tate Reynolds
Day 639: Hasbro Battle Beasts Triple Threat Snake
Day 674: Hasbro Battle Beasts Hare Razing Rabbit
Day 720: Diamond Select Battle Beasts Minimates Shadow Merk
Day 723: Hasbro Battle Beasts Pillager Pig
Day 914: Hasbro Battle Beasts Rainbow Sam
Day 972: Hasbro Battle Beasts Pixilated Pointer
Day 1,084: Hasbro Battle Beasts Sir Sire Horse
Day 1,278: Hasbro Battle Beasts Hardtop Tortoise
Day 1,291: Hasbro Battle Beasts Tanglin Pangolin
Day 1,306: Hasbro Battle Beasts Eager Beaver
Day 1,313: Hasbro Battle Beasts Bodacious Bovine
Day 1,756: Diamond Select Independent Comic Book Minimates Battle Beasts Ruminant and Spyrnus
Day 1,815: Diamond Select Battle Beasts Minimates Stealth Vorin
Day 1,827: Hasbro Battle Beasts Sabre Sword Tiger
Day 1,890: Hasbro Battle Beasts Battling Deer Stalker Chariot
Day 1,905: Diamond Select Battle Beasts Minimates Antalor and Nychirix
Day 1,906: Hasbro Battle Beasts Killer Carp
Day 2,024: Fisher-Price Imaginext Series 11 Collectible Figures Triple Threat Snake
Day 2,074: Hasbro Battle Beasts Octillion Octopus