Ecroyex Mimic Armorvor
Blue Figure with Silver Head

Glyos Action Figures
Item No.: n/a
Manufacturer: Onell Design
Includes: Bonus head, backpack
Action Feature: n/a
Retail: $8.00
Availability: October 20, 2013
Other: Part of a three figure Armorvor release

PREVIOUS
RSS
NEXT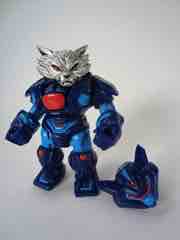 It's impossible to look at the Ecroyex Mimic Armorvor and not love it. Depending on how old you are, you'll see any of a number of inspirations. Perhaps the blue with red will remind you of some of the "stealth" Iron Man action figures. Perhaps the silver head and blue body will remind you of Micronauts, with the name coming off as a garbled up variation on "Acroyear."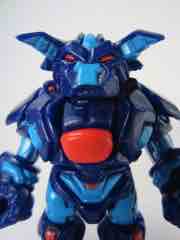 You've bought one of these before I hope - if not, go do so. The Onell Design mutation on the Battle Beasts concept really works well, with a "black core" painted red in his chest and fully swappable with that from other figures. He's cast in this amazing blue plastic color which may well be one of the greatest released so far. As always, the design is well articulated with Glyos pegs, meaning you can swap parts with other figures. The hands have pegs on them, rather than holes, so they can be easily swapped with few other figures - if you have Ggripptoggs or Ggrapptikks, their hands make exquisite Armorvor "paws."
18 parts and pieces await you, including a dual-sided helmet and a beastly wolf head painted in silver. The paint used for the silver is really fantastic, arguably the best silver I've seen that isn't some sort of vacuum metal finish. His helmet has a normal "wolf" side, and if you flip it around you'll see a dog-like muzzle on there. Nice! It's also worth noting the figure has a removable backpack, which you can put in his hand and use as a firearm of some description if you'd like. You can also plug his helmet into the back socket and pretend it's some atomic robo pack or something. I don't know what it is you kids do.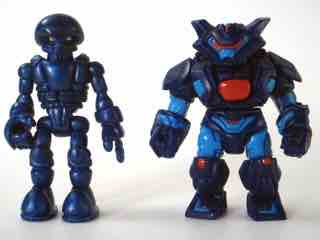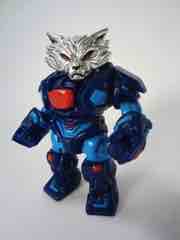 This may well be my second favorite Armorvor, and there have been many. Production runs of this guy are low - probably in the low hundreds - but the limited interest from collectors overall keeps prices on eBay reasonable. Odds are you'll be able to get one for $15, give or take a few bucks and shipping. The Armorvor figures used to sell out in minutes, but now they're finally starting to last a few hours or days after release - so if you don't want to deal with eBay, check out the Onell Design store and see if any are left. I'd say it's worth snagging at least one for your desk toy box, especially if you're a fan of the original Battle Beasts toys.
--Adam Pawlus
Additional Images


Click here to see more Onell Design figures in Figure of the Day.
Click here to see more Glyos Compatible figures in Figure of the Day.