Iron Man Mark 42
Build-A-Figure Collection Iron Monger Series

Iron Man 3 Marvel Legends Basic Figures
Item No.: Asst. A2514 No. A3950
Manufacturer: Hasbro
Includes: Iron Monger right arm
Action Feature: n/a
Retail: $15.99
Availability: August 2013
Other: Cheep

PREVIOUS
RSS
NEXT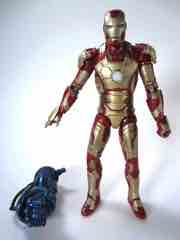 I love Legends but own very few of them - I pounced on a Iron Man Mark 42 when I saw it dumped at Ross for seven bucks in early 2013. As far as I can tell the whole wave hit, but I only saw Iron Man and Ultron - Rhodes didn't sit around. The new sculpt is a really nice figure for the lower price, but I can't say that it would've been worth $20 to me. Sure, it's on par with Star Wars: The Black Series out of the box, but something of it just doesn't reek of value - perhaps the fact we've had dozens of Iron Men from various movies in Legends since the early 2000s.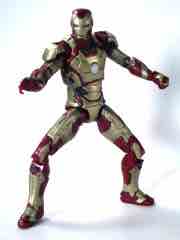 While a couple of 3 3/4-inch figures based on this design were released, Hasbro's 6-inch version of the Mark 42 has far superior deco and a great sculpt. Bend-and-swivel wrists are joined by rocking ankles, double elbow and knee articulation, and a fantastic range of movement on the head. The lack of a good stand means that he's likely to nosedive without support, but I was really pleased with the various action poses I could squeeze out of this guy.
The sculpt and the copious gold paint are what may make or break this figure for you - I saw lots of these with poor coverage in the paint department, but for $7 I was able to relax my standards enough to pull the trigger. The red paint shows through gold pretty easily, and this was very visible in Iron Man 2 3 3/4-inch figure lines. Here, it's a very "your mileage may vary" situation and I strongly suggest anyone in the market for this figure examine it up close before buying it.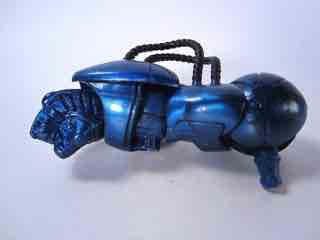 I don't have all the parts to build the Iron Monger build-a-figure yet, but the arm looks nice - Iron Man has a metallic swirly red plastic, and the Monger has blue. I'm a little concerned this could be problematic in the future as this kind of plastic isn't known for its longevity, but hopefully Hasbro made it better this time around. I like it, I'd suggest picking it up as a great desk accessory.
--Adam Pawlus
Additional Images


Click here to see more Hasbro figures in Figure of the Day.
See more Iron Man figures in Figure of the Day:
Day 4: Hasbro Iron Man 2 Iron Man (Blast-Off Figure Stand) Action Figure
Day 34: Hasbro Iron Man 2 Iron Monger (Comic Series) Action Figure
Day 55: Hasbro Iron Man 2 Iron Man (Original) Action Figure
Day 60: Hasbro Iron Man 2 Iron Man Silver Centurion Action Figure
Day 70: Hasbro Iron Man 2 Deep Dive Armor Iron Man
Day 75: Hasbro Iron Man 2 Hulkbuster Armor Iron Man
Day 84: Hasbro Iron Man 2 Comic Series War Machine
Day 115: Hasbro Iron Man 2 Comic Series Guardsman
Day 124: Hasbro Iron Man 2 Movie Series Iron Man Mark V
Day 154: Hasbro Iron Man 2 Movie Series Iron Monger
Day 209: Hasbro Iron Man 2 Comic Series Iron Man #30 Action Figure
Day 249: Funko Marvel Universe Pop! Vinyl Iron Man Vinyl Figure Bobble Head
Day 652: Hasbro Iron Man 3 Assemblers Iron Patriot
Day 702: Hasbro Iron Man 3 Assemblers Striker Iron Man
Day 703: Hasbro Iron Man 3 Assemblers Ghost Armor Iron Man
Day 747: Hasbro Iron Man 3 Assemblers Crosscut Iron Man
Day 773: Hasbro Iron Man 3 Nano Shell Iron Man
Day 812: Hasbro Iron Man 3 Strike Eagle Iron Man
Day 872: Hasbro Iron Man 3 Marvel Legends Iron Man Mark 42
Day 878: Hasbro Iron Man 3 Marvel Legends Iron Monger
Day 1,011: Hasbro Guardians of the Galaxy Marvel Legends Infinite Series Iron Man
Day 1,021: Hasbro Iron Man 3 Marvel Legends Heroic Age Iron Man
Day 1,094: Hasbro Iron Man 3 Marvel Legends Lieutenant Colonel James Rhodes
Day 1,484: Hasbro Captain America Civil War Spider-Man, Captain America, and Iron Man Action Figures
Day 2,438: Hasbro Marvel Iron Man Action Figure
Day 2,516: Hasbro Marvel Legends 375 Iron Man Action Figure
Day 2,536: Hasbro Marvel Legends 375 Iron Man (Stealth Armor) Action Figure

Want to buy this figure? Check Iron Man availability at our sponsors:
Entertainment Earth