Terra Firma
The Woman from Earth

Outer Space Men Infinity Edition Figures
Item No.: n/a
Manufacturer: Four Horsemen
Includes: Removable 3-piece helmet, magnet jetpack/Anti-Gravity Generator, Atomic Disintegrator, alternate arms
Action Feature: Helmet visor raises, lowers
Retail: $13.00
Availability: February 28, 2014
Other: Pretty great!

PREVIOUS
RSS
NEXT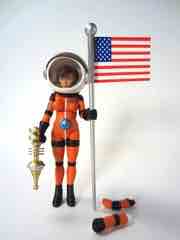 I was pretty surprised to see Terra Firma at a New York event for The Four Horsemen a few years ago - not only was she the first new member of this group in decades, but she was rather shapely. Having a fairly limited background in such things I thought her form looked a lot like Little Annie Fanny character I saw in a Hake's Auction catalog that got mailed to me, which I later found out was a Playboy cartoon character, which I wasn't interesting enough to know already because... when you meet my parents, it'll all make sense to you then. This nifty new figure draws heavily on real-world space program elements like her orange suit and the overall coloring on the figure, plus builds on the 1962 cartoon character's built-in 1960s-ness from Harvey Kurtzman and Will Elder. Borrowing from that which came before is smart - the original Outer Space Men aliens were derived from the back pages of films showcased in the likes of Famous Monsters of Filmland, so it's only appropriate to have Terra's origin come from contemporary magazines.
In terms of engineering, she's pretty good - the mold is the same one you've seen in clear orange or "White Star" plastic, warts and all. The painted version is cast in plain white, which is tough to tell when you pick her up. Her legs are quite close together so she has some problems staying upright, but that's why she comes with a US flag accessory which has been improved slightly from that first, awful version. This time the flag was trimmed more neatly, with a flag sticker colored to look slightly better from the front than before. It's still quite cheap, but at least this time the adhesive is holding together after (and before) I opened it. Kudos to the Four Horsemen for fixing this.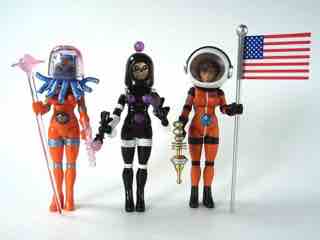 Her other accessories are all pretty great. A multi-piece helmet has an articulated, tinted visor which glides smoothly over her bulbous helmet. The Anti-Gravity Generator backpack is colorful and fits in her Glyos-based backpack plug perfectly, while her Atomic Disintegrator slides in her hand without to much difficulty. Her elbows are not articulated, but you can swap out the whole arm (minus the hand) for a different, bent (or straight) look. For $13 (and a painfully long wait for fulfillment) you get your money's worth here, and that's not even counting her fairly gorgeous cardback package.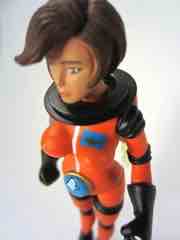 When I saw her in 2012, I assumed incorrectly that she would be the final figure in this line - Mel Brinkrant whipped up three more including Jack Asteroid, Ohpromatem, and Horroscope, with a stunning Astrodite figure sadly as of yet unproduced. At press time this figure is still available from Store Horsemen, and not knowing the run I'd wager it might be there for a while. While I wouldn't put this on the top of your shopping list, collectors of the line should dig it and fans of retro space toys ought to love it. They really don't make them like this any more... except for this one. If by some chance you're at a toy show and she's on sale for $13, get her, you won't be sorry.
--Adam Pawlus
Additional Images

Click here to see more Four Horsemen figures in Figure of the Day.

Click here to see more Outer Space Men figures in Figure of the Day.

Click here to see more Glyos Compatible figures in Figure of the Day.