Grimlock
Transformers Dinobots Set with Pop-Up Headquarters

Transformers Age of Extinction Comic-Con Exclusive Gift Set
Item No.: No. A7804
Manufacturer: Hasbro
Includes: War club, pop-out playset, 3 more Dinobots
Action Feature: Transforms from Robot to T-Rex
Retail: $159.99
Availability: July 2014
Other: Lots of silver.

PREVIOUS
RSS
NEXT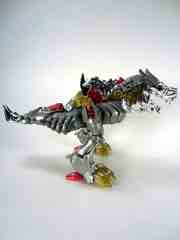 If you release a character, fans and Hasbro have a knee-jerk reaction to put it out in G1 colors. Grimlock is the biggest figure of Comic-Con's exclusive Dinobot set, which answered the question "What if Hasbro starts putting out boxed sets at BotCon prices?" The principle is similar - you get 4 repainted figures in a big deluxe box with a foam insert, at premium pricing. The end result is fascinating - you get a $20-$25 toy (Grimlock), 3 deluxe toys which would retail for $10-$15 each, and the whole thing costs three times as much. And it's so pretty, you'll probably want it - and the Amazon exclusive "G1" Slog, to stand in for Sludge, who isn't in here for some reason.
Multiple redecoes of this mold are out and about now - even in G1 colors, Japan has a different one. The end result looks a little like the original G1 toys in color, but that's it - the original Grimlock didn't have a chrome head, or a black club, or chrome pointy-toed shoes. The flavor is definitely here, and the 7 1/2-inch tall robot does look really cool. Hasbro applied a ton of paint to this guys, from tampos which resemble stickers to red chrome which, I assume, is going to flake and look terrible in 15 years.
One of the most clever - and surprisingly effective - features is in the T-Rex feet. Instead of gold chrome, a clear, murky yellow was deployed and it's shockingly pretty. I want to see more of it - while the red loincloth, well, I could do without that. The red chrome eyes look gorgeous, and the red chrome crotch is probably not going to age well if you ever transform this toy.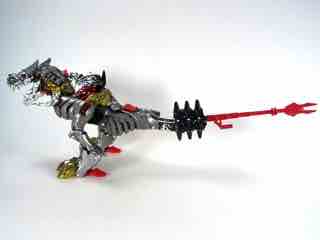 Shoulders have black and red tampos which resemble G1 stickers, and blue squares below the knees look swell. For a token redeco, it's pretty charming - but it really only leaves you hungry for the inevitable redux of Grimlock as an all-new "classics" or "generations" mold at some point in the future. Well, to some extent. As its own thing, it's going to look amazing on your toy shelves. The chrome really brightens the toy up, and while I like it here lots I wouldn't mind if we never saw it again - at this point I'm more worried about longevity in my collection and the flaking of this material.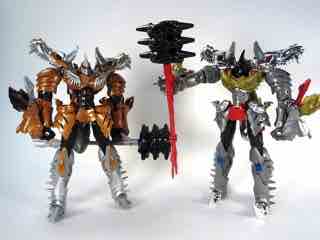 As Hasbro conventions exclusives go, it seems the toymaker has learned they can get away charging very high premiums for redeco toys and their sales will not suffer much. This is not a toy - this is a set for adult collectors with money to burn, and was priced accordingly. It's like cars or other items - this is the luxury version of these toys, hence the extra deco and giant playset component. We'll look at the rest this week and you can decide if you need to go to HasbroToyShop.com (it didn't end up selling through) or indulge the secondary market for yours. It pains me to say it... but you probably will want this one. And Slog, coming to Amazon in December.
--Adam Pawlus
Sample courtesy Hasbro.
Additional Images
Additional Transformers Generations Deluxe 2014 Wave 10 Images

Click here to see more Hasbro figures in Figure of the Day.
Click here to see more Transformers figures in Figure of the Day.

Want to buy this figure? Check Transformers availability at our sponsors:
Entertainment Earth