Maigus
Blue Outlander Figure with Green and Yellow highlights

481 Universe Glyos-Compatible Figures
Item No.: n/a
Manufacturer: NiStuff
Includes: Helmet
Action Feature: n/a
Retail: $10.00
Availability: October 2013
Other: New York Comic Con debut

PREVIOUS
RSS
NEXT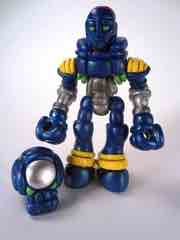 Time can do a lot to temper my enthusiasm for a toy, and I'm glad to say Maigus aged well. The endless parade of redeco opportunities in the Glyos system means that you can burn out on a figure quickly - some stand out as being a little more different, and this is one of them.
The metallic mix of silver and blue plastic is a great start, but painting elements green, yellow, and red? That's a solid idea. It looks like someone melted a box of crayons on a figure, producing something wonderful. There really aren't many other figures that combine a dark, ethereal blue with what appears to be school bus yellow.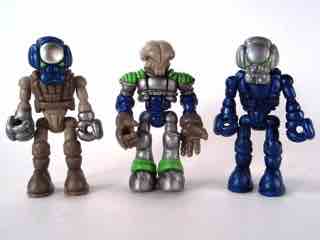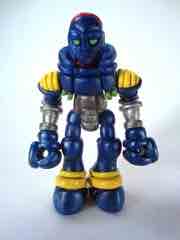 The abundance of color did wonders for this guy - the design is pretty good, but let's face it - you're probably going to see 30-50 copies of this figure in various colors before the mold wears out and/or people stop caring. We've already had about 14 flavors, and while it's a neat figure any of these molds can get a little long in the tooth without something fun and interesting.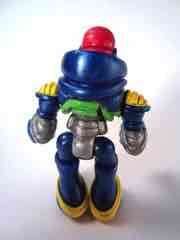 The dark, swirly metallic blue is similar to previous Onell Design and Outer Space Men colors. Bright green eyes peer out from the cosmic skin, and the yellow shoulder pads... I have no idea why these are here. They're striking, though. The torso is flippable and the design is quite robust in that you can reconfigure pieces around to end up with some very different looking figures. Below, you can see the figure with a flipped-over torso and some other Glyos parts. It's quite flexible, but it seems that the mold hasn't exactly caught fire.
While some sectors of the Glyos producing nations have expanded, most are dealing with having one mold which gets redecorated and tweaked - like this one. It's not bad, but any line benefits from having multiple figures to redecorate, simply because it makes it tougher to pass up new releases. Nicholas Merz of Ni Stuff has done some really good deco designs plus even customizes a bunch of them, so as toys go you really should check these out. Granted, if you've seen one you've basically seen them all, but sometimes a color combination like Maigus just brightens up your desk and warrants buying more of these guys - this is one of my favorite Glyos figures, period. Get one if you can!
--Adam Pawlus
Additional Images

See more NiStuff and 481 Universe figures in Figure of the Day:
Day 524: NiStuff Terrestrial and Outer Anomalies Metallic PVC Figures
Day 704: NiStuff 481 Universe Outlander Silas Action Figure
Day 769: NiStuff 481 Universe NV Subject Action Figure
Day 769: NiStuff 481 Universe NV Subject Action Figure
Day 804: NiStuff 481 Universe Zeta Force Dig Crew Action Figure
Day 892: NiStuff 481 Universe Maigus Action Figure
Day 908: NiStuff 481 Universe Spectre Leyden Action Figure

Click here to see more Glyos Compatible figures in Figure of the Day.