Heroic Age Iron Man
Build-A-Figure Collection Iron Monger Series

Iron Man 3 Marvel Legends Basic Figures
Item No.: Asst. A2514 No. A2516
Manufacturer: Hasbro
Includes: Iron Monger left leg
Action Feature: n/a
Retail: $15.99
Availability: Spring 2013
Other: 3 of 6

PREVIOUS
RSS
NEXT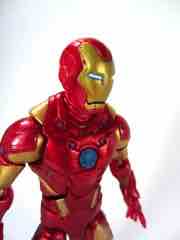 When they started hitting Ross and other stores on clearance, I chased down Iron Man 3 Marvel Legends - the first set I completed. I wasn't able to find Heroic Age Iron Man on clearance so I bought it at Toys R Us... and later found it on clearance. Hey, I wanted to finish the set! It's a good mold, and a decent design - it was the first all-new mold in this particular series, plus it got tweaked and used for the Guardians of the Galaxy version in 2014. It's quite good, the rich swirly metallic red looks great and has me nervous about it holding up over time. Swirly plastic isn't known for its durability.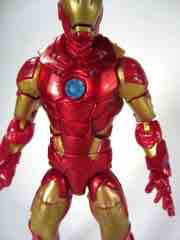 28ish points of articulation give this pretty nicely-sculpted armored warrior a great look. The red plastic is augmented with metallic yellow paint, and just enough blue and white to bring it to life. The blue outline of the white eyes gives it a really nice sense of glowing, and the blue chest lights are a nice touch too. Perhaps they should have been lighter, but it looks good on the figure.
The range of motion is good, but not perfect. The figure has an exceptional amount of joints but he needs some futzing to sit, and the arms have tons of joints but you have to really work at getting some poses out of him. These guys are great for your desk - standing around and doing combat poses - but the very nature of a cool armored figure is that they should have some degree of bulk to stop up the joints. This one turned out nicely with a fist and an open hand, and his bright colors do wonders to make it pop on a shelf in even a darker room. The figure is slightly taller than some earlier Hasbro Iron Man Marvel Legends figures, but that's OK I think - granted, I don't have a "hall of armor" I'm trying to complete so your mileage may vary.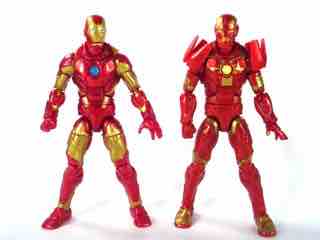 There's no accessory other than the Iron Monger piece, which is a good enough reason to buy this figure. Half of the figures in this line had all-new bodies, but they all had some minor level of newness in each one. The trick is that the line really did a good job bringing you Iron Man - 3 of the 6 figures required to build Iron Monger were forms of Tony Stark. I wish we could've had a Mandarin or perhaps a Pepper Potts in there (both of which were supposedly on deck for a third wave) but alas, it was not to be. This series is one I very much enjoy and for the time being, seems to be the last one to come on traditional cardbacks. 2014 releases have these wonderful little boxes, along with a hefty price increase. If you have the means, or see a good deal, go ahead and get this figure and his brothers. They're quite nice.
--Adam Pawlus
Additional Images


Click here to see more Hasbro figures in Figure of the Day.
See more Iron Man figures in Figure of the Day:
Day 4: Hasbro Iron Man 2 Iron Man (Blast-Off Figure Stand) Action Figure
Day 34: Hasbro Iron Man 2 Iron Monger (Comic Series) Action Figure
Day 55: Hasbro Iron Man 2 Iron Man (Original) Action Figure
Day 60: Hasbro Iron Man 2 Iron Man Silver Centurion Action Figure
Day 70: Hasbro Iron Man 2 Deep Dive Armor Iron Man
Day 75: Hasbro Iron Man 2 Hulkbuster Armor Iron Man
Day 84: Hasbro Iron Man 2 Comic Series War Machine
Day 115: Hasbro Iron Man 2 Comic Series Guardsman
Day 124: Hasbro Iron Man 2 Movie Series Iron Man Mark V
Day 154: Hasbro Iron Man 2 Movie Series Iron Monger
Day 209: Hasbro Iron Man 2 Comic Series Iron Man #30 Action Figure
Day 249: Funko Marvel Universe Pop! Vinyl Iron Man Vinyl Figure Bobble Head
Day 652: Hasbro Iron Man 3 Assemblers Iron Patriot
Day 702: Hasbro Iron Man 3 Assemblers Striker Iron Man
Day 703: Hasbro Iron Man 3 Assemblers Ghost Armor Iron Man
Day 747: Hasbro Iron Man 3 Assemblers Crosscut Iron Man
Day 773: Hasbro Iron Man 3 Nano Shell Iron Man
Day 812: Hasbro Iron Man 3 Strike Eagle Iron Man
Day 872: Hasbro Iron Man 3 Marvel Legends Iron Man Mark 42
Day 878: Hasbro Iron Man 3 Marvel Legends Iron Monger
Day 1,011: Hasbro Guardians of the Galaxy Marvel Legends Infinite Series Iron Man
Day 1,021: Hasbro Iron Man 3 Marvel Legends Heroic Age Iron Man
Day 1,094: Hasbro Iron Man 3 Marvel Legends Lieutenant Colonel James Rhodes
Day 1,484: Hasbro Captain America Civil War Spider-Man, Captain America, and Iron Man Action Figures
Day 2,438: Hasbro Marvel Iron Man Action Figure
Day 2,516: Hasbro Marvel Legends 375 Iron Man Action Figure
Day 2,536: Hasbro Marvel Legends 375 Iron Man (Stealth Armor) Action Figure

Want to buy this figure? Check Iron Man availability at our sponsors:
Entertainment Earth