War Machine
Comic Book Edition

Iron Man 2 Comic Series Basic Figure #23
Item No.: Asst. 93758 No. 94183
Manufacturer: Hasbro
Includes: Display stand, blast effects, armor cards
Action Feature: n/a
Retail: $7.99
Availability: Spring 2010
Other: Blue

PREVIOUS
RSS
NEXT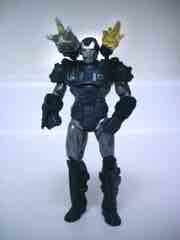 I was initially very excited to get War Machine mostly because it was really hard to get when the line bowed reasonably early in 2010. The character looked cool, was heavily armed, and was in those fun Marvel vs. Capcom video games-- naturally, getting one as a toy was a no-brainer-- it's Iron Man, but with more guns.
Hasbro's figure license for Marvel has had a lot of ups and downs. With Ghost Rider, Hasbro used the figures' articulation to be ready for a motorcycle. Character-specific construction seems to be what they're after, so if a figure is unlikely to need a vehicle, the figure will not be created with sitting in mind. War Machine is a spectacular looking figure, but it's clearly designed as a release which can stand up and fight, and never, ever sit. This isn't to say he doesn't have hip joints, as he has two on each leg, but the range of mobility is severely limited by the odd ball joint construction which seems to be a permanent fixture in the various Marvel lines at Hasbro. (With some exceptions, of course.)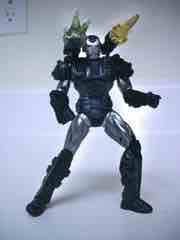 Standing a hair over 4-inches tall, this figure also has articulated shoulder cannons. They can rotate around and flip back, plus you can attach yellow "blast effects" to them to make them look more like comic art with firing bullets and explosions. Exciting stuff! The level of detail on the figure is excellent, and it's always fun to see how Hasbro tries to marry the bulky design with things like shoulder articulation at this small size. Hasbro added jointed "caps" on each shoulder which can flip up, which more or less does the trick. Unfortunately, it adds some big hinges on top of his arms. Getting aesthetics right versus getting articulation right will always be a challenge at this scale, but this more or less works. Marvel figures are (my guess) largely aimed at older buyers, so trying to get the look right is the most important thing. Hasbro basically succeeded here, but this is another one of those "stand there and look good" figures. There's no real action, it's just the best statue that about eight bucks could buy.
--Adam Pawlus
Additional Images

Click here to see more Hasbro figures in Figure of the Day.
See more Iron Man figures in Figure of the Day:
Day 4: Hasbro Iron Man 2 Iron Man (Blast-Off Figure Stand) Action Figure
Day 34: Hasbro Iron Man 2 Iron Monger (Comic Series) Action Figure
Day 55: Hasbro Iron Man 2 Iron Man (Original) Action Figure
Day 60: Hasbro Iron Man 2 Iron Man Silver Centurion Action Figure
Day 70: Hasbro Iron Man 2 Deep Dive Armor Iron Man
Day 75: Hasbro Iron Man 2 Hulkbuster Armor Iron Man
Day 84: Hasbro Iron Man 2 Comic Series War Machine
Day 115: Hasbro Iron Man 2 Comic Series Guardsman
Day 124: Hasbro Iron Man 2 Movie Series Iron Man Mark V
Day 154: Hasbro Iron Man 2 Movie Series Iron Monger
Day 209: Hasbro Iron Man 2 Comic Series Iron Man #30 Action Figure
Day 249: Funko Marvel Universe Pop! Vinyl Iron Man Vinyl Figure Bobble Head
Day 652: Hasbro Iron Man 3 Assemblers Iron Patriot
Day 702: Hasbro Iron Man 3 Assemblers Striker Iron Man
Day 703: Hasbro Iron Man 3 Assemblers Ghost Armor Iron Man
Day 747: Hasbro Iron Man 3 Assemblers Crosscut Iron Man
Day 773: Hasbro Iron Man 3 Nano Shell Iron Man
Day 812: Hasbro Iron Man 3 Strike Eagle Iron Man
Day 872: Hasbro Iron Man 3 Marvel Legends Iron Man Mark 42
Day 878: Hasbro Iron Man 3 Marvel Legends Iron Monger
Day 1,011: Hasbro Guardians of the Galaxy Marvel Legends Infinite Series Iron Man
Day 1,021: Hasbro Iron Man 3 Marvel Legends Heroic Age Iron Man
Day 1,094: Hasbro Iron Man 3 Marvel Legends Lieutenant Colonel James Rhodes
Day 1,484: Hasbro Captain America Civil War Spider-Man, Captain America, and Iron Man Action Figures
Day 2,438: Hasbro Marvel Iron Man Action Figure
Day 2,516: Hasbro Marvel Legends 375 Iron Man Action Figure

See more Marvel figures in Figure of the Day:
Day 4: Hasbro Iron Man 2 Iron Man (Blast-Off Figure Stand) Action Figure
Day 7: Hasbro Marvel Universe Ghost Rider Action Figure
Day 15: Hasbro Marvel Universe Iron Patriot Action Figure
Day 24: Hasbro Marvel Universe Dark Wolverine Action Figure
Day 31: Hasbro Marvel Universe Dark Spider-Man Venom Action Figure
Day 34: Hasbro Iron Man 2 Iron Monger (Comic Series) Action Figure
Day 39: Hasbro Spider-Man Super Poseable Spider-Man
Day 40: Hasbro Spider-Man Stealth Ninja Spider-Man
Day 50: Hasbro Spider-Man Toxic Blast Venom
Day 55: Hasbro Iron Man 2 Iron Man (Original) Action Figure
Day 60: Hasbro Iron Man 2 Iron Man Silver Centurion Action Figure
Day 65: Hasbro Spider-Man Dive Bomber Green Goblin
Day 70: Hasbro Iron Man 2 Deep Dive Armor Iron Man
Day 73: Hasbro Marvel Universe Iceman
Day 75: Hasbro Iron Man 2 Hulkbuster Armor Iron Man
Day 84: Hasbro Iron Man 2 Comic Series War Machine
Day 91: Hasbro Spider-Man (Kid Series) Monster Claw Carnage Action Figure
Day 103: Hasbro Marvel Universe Marvel's Firestar
Day 108: Hasbro Marvel Universe Spider-Man Action Figure
Day 115: Hasbro Iron Man 2 Comic Series Guardsman
Day 124: Hasbro Iron Man 2 Movie Series Iron Man Mark V
Day 131: Funko Thor Pop! Vinyl Thor Vinyl Figure Bobble Head
Day 137: Toy Biz Spider-Man Animated Super Articulated Spider-Man
Day 141: Funko Thor Pop! Vinyl Loki Vinyl Figure Bobble Head
Day 154: Hasbro Iron Man 2 Movie Series Iron Monger
Day 209: Hasbro Iron Man 2 Comic Series Iron Man #30 Action Figure
Day 249: Funko Marvel Universe Pop! Vinyl Iron Man Vinyl Figure Bobble Head
Day 290: Hasbro Spider-Man Mighty Muggs J. Jonah Jameson
Day 292: Hasbro Marvel Universe Compound Hulk
Day 300: Hasbro Spider-Man Mighty Muggs Venom
Day 306: Funko Marvel Universe Pop! Vinyl The Hulk Vinyl Figure Bobble Head
Day 311: Hasbro Spider-Man Mighty Muggs Spider-Man
Day 320: Hasbro Marvel Universe Handful of Heroes Mini Figure Pack
Day 336: Hasbro Spider-Man Mighty Muggs Demogoblin
Day 427: Funko Marvel Universe Pop! Vinyl SDCC Exlusive Spider-Man Vinyl Figure Bobble Head
Day 542: Hasbro Avengers Target Exclusive 8-Pack Figure Collection Captain America Action Figure
Day 578: Hasbro Avengers Target Exclusive 8-Pack Figure Collection Hulk Action Figure
Day 584: Hasbro Avengers Target Exclusive 8-Pack Figure Collection Thor Action Figure
Day 603: Hasbro Avengers Target Exclusive 8-Pack Figure Collection Iron Man Action Figure
Day 628: Hasbro Avengers Target Exclusive 8-Pack Figure Collection Nick Fury Action Figure
Day 757: Hasbro Avengers Assemble Captain America
Day 872: Hasbro Iron Man 3 Marvel Legends Iron Man Mark 42
Day 878: Hasbro Iron Man 3 Marvel Legends Iron Monger
Day 916: Hasbro The Amazing Spider-Man Movie Ultra-Poseable Spider-Man
Day 936: Hasbro The Amazing Spider-Man Night Mission Spider-Man
Day 1,007: Hasbro Guardians of the Galaxy Marvel Legends Infinite Series Drax
Day 1,011: Hasbro Guardians of the Galaxy Marvel Legends Infinite Series Iron Man
Day 1,021: Hasbro Iron Man 3 Marvel Legends Heroic Age Iron Man
Day 1,047: Hasbro Guardians of the Galaxy Marvel Legends Infinite Series Star-Lord
Day 1,150: Funko Guardians of the Galaxy Pop! Vinyl Entertainment Earth Exclusive Ravagers Dancing Groot
Day 1,155: Funko Hikari Vinyl Marvel Guardians of the Galaxy Planet X Groot
Day 1,158: Hasbro Guardians of the Galaxy Marvel Legends Infinite Series Gamora
Day 1,235: Hasbro Marvel Legends Infinite Series Guardians of the Galaxy Classic 5-Pack
Day 1,300: Funko Hikari Vinyl Marvel Metallic Hulk Vinyl Figure
Day 1,484: Hasbro Captain America Civil War Spider-Man, Captain America, and Iron Man Action Figures
Day 1,494: Hasbro Marvel Legends X-Men Iceman
Day 1,501: Hasbro Marvel Legends Series Spider-Man
Day 1,514: Hasbro Marvel Legends X-Men Marvel's Phoenix
Day 1,515: Hasbro Marvel Legends X-Men Marvel's Rogue
Day 1,527: Hasbro Marvel Legends X-Men Wolverine
Day 1,664: Hasbro Guardians of the Galaxy Marvel Legends Infinite Series Groot Evolution
Day 1,667: Hasbro Guardians of the Galaxy Marvel Legends Infinite Series Rocket Raccoon
Day 1,729: Hasbro Guardians of the Galaxy Marvel Legends Infinite Series Groot
Day 1,749: Hasbro Marvel Legends Series 12-Inch Deadpool
Day 1,792: Hasbro Marvel Legends X-Men 6-Inch Deadpool
Day 1,820: Hasbro Marvel Mighty Muggs Captain America
Day 1,916: Hasbro Marvel Legends Marvel Knights Man-Thing
Day 1,988: Hasbro Marvel Legends X-Men Cable
Day 2,007: Hasbro Marvel Legends Thor Ragnarok Thor and Marvel's Valkyrie
Day 2,016: Toy Biz X-Men Steel Mutants Wolverine vs. Sabretooth
Day 2,028: Hasbro Gamerverse Marvel vs. Capcom Infinite Black Widow vs. Ryu Action Figures
Day 2,031: Hasbro Marvel Rising Secret Identity Doreen Green Squirrel Girl Doll
Day 2,037: Hasbro Gamerverse Marvel vs. Capcom Infinite Iron Man vs. Mega Man X Action Figures
Day 2,040: Hasbro Marvel Legends Venom Venom Action Figure
Day 2,048: Hasbro Deadpool Chimichanga Surprise Unicorn Deadpool
Day 2,109: Hasbro Playskool Heroes Series 2 Marvel Super Hero Adventures Clear Spider-Man
Day 2,116: Hasbro Marvel Legends 80th Anniversary The Grandmaster and Korg Action Figures
Day 2,201: Hasbro Spider-Man Bend and Flex Spider-Man Action Figure
Day 2,229: Hasbro Spider-Man Marvel Legends Retro Spider-Man Action Figure
Day 2,303: Hasbro Marvel Legends Deadpool Deadpool in Boxers
Day 2,342: Hasbro Marvel Legends 375 Spider-Man Action Figure
Day 2,381: Hasbro Avengers Bend and Flex Captain America Action Figure
Day 2,438: Hasbro Marvel Iron Man Action Figure
Day 2,444: Hasbro Marvel Hulk Action Figure
Day 2,453: Hasbro Marvel Spider-Man Action Figure
Day 2,459: Hasbro Marvel Legends 375 Iceman Action Figure
Day 2,472: Hasbro Marvel Black Panther Action Figure
Day 2,473: Hasbro Marvel Legends 375 Hulk Action Figure
Day 2,476: Hasbro Marvel Legends 375 Firestar Action Figure
Day 2,479: Hasbro Marvel Legends 375 Sentinel Action Figure
Day 2,482: Hasbro Marvel Legends 375 Thor Action Figure
Day 2,485: Hasbro Marvel Legends 375 The Thing Action Figure
Day 2,488: Hasbro Marvel Legends 375 Human Torch Action Figure
Day 2,491: Hasbro Marvel Legends 375 Venom Action Figure
Day 2,494: Hasbro Marvel Legends 375 Loki Action Figure
Day 2,497: Hasbro Marvel Legends 375 Gray Hulk Action Figure
Day 2,500: Hasbro Marvel Legends 375 Storm Action Figure
Day 2,503: Hasbro Marvel Legends 375 Moon Knight Action Figure
Day 2,506: Hasbro Marvel Legends 375 Carol Danvers Action Figure
Day 2,509: Hasbro Marvel Legends 375 Black Panther Action Figure
Day 2,512: Hasbro Marvel Legends 375 Daredevil Action Figure
Day 2,516: Hasbro Marvel Legends 375 Iron Man Action Figure
Day 2,520: Hasbro Marvel Legends 375 Silver Surfer Action Figure
Day 2,524: Hasbro Marvel Legends 375 Wolverine Action Figure
Day 2,528: Hasbro Marvel Legends 375 Ghost Rider with Motorcycle Action Figure
Day 2,528: Hasbro Marvel Legends 375 Black Widow Action Figure

Want to buy this figure? Check Iron Man availability at our sponsors:
Entertainment Earth